Is a Sourdough Starter all the rage right now? With more people staying home over the past few years, I feel a shift in people wanting to cook more and know where their food is coming from. Needless to say, we couldn't even find yeast there for a bit, so making a Sourdough Starter just made sense. I love using mine!
This has become such an important topic for me so I have done some extensive research on this whole Sourdough thing. It can feel kinda complicated to make but once you start one and stick with it, you'll be making Sourdough goodies all the time. I have a bunch of books on using Sourdough and yes, it can be confusing so I'm excited to break it down simply for you. I'm diving into how to make and maintain a SOURDOUGH STARTER, as well as, all the health benefits of using one. I hope you enjoy reading and learning all about using Sourdough.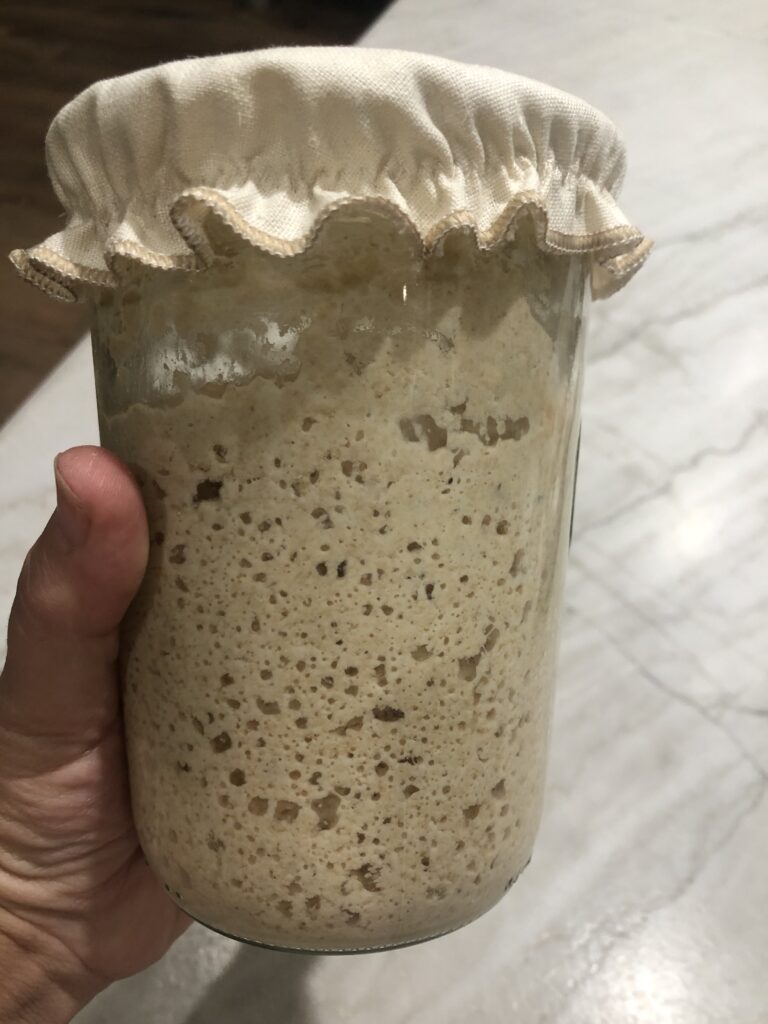 What is a Sourdough Starter?
It's the combination of flour and water, allowing it to ferment. It provides wild yeast and beneficial bacteria. As a result, Sourdough has been around for thousands of years and is wonderful for gut health. A lot of people who have a hard time digesting store-bought bread, usually can tolerate Sourdough. It's definitely old-fashioned so it has to be good for us, right? Sourdough is known for its wonderful tang flavor.
Tracing Sourdough Bread's History, states: "Wild yeast is used in cultures all over the world in food preparations that are so steeped in culture and history that they have been made long before any form of written words. Until the time of the development of commercial yeasts, all leavened bread was made using naturally occurring yeasts – i.e., all bread was sourdough, with its slower raise.
What is your Why? Are you wanting to be part of a new fad or do you need Sourdough bread for family health concerns? First of all, Sourdough Starter and Bread is not a FAD. It's part of the whole homesteading movement and is pretty much a staple in every homesteader's kitchen.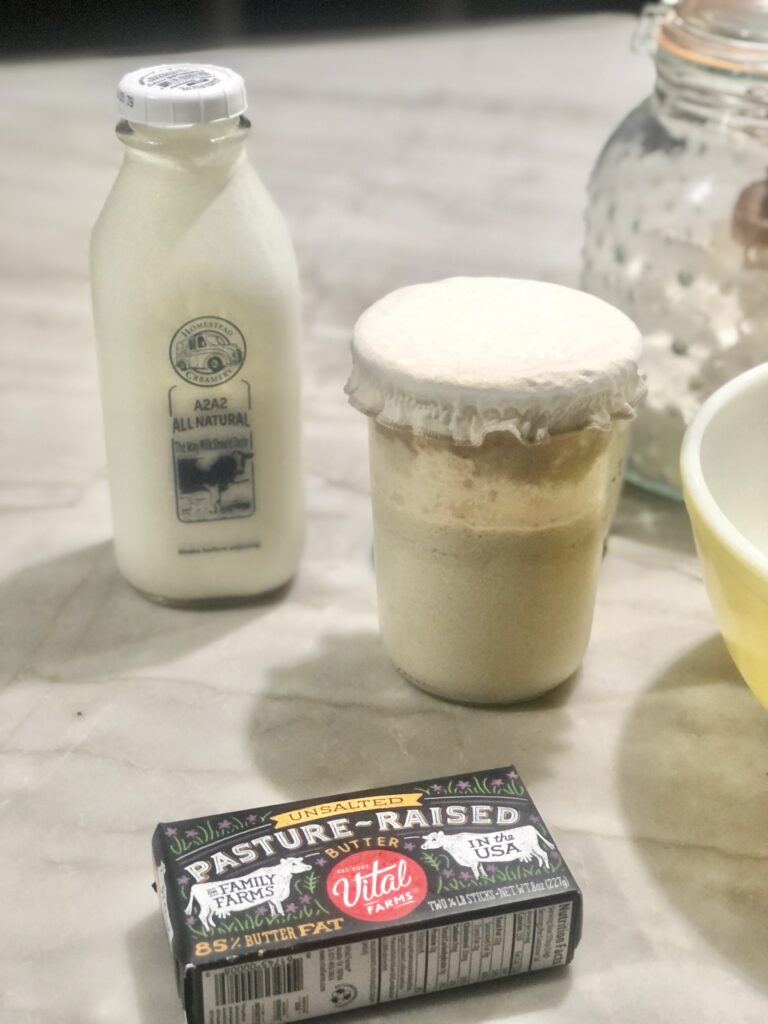 Types of Flour to Use
I love using fresh milled hard white wheat flour to make my sourdough starter. You can also use Einkorn or Rye. I've read that some people use all-purpose flour, but honestly, store-bought flour has been stripped of pretty much all of the nutrients. It might be harder to maintain a starter with this particular flour. Play around with it and see what happens.
---
Join Our Simple Living Community
---
Health Benefits of Sourdough
There are many health benefits to Sourdough; however, most people who have a gluten intolerance can usually tolerate Sourdough bread. I was one of these individuals. I used to get the "chicken skin" on my arms every time I ate store-bought bread.
Research (often linked with IBS) indicates that phytic acid, which is found in the bran part of wheat, can be a cause of digestive discomfort and bloating. In humans and animals with one stomach, this phytic acid inhibits enzymes that are needed for the breakdown of proteins and starch in the stomach. This lack of enzymes results in digestive difficulties. Ironically, commercially produced wholegrain bread, generally perceived as 'healthy', is often the worst thing a person with a wheat intolerance can eat.
Luckily, we have an ally: sourdough. The wild yeast and lactobacillus in the leaven neutralise the phytic acid as the bread proves through the acidification of the dough. This prevents the effects of the phytic acid and makes the bread easier for us to digest. These phytic acid molecules bind with other minerals, such as calcium, magnesium, iron, and zinc, which make these important nutrients unavailable to us. In conclusion, long, slow fermentation of wheat can reduce phytates by up to 90%.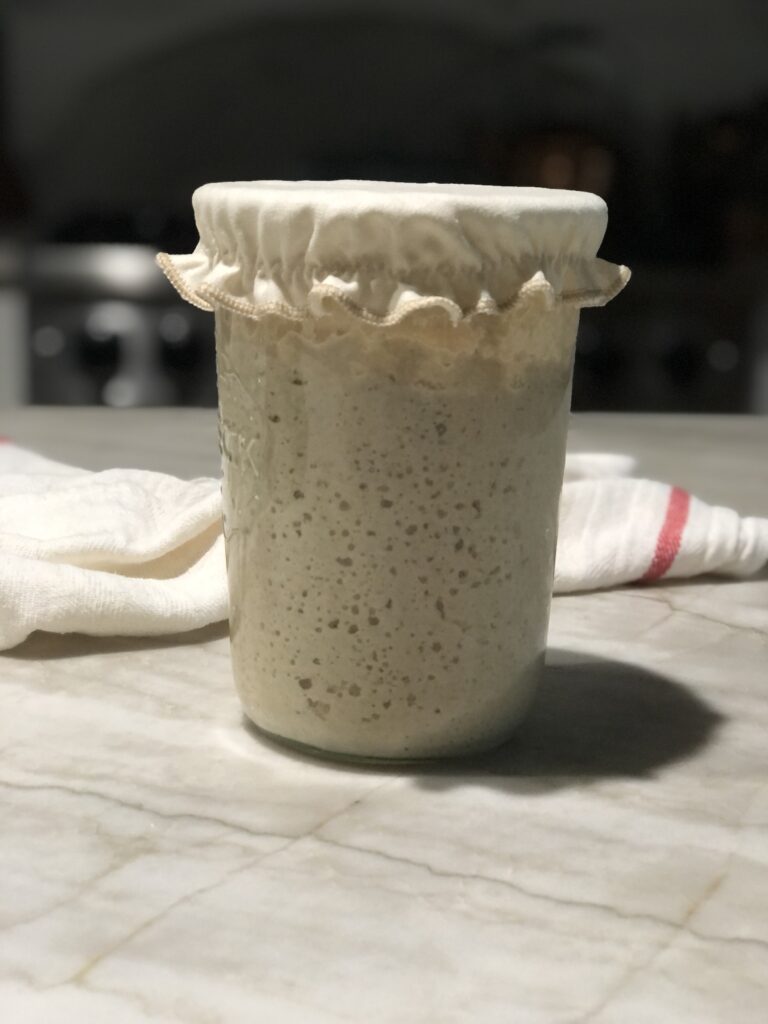 How To Make a Sourdough Starter
I love to use my sourdough starter so let's dive in!
Take 1 cup of flour and 1 cup of water and place them in a glass bowl or jar.
Stir together (*I enjoy using wooden spoons) and cover with an unbleached coffee filter or linen cover. Secure with a rubber band.
Set the jar on the counter for 24 hours. Discard 1/2 of the starter. Do this for days 1-4.
On days 5-7, repeat the adding and removing, discarding every 12 hours.
Your starter should be nice and bubbly. It should also have the tang that Sourdough has. You'll smell that yumminess.
The starter is ready to be used. If you plan on using it every day, you'll need to keep it on the counter and feed it every day; otherwise, it will go hungry.
In conclusion, if you aren't going to use it every day, you'll just put it in the fridge and let it go "dormant" kinda. When you are ready to use it again, pull it out, and feed it like in step 1. I recommend feeding your starter at least once a week. It will be nice and bubbly in 24 hours.
*There are several controversial statements about not using metal spoons when stirring your sourdough starter. The yeast is acidic but I'm not going to comment on whether this is true or not. I personally use a lot of wooden spoons in my kitchen. I love supporting craftsmen and have never had a problem using wood.
**Why do we keep discarding? Haha, so simple. If we kept adding to our starter, our jar or bowl would overflow. There's plenty of recipes you can make with the discard. It's not bad or anything. As we go further, I'm sure I'll be adding some of my own. I'm thinking crackers or english muffins would be great with sourdough discard.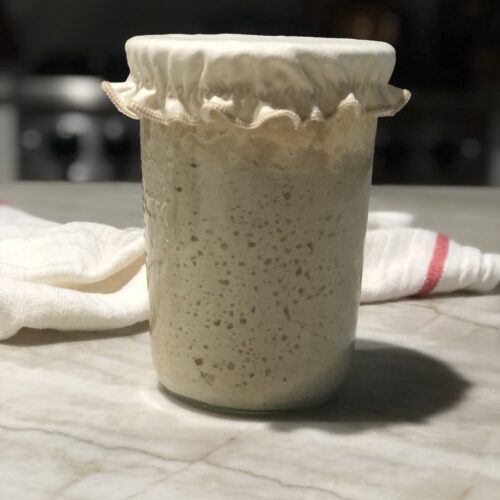 Sourdough Starter from Scratch
This sourdough starter is made from scratch using simple ingredients.
Ingredients
1/2

Cup

Fresh Milled Flour

1/2

Cup

Spring Water
Instructions
Days 1-4: Combine 1/2 cup of water and 1/2 cup of flour in a glass jar or bowl.

Cover with an unbleached coffee filter or a linen towel. Secure with a rubber band.

Sit on the counter for 24 hours. Discard 1/2 of the starter mixture.

Days 5-7: Repeat step #1 but this time, do it every 12 hours.

The starter should be bubbly and have a sour tang smell. That's the perfect sourdough starter.
Notes
Troubleshooting:
If a liquid forms on top of your starter, this is called hooch and can be completely normal. It forms when your starter hasn't been fed. Your starter may need the full 24 hours if this keeps returning. Some people pour off the liquid or mix it back in and add the flour/water combo as stated above.
My starter isn't bubbly? If you are using all-purpose flour, try mixing it with a 50:50 ratio with whole wheat flour. All-purpose more than likely has been stripped of all the valuable nutrients, which will not allow your starter to become active and alive.
How to Maintain Your Sourdough Starter
You have to feed it daily if you keep it on the counter or it will go hungry. I don't use mine daily; therefore, I keep it in the fridge and then revive it when I'm ready to use it again. I recommend feeding it at least once a week.
When you pull it out of the fridge, add 1/2 cup of flour and 1/2 cup of water. Repeat the steps in the recipe until it's nice and bubbly. It shouldn't take but 24 hours to re-activate it.
I named my sourdough starter after my grandpa. My Sourdough Starter is called "Jimmy". He was known for making wonderful bread when I was a little girl. I didn't know him very long but my mom has shared with me very fond memories of paw paw making bread. I hope my paw paw is proud of my Jimmy.
TOOLS YOU MAY NEED
Sourdough Starter (I know this is all about making a Sourdough Starter but here is an option to purchase an ancient one)
References: