If you've been here a while, you've heard me talk about the health benefits of nourishing bone broth. I came across it years ago from a book a friend of mine bought me called Nourishing Traditions, by Sally Fallon Morell. It's probably one of the best things we can give our bodies.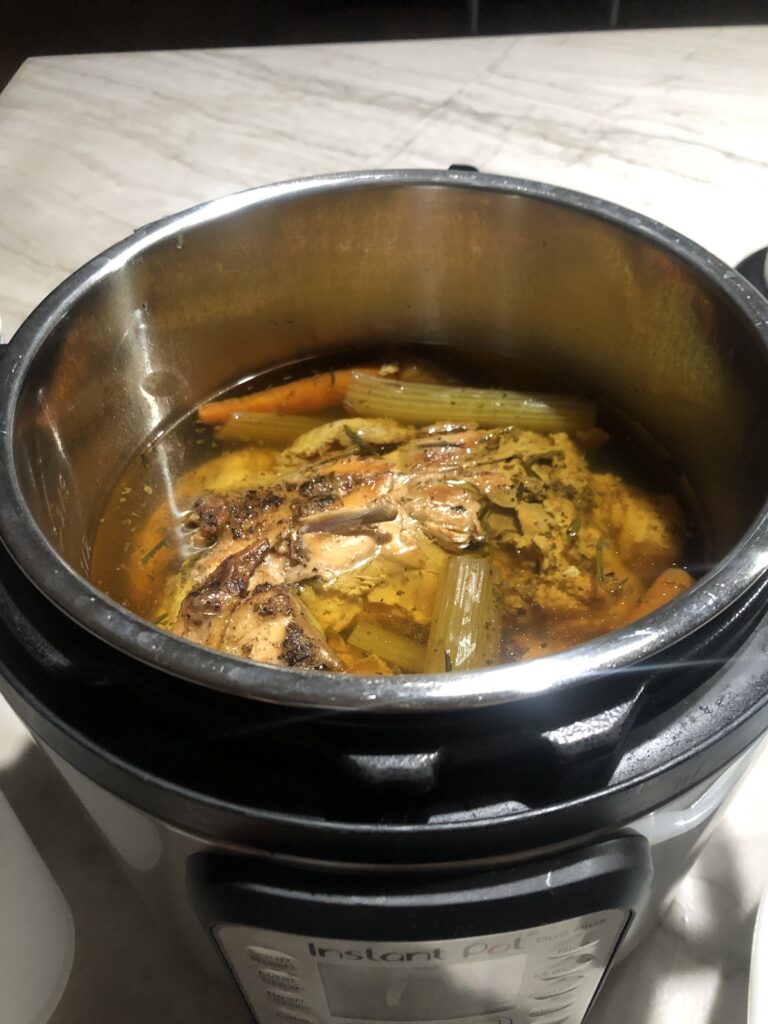 What is Bone Broth?
It's basically animal bones that cook for a long period and then releases all the nourishing benefits into a beautiful broth. Broth dates back to the Stone Age era. Families have been boiling and simmering animal bones for thousands of years. It's the perfect base for soups which makes sense why they made it so often.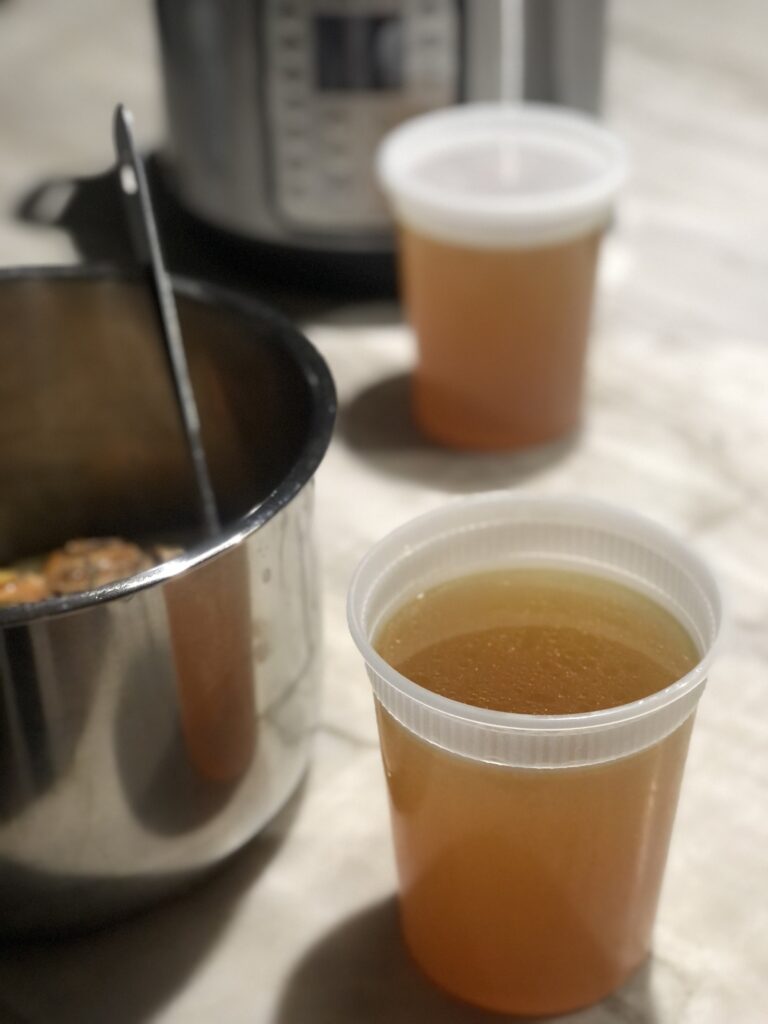 Health Benefits of Bone Broth
Bone broth is loaded with collagen and once it's cooled, it develops a gelatin consistency. That's how you can tell if your bone broth turned out right. Nourishing Bone Broth gives the body amino acids and minerals allowing our bodies to recover quicker from illnesses and surgeries. Collagen is the glue that holds the body together. ~ Sally Fallon Morell
Here is a list of some of the benefits of drinking bone broth:
Stronger nails, glowing skin and fuller hair
Relieves joint pain
Boost the immune system
Better digestive system
Absorbs minerals and electrolytes
Have you heard your doctor say "Eat more protein"? Well, bone broth will give you a bunch of protein. Drinking just two cups a day will give you many health benefits.
How to Make Bone Broth
First, you are going to need some chicken bones. A whole chicken that you just ate on is perfect. I buy or make a roasted chicken all the time and I keep a few of the carcasses in the freezer so I can make nourishing bone broth anytime. My recipe is for using both the Instant-Pot and a slow cooker (aka crockpot).
If you can get your hands on some chicken feet, that will make your bone broth even more nourishing. The feet are loaded with collagen. Check around and ask some of your local farmers if they sell them.
Second, grab your Instant-Pot or a crock pot. Place all of your bones in the pot. Fill up the pot with clean filtered water just so it's showing the bones. If you cover the bones completely with water, your broth may not gel.
Now, cut up carrots, celery, onion and even drop a few cloves of garlic in the pot. Add 1 tablespoon of apple cider vinegar. This will pull out all the collagen.
Crock-Pot Method
Slow cook your broth for at least 12 hours. Add some fresh thyme or rosemary 30-40 minutes prior to being finished. I used to use this method and then I blew my crock pot. I'm not sure if it was just too old or the long cooking time frame. I've even used a turkey roaster before.
Instant-Pot Method
Put the lid on and select the "soup" option. Hit "high pressure" for 120 minutes. Use the sealing option as well. Once this is finished, hit cancel and then run it through again for another 120 minutes. Repeat step #1. Lastly, run the instant-pot another 120 minutes. If it goes into the night while you're sleeping, it will just stay on warm until you wake up.
Once the time is up, let it cool and then remove the carcass and vegetables. Using a fine mesh strainer or cheesecloth, strain the broth so any tiny pieces do not pass through into your container. Let cool in the fridge over night. I use freezer safe containers. I have a 6 quart Intant-Pot and I get (2) 32oz. containers, which is perfect for weekly meals or if I just want to sip on it throughout the week.

This post contains affiliate links, which means I make a small commission at no extra cost to you. See my full disclosure here.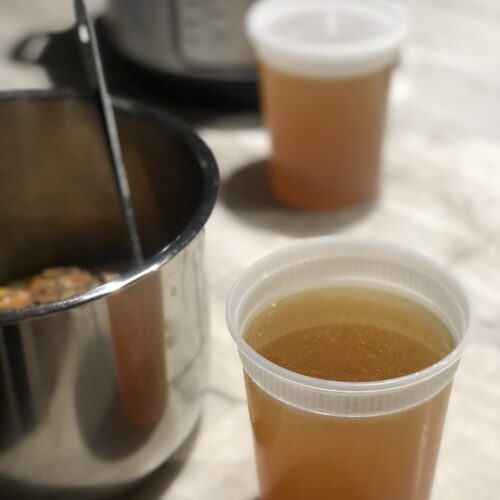 Nourishing Bone Broth
Bone broth is loaded with collagen (aka protein) and is the building blocks to your joints, beautiful skin, hair and nails and much more. Use it in weeknight meals or sip on a cup daily.
Ingredients
1

Leftover cooked chicken carcass

2

Chicket Feet

(optional)

2-3

Carrots

2-3

Celery bibs

1

Clove of garlic

1

Tbsp

Apple Cider Vinegar

Fresh Thyme and Rosemary

(optional)

Clean filtered water
Instructions
Add leftover chicken carcass and feet to the pot.

Cove the veggies with water, just a little over the top of the bones.

Place the lid on the Instant-Pot. Set it to the "sealing" option.

Select the "soup" section and hit 120 minutes on high pressure.

Once that finishes, hit cancel and run it through another 120 minutes.

Once the second batch is finished, hit cancel and run it through a final 120 minutes. Add fresh thyme or rosemary at this point. This can go into the night if you are sleeping. Push the "warm" setting at the beginning and it wil automatically switch over once it's finished.

After the final cooking has finished, release the pressure.

Grab a bowl and cheesecloth or a fine mesh strainer.

Discard the carcass and the vegetables into the trash.

Take the cheesecloth or strainer and set on top of the bowl. Ladle the broth into the bowl until you are finished.

Fill freezer safe containers with the broth and refrigerate over night. If all goes well, the broth will be a deep golden color and jiggly the next morning.
Notes
This recipe is for the Instant-Pot method. You can certainly use the stove top or the crockpot method too.
Crock pot method: Slow cook your broth for at least 12 hours. Add some fresh thyme or rosemary 30-40 minutes prior to being finished. I used to use this method and then I blew my crock pot. I'm not sure if it was just too old or the long cooking time frame.
Tools You May Need
Pin For Later