Do you have an Instant Pot? I have a confession to make. It took me three years to finally make the decision that I needed one LOL. I'm the "From scratch" girl that cooks in dutch ovens. Why on earth do I need an Instant Pot? Well, when I found out this thing can make bone broth in six hours, I was sold. Plus, on those nights that we get home late, I can get a meal on the table in less than thirty minutes.
I'm pretty sure you can fix just about anything in this thing, right?
My ham and bean soup is so easy to make and only has a few simple ingredients.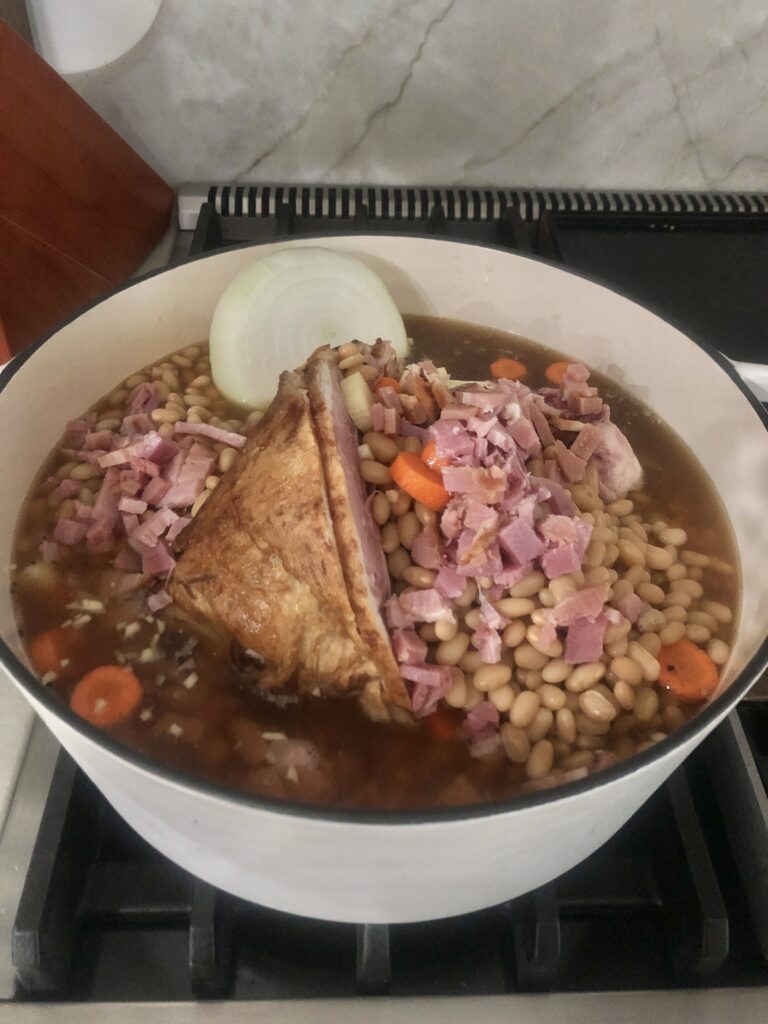 How to Make Ham and Bean Soup
There's two ways I make ham and bean soup. First of all, I love cooking in my Dutch ovens for bread, soups, stews and chili. I'm not giving up this method. Ive just found a much quicker way to make soup now in the Instant-Pot. They are basically the same technique except one you cook slow and the other one is high pressured. Let s dive in.
Dutch Oven Method:
Dutch ovens are classic in the kitchen. You can make bread and lots of soups and stews in them. They are big enough for a crowd and they look pretty sitting on your stove.
Instructions: Take your cooked beans and place them in the Dutch oven. Add the chicken bone broth and the ham bone. Next, add the carrots, bay leaves, salt, pepper, garlic and onion. Turn the burner on high and stir. Once it comes to a boil, turn the burner down to simmer. Cook on low for 3-4 hours.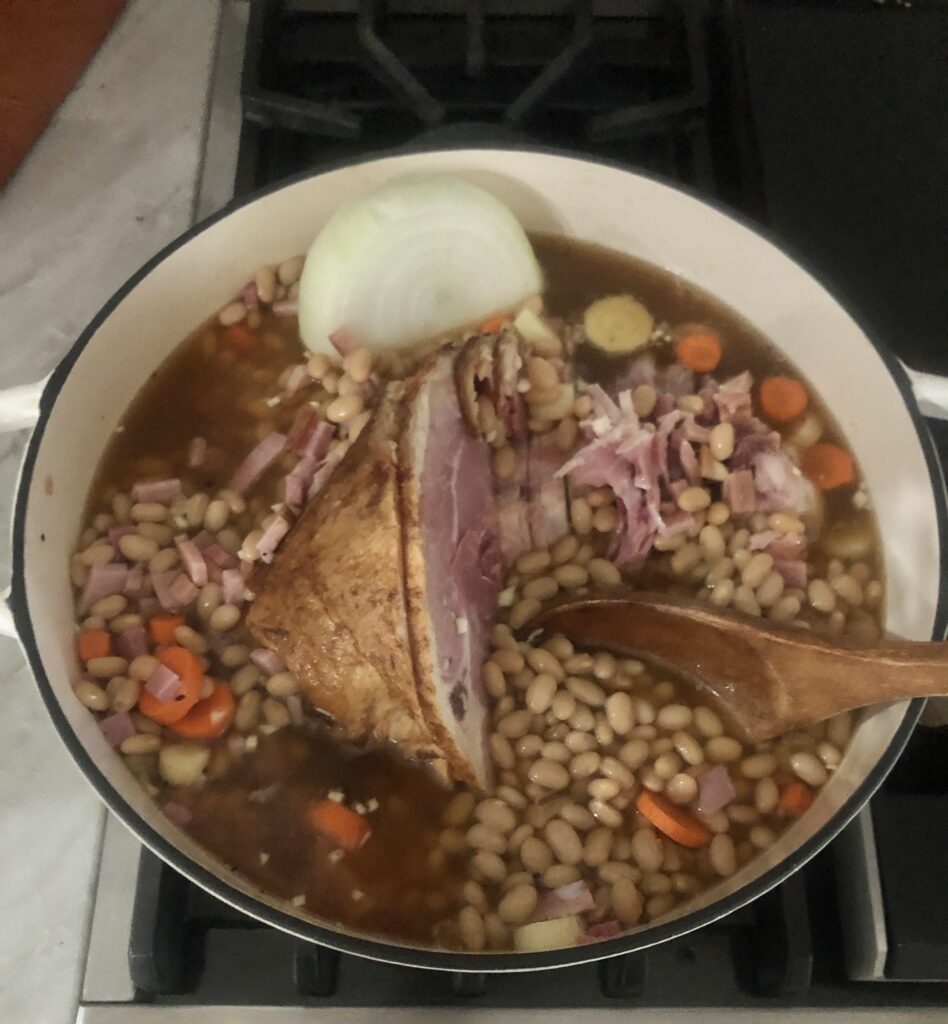 Instant-Pot Method:
This ham and bean soup can be used in both the Instant-Pot Pressure Cooker and their slow cooker version. I've done it in both. Both methods really meld the flavors together.
Instructions: Fill either pot with the cooked beans. Add the bone broth, carrots, bay leaves, onion, garlic, salt and pepper. Stir together and add the ham bone. If using the slow cooker, use the low setting and cook for 6-8 hours. Add the carrots after three hours so they don't end up mushy. Once done, remove the bone and the bay leaves.
If using the Instant-Pot, use the "soup" setting and do a natural seal. Cook the soup for 28 minutes and allow the pressure to release. Remove the bone and bay leaves.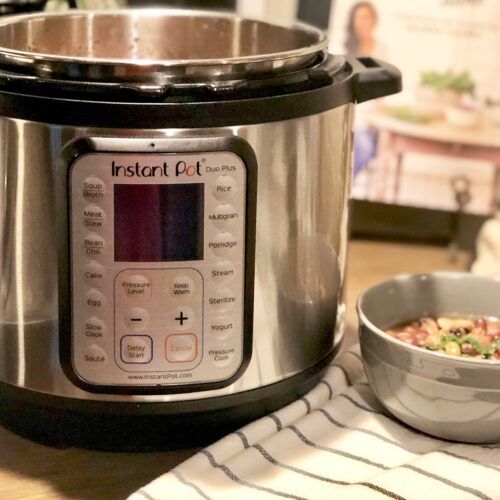 Time Saving Tips
Here are a few time saving tips that have helped me get this on the table.
Use canned beans
Definitely use the Instant-Pot if you're in a hurry. 28 minutes compared to 6 hours is a huge time saver.
If using dried beans, cook them the day before you make the soup.
Use bone broth in a carton. I make mine when I have time and try to stock up but sometimes I need to use a store-bought one. Make sure it's high in protein.
How to Cook Dried Beans
Place the dried beans in a bowl and cover them with water. Cover the bowl and let them sit overnight. They will have risen and plumped up and are ready to cook at this point. Next, filter through any that may be discolored or blemished.
Place the beans in the either a crock pot, Instant-Pot or a Dutch oven. Add homemade bone broth (about 5 cups). Follow the instructions below on how to cook the beans.
Instant-Pot: Use the bean setting and cook for 8 minutes on a natural seal.
Slow Cooker: Cook on the low setting for 4-5 hours.
Dutch Oven: Bring beans and broth to a boil and cook on low for 3-4 hours.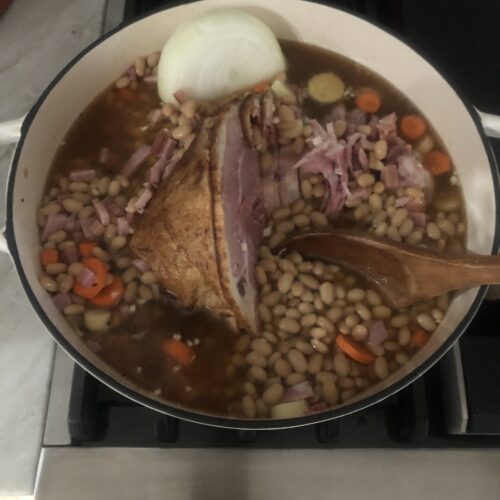 Old-Fashioned Ham and Bean Soup
This is comfort in a bowl. I saved my ham bone from Thanksgiving and froze it last year. It's the perfect meal on a cold winter night.
Ingredients
1

Ham Bone

3

Cups

Navy Beans

5

Cups

Chicken Bone Broth

1

Onion, chopped

3

Carrots, diced

2-3

Bay leaves

Pink Himalayan Salt

(to taste)

Ground Pepper

(to taste)

Fresh Parsley

(for garnish)
Instructions
Rinse beans and soak overnight. Rinse and discard any broken pieces.

Add all the ingredients to your Instant Pot. Put lid on and then press the "Soup" button. Make sure you do a natural seal.

Once the steam as been released, remove the bone and the bay leaves.

Garnish with fresh parsley and serve with a yummy pan of Cornbread.
Notes
In this recipe, I'm using the Instant-Pot. Please see above to use a slow cooker or Dutch oven.
Note: If you are using a slow-cooker or dutch oven, this will take about 6hours to cook on HIGH. After three hours, add the carrots so they don't get too mushy.
I have the Instant-Pot Duo Plus. The features of this one are Broth, Beans, Meat, Cake, Eggs, Slow Cook, Saute, Rice, Multi-grain, Porridge, Steam, Sterilize, Yogurt and Pressure Cook. Wow, does this thing do a lot! I'm actually wondering what I ever did without it LOL.
Tools You May Need
InstantPot
Slow Cooker
Dutch Oven
Ladle
Dried Beans
Pink Himalayan salt
Bay Leaves
Pin For Later