My mom always says, "I've never met a potato I don't like". I laugh every time she says it but she's right. Potatoes are so versatile. They can be prepared in so many ways and are just plain yummy. Follow along below as I share my best way to plant potatoes in your garden. It's way easier than you think.
I've been planting potatoes for several years now and there's nothing more rewarding than picking vegetables that you've grown. Needless to say, it's so fun picking root crops. When you pull the stems back and see all the yummy veggies in the ground it's just so exciting.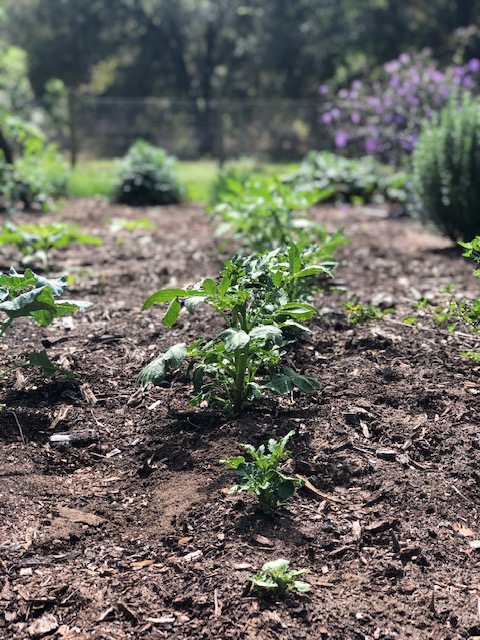 How To Plant Potatoes
The first thing you need to do is find your planting zone. I'm in zone 9 and we are very blessed to be able to garden pretty much year round here. I have been planting by the moon for years and it's never failed me. You can go checkout Farmers' Almanac and they are a wonderful resource for gardening. I downloaded their calendar and go to it each month to see when my best planitng days are.
The second most important item is to have really good soil. Living here in Florida, we mainly have sandy soil. You can grow in it but I always add rich, nutrient compost which makes my veggies grow even better. You can purchase soil from the big box stores or ask a local farmer if they have any horse or cow manure. That stuff is like liquid gold!
Next, you need to make sure you are planting your potatoes in a space that has 2-3 feet of depth. Since potatoes are grown under ground, they need room to grow. I plant mine in rows. This year, I'm planting them in raised beds. It's basically the same as dirt set except raise beds have sides and will keep the small critters away.
You have to make sure your potatoes have "eyes". Potato seeds can be purchased from your local nursery or garden center. You can even just make your own, if time allows. What you'll first is cut the potato in half, making sure each half has at least 1-2 eyes. The cut part will go face down in the soil. I ususally space mine about 6-8 inches apart. The more space, the bigger your potatoes will be and vice versa.
Lastly, I made a video a few years ago on How to Plant Potatoes In Your Garden. I hope it will give you some good insight if you are new to this. You'll see how I dug a deep trench and then covered them up. It's really that easy. Just remember to water them regulary haha.
When Do You Plant Potatoes?
Since we all live in different planting zones, then that means we will all be planting at different times of the year. Zone 9's best time for planting potatoes is January – February. It takes about 90 days until you will harvest.
Potatoes do not like the heat, so you'll need to plant them so that you can harvest them before summer. If you live in the Northern region, you'll need to wait until the last frost. Check with your local county extension office. They usually have a master gardener on site who can help you.
---
Potatoes Would Go Great With These Recipes
---
Are Potatoes Healthy?
Contrary to what most believe, potatoes have some great nutritious benefits. When I was pregnant with my daughter, I used to work out with Denise Austin. She would always tell us on the video that a potato a day is good for us. She still looks amazing, so I'm sticking with Denise haha. Now, she doesn't mean to go eat at McDonald's and grab their fries. I personally love to drizzle avocado oil on a potato, wrap it in foil and bake them for an hour in the oven. Mashed potatoes are probably my favorite but I also love making smashed or roasted potatoes and of course, home fries for breakfast.
Potassium
Fiber
Protein
Vitamin C
Vitamin B-6
Magnesium
Source: Potatoes.com
How To Harvest Potatoes
This is the fun part! I absolutely love picking potatoes. Get your kids involved. They will love it too! Now, most of the time, you pick vegetables when the stems and greens are "green", right? Not potatoes. When the leaves are brown and look like they died, that means you did it right and it's time to pick.
You'll pull all the leaves together and then you'll see all of these yummy potatoes come out of the ground. So cool!
I recorded a video a few years ago on How to Harvest Potatoes. You can watch it below.
Tools You May Need
Potato Seeds – Red and Yukon Gold
Gardening Books – Here and Here
Pin For Later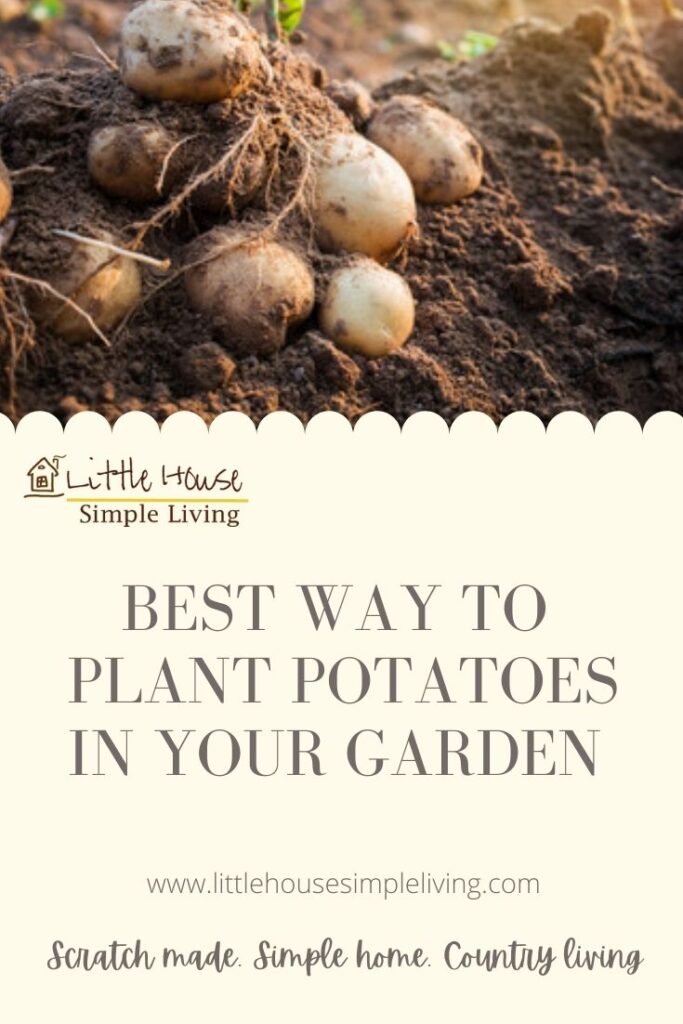 I'd love to see your garden. Tag me on Instagram @lhsimpleliving and Happy Planting!