Now that it's Spring, most gardens are being planted. We are very blessed here in Florida to be able to garden pretty much year-round. I planted my beans about three weeks ago so I have a ways to go but I can't wait to make my Southern Green Beans using the ones I'm growing.
I went to our local Farmer's Market the other day and grabbed the most delicious-looking beans. We were having family over for dinner on Sunday, so I wanted to make my Southern Green Beans. I thought they would go great with my homemade meatloaf, mashed potatoes, and a loaf of bread I had planned to make.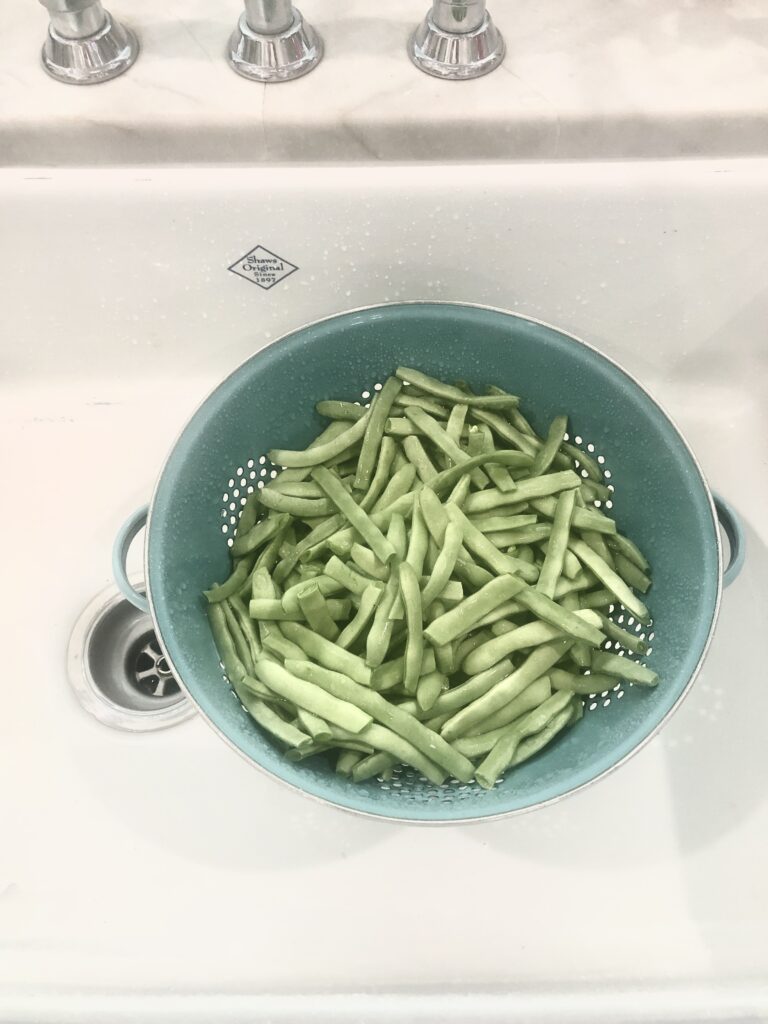 Types Of Ways to Cook Green Beans
I've learned over the years a few ways to cook green beans. I definitely prefer them fresh, but in the off-season, I buy frozen bags of green beans.
My first way is the way I grew up eating them. My mom and grandma's all made them in their dutch oven. We'd sit on the porch and string the beans and then go put them in the pot on the stove. They would simmer for a few hours while we made the other dishes. This is my favorite way to cook them!
The second way that I just learned about a few years ago was in the Instant Pot. This is where you cook them at high pressure for a short amount of time. I definitely love this way if I am crunched for time.
Types Of Beans To Use
Isn't there just one "green bean"? Essentially yes, but not really ha ha. Most people are used to eating the "Blue Lake" Green Beans. Those are the ones I'm growing but there's all kinds of bean varieties. For this recipe, I used a Pole Bean. They are meatier than the Blue Lake ones and stringier lol. A little more work, but I still love them.
If you have a garden and want to try growing different varieties, here's where I buy my seeds. I always have great yields.
How To Cook Green Beans On The Stove
This way takes longer, however, there's just something about looking at my dutch oven on the stove that makes me feel all warm inside. Maybe it's the cast iron or the memory of watching my grandma do it. Either way, it feels like home to me.
First, you want to start with bacon and butter. Those are your staples in life as a Southern cook. Grab your dutch oven and put a couple of pats of butter in the pot. Turn your burner on and let it melt. Add in the chopped-up raw bacon.
You're going to cook the bacon until it is almost done. Don't overcook it like you would eat it for breakfast, but just almost done. Add in chopped-up onion and 1-2 gloves of garlic. Cook until transculent.
Then, you are going to add two cups of chicken broth. Homemade is best but when I'm in a pinch, I keep Trader Joe's Chicken Broth on hand. It is the best one that's most like homemade.
Bring your broth and bacon to a boil. Add in your uncooked washed and trimmed green beans. Add salt and pepper to your liking. If you like a little kick, add something chili powder or hot pepper seasoning.
Stir it all together and reduce the heat to simmer once you see the beans start to turn a darker color. That means they are starting to cook.
Simmer for at least an hour.
This post contains affiliate links, which means I make a small commission at no extra cost to you. See my full disclosure here.
How To Cook Green Beans in the Instant Pot
Directions:
1. Place butter, bacon, garlic and onion in the Instant Pot and select the "Saute" setting. Cook until bacon is cooked.
2. Add the chicken broth and green beans. Next add salt and pepper, then stir.
3. Put lid on and select the "Steam" setting. Close the lid and make sure it's set to natural pressure.
4. Let beans cook for 30 minutes and make sure the "Warm" setting is on.
5. Once the pressure has been released, the beans are done.
Here's My Recipe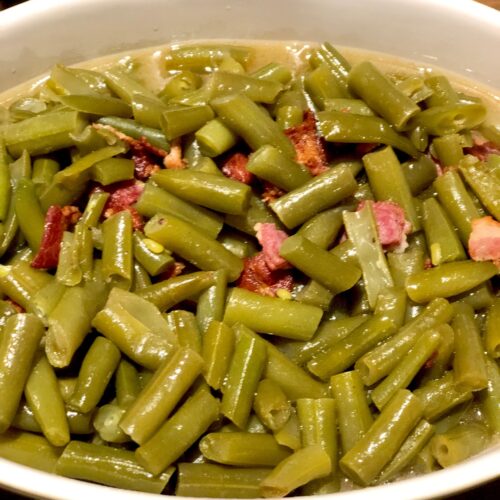 Southern Green Beans
Southern Green Beans call for Bacon and Butter. You have to use real bacon and real butter. None of the fake stuff ha ha. The perfect side dish to compliment any meal!
Ingredients
2-3

Tbsp

Butter

1-2

Slices

Bacon

I use uncured Applewood Smoked Flavor

1/4

Cup

Chopped Onion

1-2

Cloves

Minced Garlic

1

Lb

Fresh or Frozen Green Beans

Salt & Pepper, to taste
Notes
The ingredient list is the same whether you cook them in the dutch oven or in the Instant Pot. Feel free to add more or less of something, depending on your liking. 
Supplies Used or Optional Items Needed
Dutch Oven, Dutch Oven or This One (all good brands)