Ever since I was a little girl, I have always wanted a pretty vintage white farmhouse sink. Maybe your grandma had one growing up. Some have high backs and some have a drainboard attached. Either way, they are just so nostalgic.
When we started thinking about building our new "old" Farmhouse, I knew I needed to be on the hunt for one. I actually had plans to put one in our laundry room and one in our half bath. I always love adding vintage charm to our home. Read all about our Why We are Building a New "Old" Farmhouse here.
Buying an Old Sink
So, there's a few pro's and con's to buying a sink that's been around forever.
Pro's of a Vintage Farmhouse Sink
Nostaglic Vintage Charm
Original Design
So Pretty
Con's of a Vintage Farmhouse Sink
A lot of work to restore them (sometimes)
Rust from the 1900s. Is even the residue safe?
No guarantee that it will come clean
Possible Imperfections
Why We Chose a New Farmhouse Sink
When we were designing our house plans, we knew we wanted this house to be like a new "old" farmhouse. Although I love the Nostalgia of days gone by, I knew we didn't have the time to dedicate to restoring an old home. Plus, it's hard to find them here in Florida and well, it's taken us six years to build this one haha. Could you imagine how long it would take us to restore one?
We chose Vintage Tub & Bath because I already knew of their high-quality standards. Our island sink is from there, as well as, our master clawfoot tub and bathroom fixtures. I knew we would get the finished product that we were looking for but yet still have that timeless vintage charm that I love.
These are all items we purchased for our home after months of researching while we were planning our home-building journey back in 2016. Vintage Tub & Bath had the classic farmhouse style that we were looking for. I'll share more about our master bathroom and kitchen in an upcoming post.
Our Powder/Half Bath
This is one of my favorite rooms. It's small but really, all you need to do in here is go to the bathroom and wash your hands, right haha? I wanted this room to carry the same vintage feel that I have brought throughout our entire home. It's the perfect feel of the classic primitive style that I am going for.
When I was choosing the farmhouse sink, I wanted it to make a statement but yet, be super functional with clean lines. It needed to be period-styled. Therefore, I went with the high-back farmhouse sink. I've always loved that style and it literally looked just like the one I bought that is dingy and gross LOL. Most people put these in their laundry room or kitchen, but I always like to be different anyways haha and I think it looks perfect in our half bath.
I chose colonial lighting both on the ceiling and as a vanity light. I found a reclaimed mirror at a local salvage shop. The little table was my grandparent's and it fits perfectly in there. My father-in-law gave me a gorgeous framed photo of my husband's great grandfather. The beadboard came from a local 1800's home that I found at a restoration shop. We painted it, Sherwin Williams Sage, keeping the original texture, as well as, painted the walls. I just love it in here.
Which Sink Did We Choose
We chose the Randolph Morris by Vintage Tub & Bath, 30 inches cast iron high back farmhouse sink. It is made from heavy-duty cast iron. The sink is coated with a layer of porcelain enamel that resists chipping and cracking. That was really important to me. I wanted our guests to have a pretty sink. We've already had house guests and it has served well for when girls need extra space to put their make-up on.
This sink comes with mounting brackets. You will just need to supply the faucet and the drain. I chose to go with chrome fixtures to complement all of my decor. Make sure you measure your space ahead of time if you are building or renovating. This sink can go into a custom cabinet or wall-mounted as we did. I only had 30 inches to work within our space so this one fit perfectly.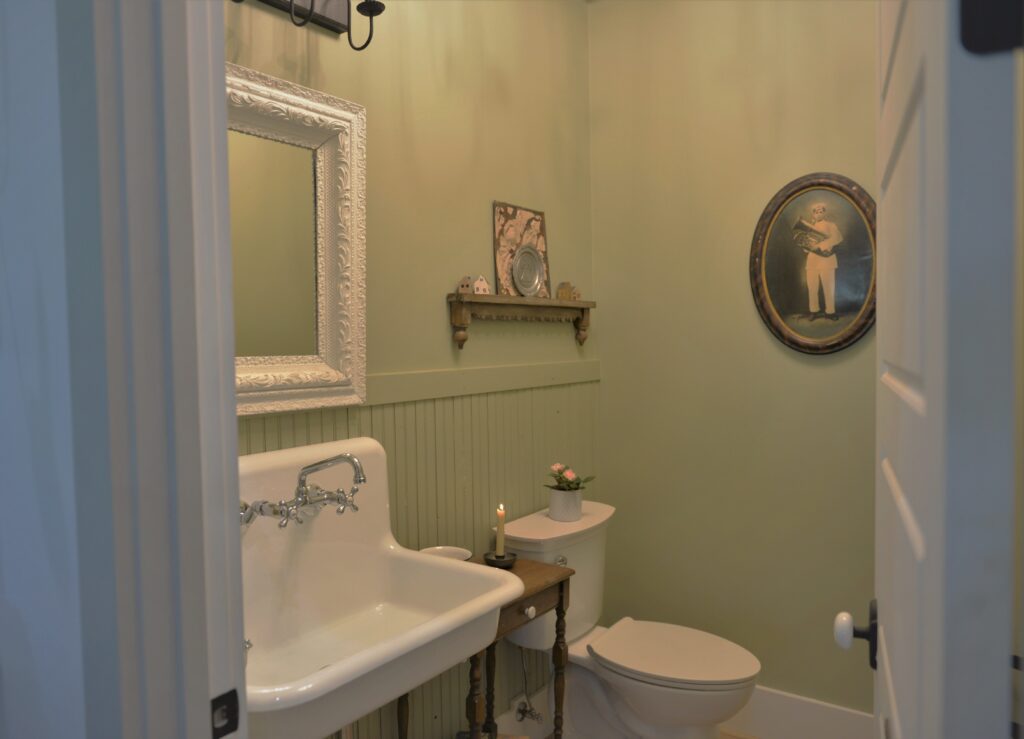 Home Building Tips
If you are planning on building a new home, your plumber will need to know the valves of your fixtures when he's doing your rough-in. Plan accordingly because all valves are not the same. I bought all of the fixtures 6-9 months before we started building. I wanted to make sure we were prepared and that the plumber would have everything he needed. It was also a way to save up the money first so we weren't having to pay for everything all at once.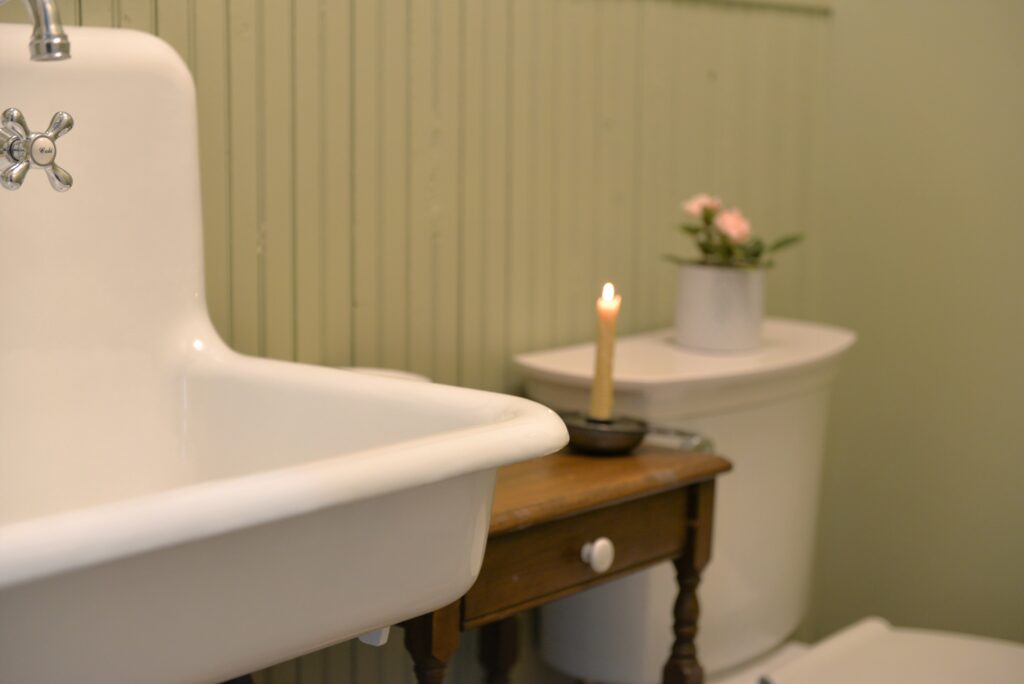 Final Thoughts
You can add statement pieces anywhere in your home. It doesn't matter how much space there is. Decide on what you want to be the focal point. Mine was the sink. I'm so glad that I found a new "old" farmhouse sink from Vintage Tub & Bath. It goes great with our new "old" farmhouse. If you are looking for timeless fixtures and sinks, Vintage Tub & Bath is the best place I recommend.
Stay tuned as I will be sharing more of our new home as I slowly get rooms decorated.