I love Springtime here in the South. For instance, we have so many u-pick farms here in our area. There's strawberry, blackberry, blueberry, and peach pickin' from March to June. I always love going and stocking up on fresh-picked fruit. Therefore, freezing my fruit allows us to enjoy it throughout the entire year. Oh, and of course, we have several orange groves to visit earlier in the year.
I just went peach pickin' with a few friends last Saturday and picked a peck. That was about 35-40 peaches. My intent was to go home and make something yummy and then freeze some. I love making peach desserts with fresh peaches. I usually make a cobbler or save them to make peach ice cream down the road.
This post contains affiliate links, which means I make a small commission at no extra cost to you. See my full disclosure here.
The Best Ways To Eat Peaches
The first obvious way is to eat them right off the tree. I really love the ones here in Florida. They don't have all the fuzzy skin on them lol. They come from the University of Florida, where they developed a Peach tree that would adapt to our tropical climate. You can read more about growing Peach trees in Florida here.
The second way I like to eat peaches is to freeze them and put them in a smoothie. You can also put them on top of ice cream or yogurt. See below on how I freeze them.
The third way I love to eat them is right off the grill. Have you ever had them grilled? They are so yummy and sweet. This is the reason I came up with this recipe for a grilled peach dessert.
How To Freeze Peaches
Freezing peaches is the best way that you are able to enjoy them throughout the year. Our Peach season is only for the month of May. Therefore, I try and pick enough to last us for a few cobblers or this yummy peach dessert.
Basically, you cut the peaches up and leave the skin on. This is per my friend Mary that owns Graham Farms here in Umatilla. Line them on a cookie sheet with wax paper. Put them in the freezer until they are solid. After that, place them in a Ziploc or glass container and put them in the freezer. I love being able to pull the exact amount I need when I need them.
What Is Marscapone?
Have you ever heard of or use Marscapone Cheese? I bought a container a few weeks ago thinking that I would make something delicious. Marscapone, an Italian soft cheese, is best known in specialty desserts like tiramisu. I've always wanted to try making something with Marscapone. What better fruit to pair it with than peaches, right? Now, let's get into this sweet and juicy grilled honey glazed Peaches with Marscapone.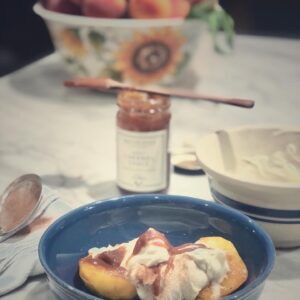 Grilled Honey Glazed Peaches with Marscapone
Fresh picked peaches are perfect for this time of year. Grilling them as a dessert is even better!
Ingredients
4

Fresh Picked Peaches

2

Tbsp

Real Butter

1/2

Tsp

Madagascar Vanilla

2

Tbsp

Raw Honey or Maple Syrup
Marscapone Topping
4-6

oz.

Marscapone Cheese

I use Trader Joe's

3-4

Tbsp

Heavy Cream

I love Organic Valley

1

Tbsp

Raw Honey

Cinnamon Powder
Instructions
Peel and remove the seed from the peaches. Cut them in half or slices.

In a small bowl, combine the Marscapone, heavy cream and honey. Whisk together.

Meanwhile, heat the butter, honey and vanilla in a small pan. Stir until melted.

Turn your grill on. It can be a gas grill, indoor grill or even an air fryer. Place your peaches on the grill and brush with the melted butter mixture. Cook for 3-4 minutes.

Flip the peaches over, brush the butter mixture on this side and grill for another 3-4 minutes.

Remove the peaches from the grill and allow to cool.

Top each peach half with a dollop of the Marscapone mixture. Sprinkle with cinnamon. Garnish with fresh thyme or mint (optional)
Supplies You May Need