What do you think of when you hear the word "Farmhouse"? I think of a home on a farm with a garden, a clothesline and some animals. Families gathering in a large kitchen or your neighbor coming over for coffee and a piece of pie. Sitting on the front porch shelling beans from the garden and listening to music in the evening while you're rocking away. I think of a much simpler lifestyle. That's a Farmhouse to me.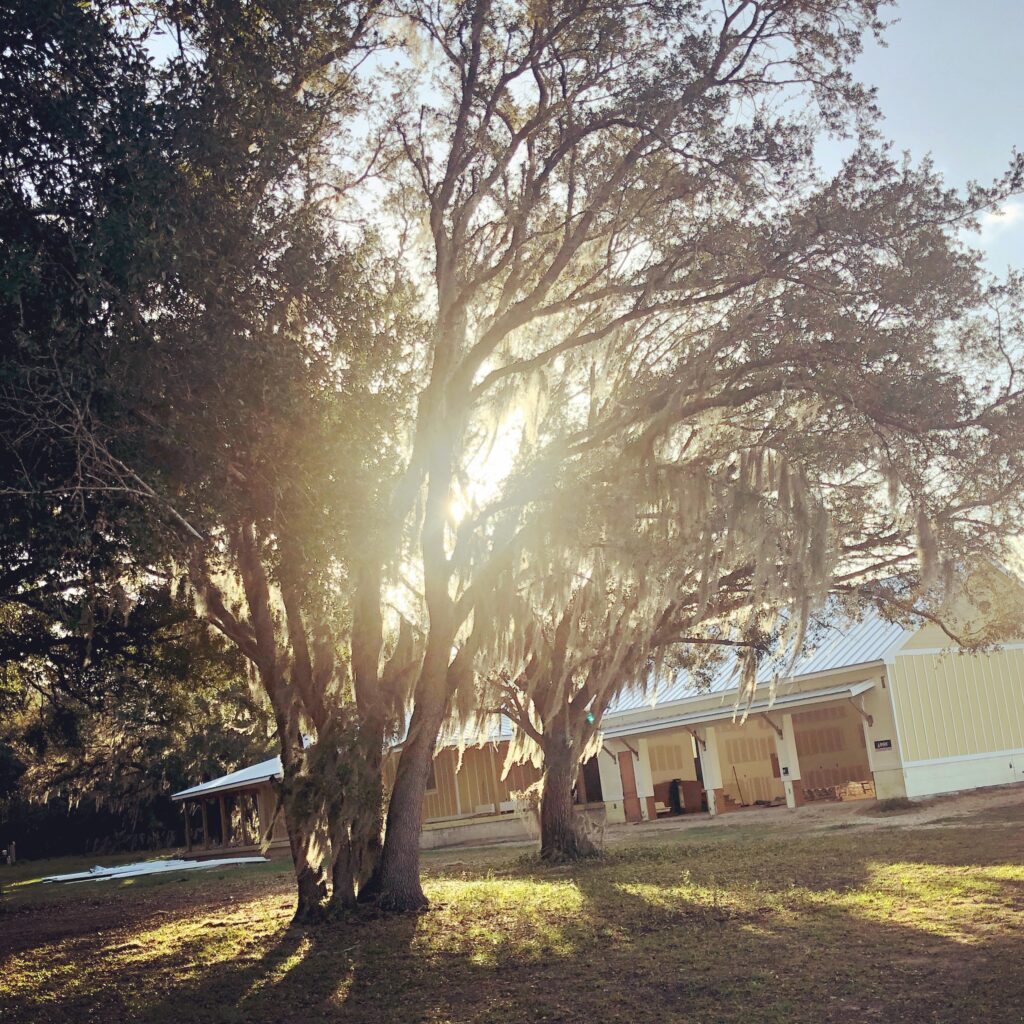 A little history about the American Farmhouse….
Back in the day, American Farmhouses had a straightforward construction designed to function amidst a working farm in a rural setting. They had a simple rectangular floor plan, usually built with local materials, and included a dominant centrally-located fireplace for cooking and heating. (Source: Wikipedia)
I think of going out to my cousin Mary and Bruno's farm when I was a little girl. They had cows, chickens and the prettiest white Farmhouse. We had all of our family reunions there. I remember sitting on their front porch just catching up with my hillbilly cousins. If you guessed that I am from West Virginia, then you are right lol.
Why we chose to…..
purchase our 10 acres back in 2015 because we wanted to raise cows/chickens, have a bigger garden, allow our dogs to run in wide open spaces, to have more property and basically live a more simple life. We also wanted a Farmhouse, but more of a custom one.
Is the Farmhouse movement just a fad or is it here to stay? We didn't decide to build a Farmhouse so we could follow the new craze. We actually designed our plans according to how it would fit our family. Our kids are 19 and 21 now, so this is our third home my husband and I have built. We wanted a new home that was more wide open so we could all fit in the kitchen and hang out. Being able to sit on our front porch in the evenings and talk about our day was really important. The Farmhouse also needed to be big and functional enough for our next stage in life. Married kids with children LOL, but not right now.
Our New "Old" Farmhouse
In our new Farmhouse we're building, our front porch is big enough to hold a swing at one end and look like Cracker Barrel if we wanted to add that many rocking chairs LOL.
We wanted a house with simple clean lines. A metal roof was a must. To sit and listen to the rain is just so peaceful. I actually want to cook inside my fireplace in the house. I have an old black stove that I would love to turn into a working one. Maybe do some outdoor cooking on it. I'll see if I can make that happen.
Our taste is more Classic/Colonial/Primitive Farmhouse. It had to be a new home just because it's hard to find property with old Farmhouses on them that are in good condition in our area. Bill and I also wanted to custom design it. You can certainly find house plans online but that is just something we wanted to do. We pulled the permit as owner-builder so we could take our time and give those extra personal touches.
Our style is…..
going to have pops of vintage all over it. We want it to look like an old Farmhouse down to the creaking of our hardwood floors. I've also been able to find some really cool vintage looking items both online and in local shops. I have a lot of our house supplies in my Amazon Shop HERE. I've made it really easy and broke everything down by category for you. When you come over, we want it to feel "like home should feel like" and help our guests reflect on yesteryear.
Our new Farmhouse should be totally completed by the end of the year. We decided to get our CO ( Certificate of Occupancy) in October 2019. That gave us just enough to what the county requires so we could move in and finish the work in our timeframe because we knew it wouldn't be quick ha. Check with your local municipality on their guidelines as each county is different.
The exterior of our home is nothing fancy. We're very simple and the appearance of our new home reflects that in the way we designed it. We used board and batten and stone on the chimney and skirting, but that's the extent of our fanciness! Here's to front porch sittin' and reminiscing of the days gone by!
This post contains affiliate links, which means I make a small commission at no extra cost to you. See my full disclosure here.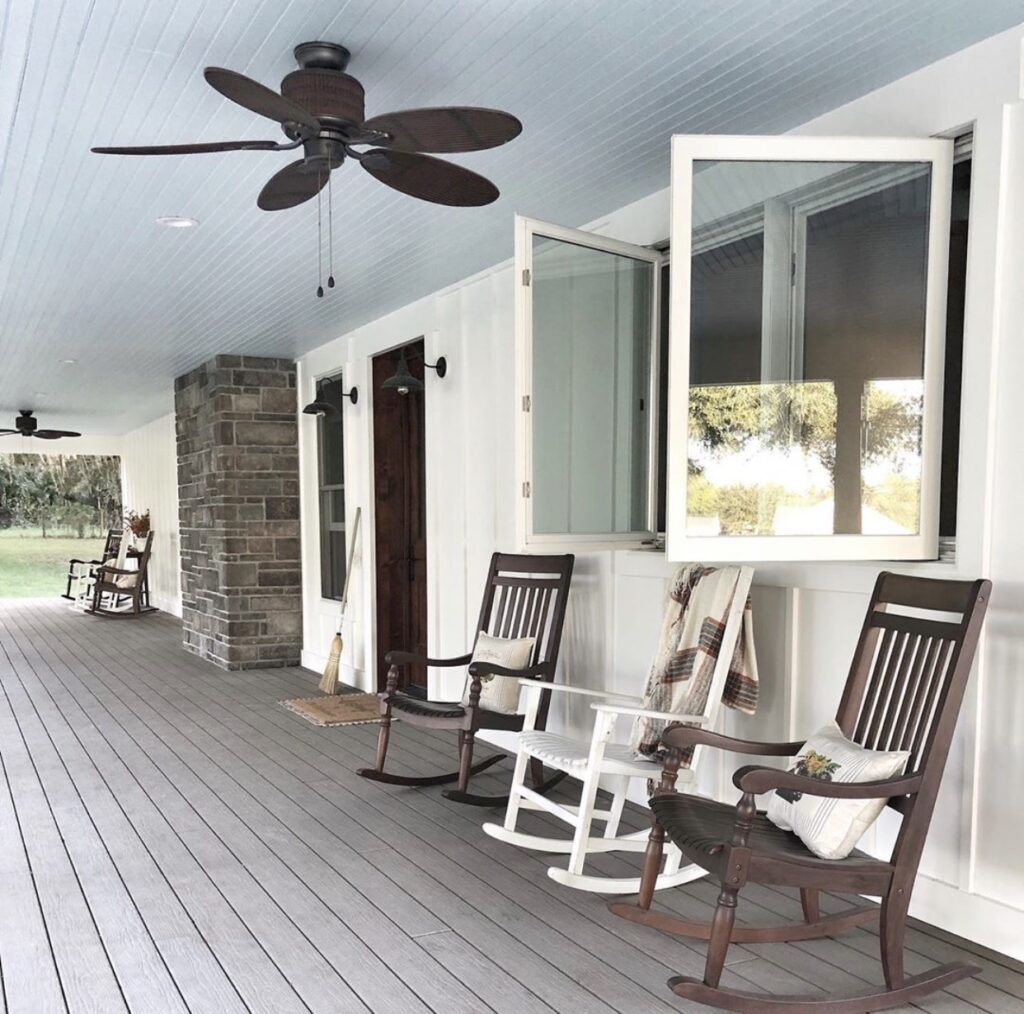 So, How About You…..
Are you building a new Farmhouse? Do you have a dream to live a simpler lifestyle? Or are you renovating right now? If you are intrigued or in the planning stages or just want to do what Bill and I did, then go check out our Home Building page.
I am actually almost finished with my new E-Book Bundle and I can't wait to share it with you. You can join the WAITLIST BELOW so you can be the first to find out when it releases. I've been saving all my scrap pieces of papers, notes, mess-ups, hacks, tips…you name it. I want to help others have a smooth process by knowing some things that we have learned over the years while building our homes. So, go check it out – Tips on How to Build a New Home (or Renovate one) – From a Homeowner's View and make sure you sign up for the waitlist.
Follow Us on our journey over on my INSTAGRAM PAGE – @lhsimpleliving. I'd love to connect with you and get ideas from one another!
PIN FOR LATER