Ahhhh, the smell of Applewood Bacon cooking in my kitchen is like heaven. Are you with me? Bacon is one of those universal foods that just makes any dish take it up a notch. The best bacon I have found is from Trader Joe's. It's their Applewood Uncured Bacon. Since I don't go there that often (it's over an hour one for me), I usually will stock up and buy like 4 or 5 packages. Once you try it, it's really hard to go back to other brands. True story.
What do you think of when you hear deviled eggs? I hear a special occasion, like a BBQ or dinner for a holiday or birthday gathering. They are the perfect side dish to compliment any kind of theme. Well, maybe not Mexican or Italian LOL. They go perfect with a ham, roast, boston butt, brisket, etc. I'm sure you get what I mean ha ha. What perfect timing this is for Easter coming up this Sunday.
They also make a great breakfast if you think about it. If you are tired of just eating hard boiled eggs, then make a batch of deviled eggs on Sunday and you can grab a couple throughout the week. Add fruit and that's a pretty good meal.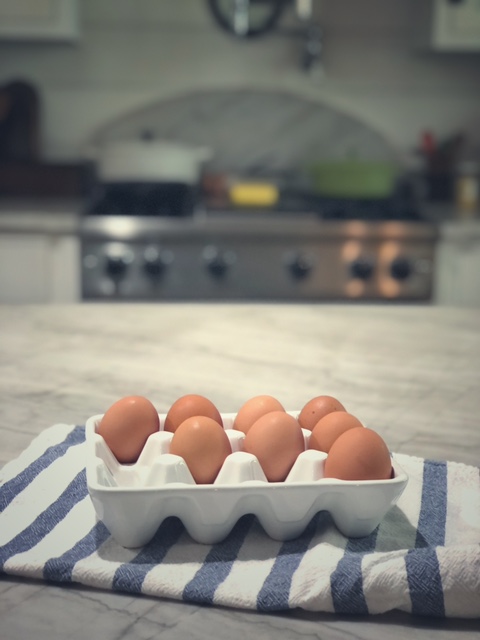 How To Cook Hardboiled Eggs
So, let's dive into our to properly cook hardboiled eggs. I tried and failed so many times over the years and they would always come out still runny inside or gray and overcooked on the outside. Ughhh! My mom bought me one of those eggs cookers for Christmas one year and man, that thing is pretty awesome. I think it holds about seven eggs and all you do is flip a little switch and walla! I have even made them in my Instant Pot. You can just set them on the little tray that comes with your machine or they make an egg tray that you can insert. Pretty cool!
My Favorite Ways
Stove Top: Place your eggs in a pot of water. Bring to a boil for a minute and cover. Turn the heat off and set your timer for 13 minutes. Once the timer goes off, drain off the hot water. Keeping the eggs in the pot, fill it back up with cold water, add ice and then about 1/4 cup of white vinegar. The cold water and vinegar are going to help make peeling the eggs so much easier. Let them set in the vinegar water for about 10 minutes. Pull them out and start peeling.
Instant Pot: Please eggs on a rack in the Instant Pot. Pour in 1 cup of water. Close and lock the lid. Turn the steam release to the Sealing position. Pressure cook on High for 5 minutes. Let them Natural Release for 5 minutes. Release the pressure by turning the handle to Quick Venting. Once that is complete, transfer the eggs to an ice water solution with about 1/4 cup of white vinegar. Let set for 5-10 minutes. This will help the peels come off easier.
Egg Cooker: This is by far the easiest way to cook hard boiled eggs. You pretty much just place the eggs in the slots, fill the bottom with water and then turn the switch on. The cooker will turn off when they are done. Easy Peasy! Note: Please make sure you pierce the bottom of each egg prior to setting them in the cooker. Just follow the directions in the box and you'll be good to go.
Deviled Egg Varieties
There's really all kinds of ways you can stuff your eggs. I like to start with the yolk mashed up, add my mayo and a dab of mustard. You can then build from there. I'll add pickle relish or olives if I have them on hand. You could also add red onion. I have even had an avocado stuffed egg before. Those were pretty tasty!
Alright, so let's get into the recipe. I'd love to know if you make these. Feel free to tag me on Instagram and I'll share your deviled eggs in my story.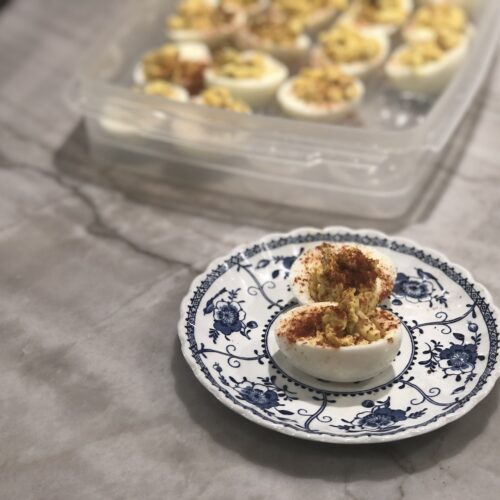 Bacon Stuffed Deviled Eggs
The bacon in these deviled eggs just takes them to another level. I mean, who doesn't love bacon?
Equipment
Instant Pot

Egg Cooker

Stock Pot
Ingredients
7

Farm Fresh Eggs

1/4

Cup

Mayonnaise

1

Tsp

Yellow Mustard

1

Tbsp

Dill Relish

Crumbled Cooked Bacon

(4-6 slices)

Himalayan Sea Salt

(to your liking)

Black Pepper

(to your liking)

Smoked Paprika

(a sprinkle)
Instructions
Place eggs in a pot of water. Bring to boil for 1 minute and cover with lid. Turn the burner off and set timer for 13 minutes.

Once timer goes off, pour out the hot water. Fill the pot back up with cold water, ice and white vinegar. The vinegar water will allow the eggs to peel so much better.

Peel eggs, slice in half longwise and place the yolks in a bowl.

Add mayonnaise. The mixture needs to be creamy but not runny. I kinda feel like mayo is a personal preference so just add what you like. I start with a 1/4 cup.

Next, add a dab or squirt of mustard, dill relish, salt & pepper. Mix all this together with the yolks.

Add in Crumbled Cooked Bacon. Not the kind that are in the bag next to the dressings. Cook real bacon either in your iron skillet or oven (yeah, that's an awesome way too!)

Fill your eggs and then sprinkle Paprika on top. Piping them to look pretty is optional ha! Enjoy!
Notes
If you don't have an dill relish, just pour a little bit of pickle juice in the bowl and cut up a pickle in tiny pieces. There, instant relish! 
This post contains affiliate links, which means I make a small commission at no extra cost to you. See my full disclosure here.
Equipment & Supplies
Decorator Piping Bag (to make them look pretty)
Large White Egg Tray or Small White Egg Tray
If you try this recipe, tag me on Instagram and I'll share your post in my stories.
Pin for Later