If there is one dish that makes my husband make noises when he eats, it's Sausage Stuffed Acorn Squash. Go figure. Out of all the dishes I make, this is the one meal that he absolutely loves.
This meal is comfort in your mouth. It's loaded with fresh pork sausage, apples, homemade applesauce, pecans, and freshly grated cheese. It's a winter squash and has the most creamy flesh inside and is just so delicious.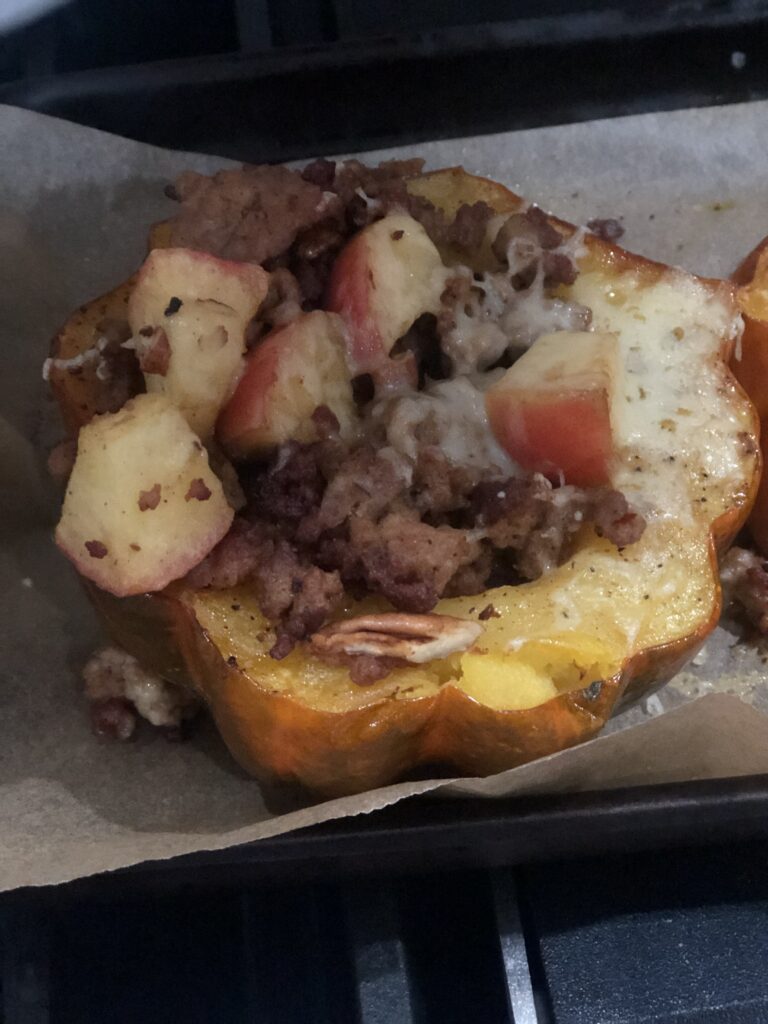 How to Cook an Acorn Squash
I love roasting acorn squash in the oven but you can certainly put them in a slow cooker or Instant-Pot too.
First, cut the acorn squash in half, stem to end. Trim off the end that has the stubble on it, if needed, so it will lay flat on the cookie sheet.
Salt and pepper each half and then rub either butter, olive or avocado oil on each one.
Grab a cookie sheet and line with parchment paper.
Take each acorn squash half and lay them face down on the cookie sheet.
Bake in the oven at 350 degrees for an hour.
Simple Ways to Stuff the Acorn Squash
I love using basic ingredients that I have on hand but you can certainly change things up a bit.
Try making a Mexican Vegetarian stuffed Acorn Squash using black beans, tomatoes, corn and spices like chili powder, garlic and cumin.
Use shredded chicken, navy beans, mushrooms, bone broth and cheddar cheese.
Add Rice, Farro or Quinoa to your variation for added fiber.
Chicken sausage, diced pears and walnuts.
How to Make the Filling
Start with farm raised pork sausage. It's definitely a game changer than using store bought. You can also make your own sausage using this recipe from Spend With Pennies. Heat up your iron skillet and cook the sausage.
Next, chop the apple into small pieces and add them to the skillet once the sausage is cooked. You can either use it with the skin on or peel them. Both taste great!
Add a pint size jar of applesauce and stir together with the apples and sausage. I make my own and you can find my recipe here. Store bought is fine too.
Let the apples cook until they are soften.
Finally, add the chopped pecans.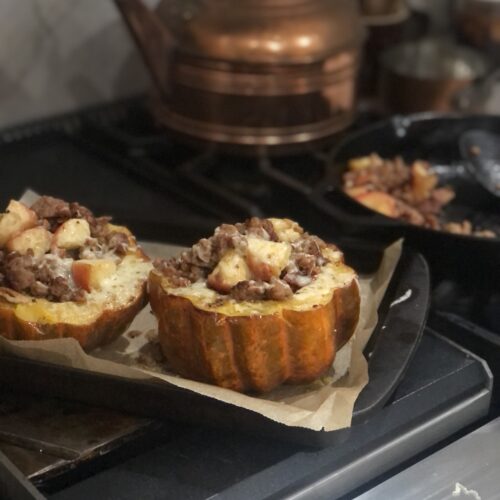 Sausage Stuffed Acorn Squash
This winter acorn squash recipe is filled with comfort and healthy goodness.
Ingredients
1

lb

Pork Breakfast Sausage

1

Acorn Squash

1

Apple

I like using Honey Crisp or Granny Apple

1

pint

Unsweetened Apple Sauce

A handful of chopped Pecans

Parmesan Cheese
Instructions
Slice the acorn squash in half. Add salt and pepper, to your liking, and add a drizzle of oil. Place the squash halves on a cookie sheet and bake in the oven on 350 degrees for 1 hour.

Grab your iron skillet and cook the sausage on medium heat. Once it's no longer pink then it's done.

Chop the apple into small pieces and add to the sausage. Next, pour the appplesauce into the skillet. Stir together and allow the apples to cook until soft. Cook on low heat.

Once the apples are all cooked, add the chopped pecans and stir everything together. When the acorn squash is finished cooking, scoop the sausage filling into each half.

Top with shredded Parmesan cheese and place back in the oven for 5 minutes or until cheese is melted.
Watch the entire Video
Is Acorn Squash Healthy
Yes, it is! It's loaded with potassium, magnesium, and vitamin C. Due to the thick skin, it can hold a shelf life from 1-4 months. They are great to buy in the Fall and then use them in winter meals.
What to Serve with Acorn Squash
I like to serve a salad, roasted brussel sprouts, or southern green beans. You could also serve it with your favorite soup.
Supplies You May Need