Ok, so if you clicked on this recipe, then you either love Brussel Sprouts or you know they are really good for you and your open to trying them lol. I have a confession to make. Just recently, I started liking Brussel Sprouts myself. I know, shame on me but my mom didn't really fix them growing up or she just put salt, pepper and butter. Boring ha ha! Therefore, I didn't eat them a bunch when I was a kid. You are going to love this recipe for my Roasted Brussel Sprouts with Bacon.
The Health Benefits
Brussel Sprouts originated from Brussels, Belgium. They are grown on stalks above ground and have many nutritious values. Cruciferous vegetables are cool weather vegetables. In addition, this means they're usually in season late fall through early spring. They are an excellent source of Vitamin C, K, Iron, Magnesium, Potassium, Folate and Fiber. For this reason, I make them at least once a week. Above all, these little tiny cabbages are so good for our bodies.
Source: Dr. Axe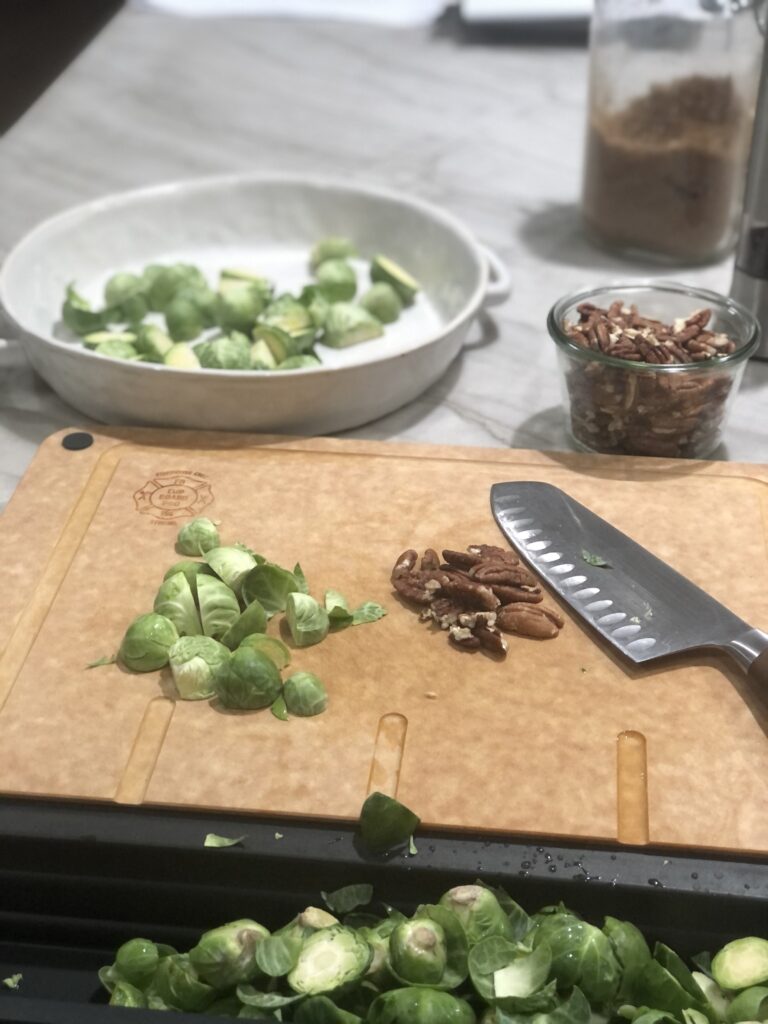 How To Prepare
Steam – Cut your Brussel Sprouts in half or leave whole. Meanwhile, place them in a steamer basket in a pot on the stove. Boil water and then turn the heat down to simmer for about 10 minutes or until soft. Finally, add salt, pepper and butter. I have to be honest. I'm not a fan of them steamed. You will see why in the next method below to prepare them. Don't be mad. You may really love them this way and that is just perfectly fine ha.
Roasted – This is my favorite way to prepare and eat them. You can put them on a cookie sheet and drizzle oil and seasoning and then bake them in the oven. So good!
Raw – Cut them up in half and then half again. You should have tiny shreds at this point, almost like grated cabbage. Add them to salads or you could probably make a yummy slaw out of them raw.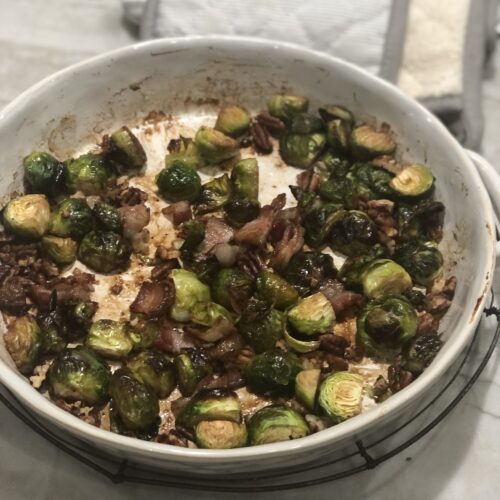 Roasted Brussel Sprouts with Bacon
These Brussel Sprouts are so delicious. The blend of the bacon, roasted pecans and brown sugar just really makes this an excellent side dish!
Ingredients
2

lbs

Brussel Sprouts

1

tbsp

Balsamic Vinegar

1

tbsp

Avocado Oil

6

slices

Uncured Bacon

1

tbsp

Organic Brown Sugar

1/4

cup

Chopped Pecans

Salt

Pepper
Instructions
Cut each Brussel Sprout in half and place in a bowl. Put the little pieces that will fall off when you're cutting in there too.

Cut up bite-size pieces of uncooked bacon and add the remaining ingredients to the bowl. Salt and Pepper to taste.

Stir together until blended thoroughly. Spread onto a cookie sheet lined with parchment paper or place them in your iron skillet.

Bake at 350 for 25 minutes or until the bacon is cooked. It will look caramelized.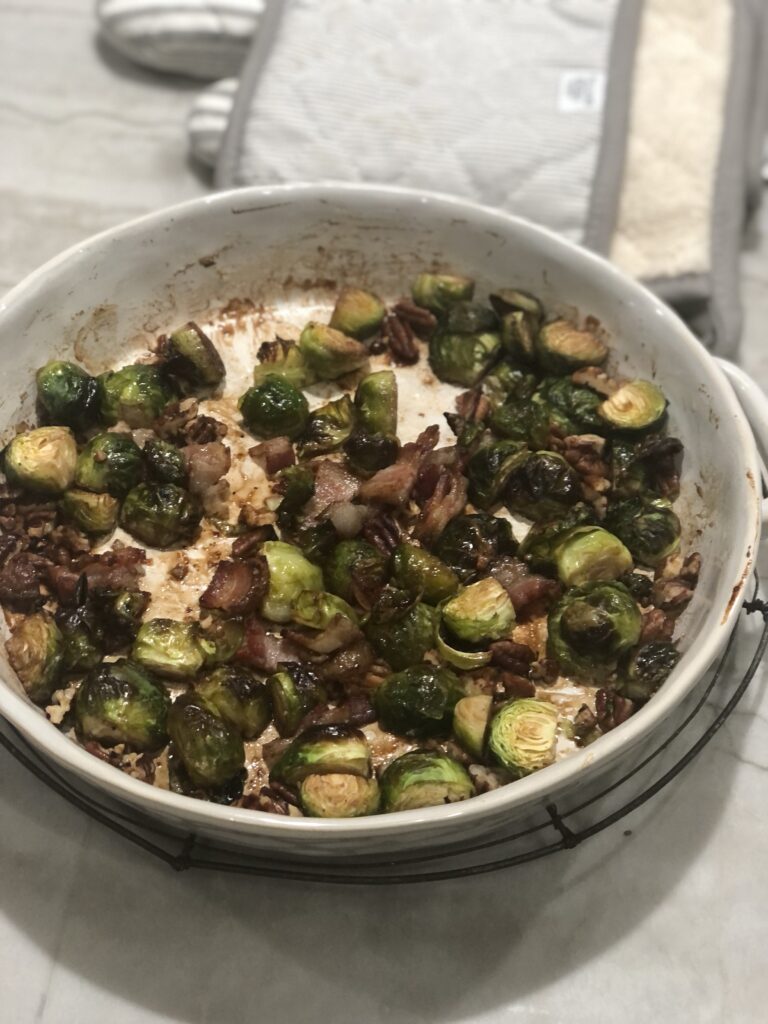 Supplies Used
Cutting Board (Similar to mine)
These Roasted Brussel Sprouts with Bacon will go perfect with chicken, a burger, pork, steak or even alongside other vegetables. In conclusion, if you or someone you know, really doesn't like them, fix them like this. You will want seconds, I promise. Tag me on Instagram and I'll share you in my stories.