If you thought I was Italian, then I have to tell you, I'm not haha. I have a cousin (by marriage) who was Italian. Let me tell you, Cousin Bruno made the best Authentic Italian Sunday Sauce. I still remember going over to Bruno and Mary's farm on Sunday's for his wonderful sauce served over pasta. We would stay over there for hours just eating, chatting and playing (us kids). Here in America, we just call it spaghetti sauce. I hear most of the dishes we eat over here do not even exist in Italy. That would be fun to go one day and experience all of the Italian cuisine.
I was a kid so I had no idea what was in the sauce. I just know that it was darn good haha. Several years ago, I reached out to another cousin and asked her for the recipe. I wished I had asked Bruno for his original recipe before he passed away. I was kind of shocked when I saw some of the ingredients. Bruno's family was from Italy so I expected olive oil and fresh ingredients. I guess since being in America, they used what they could. This was back in the 70's & 80's when canned goods were readily available from the market.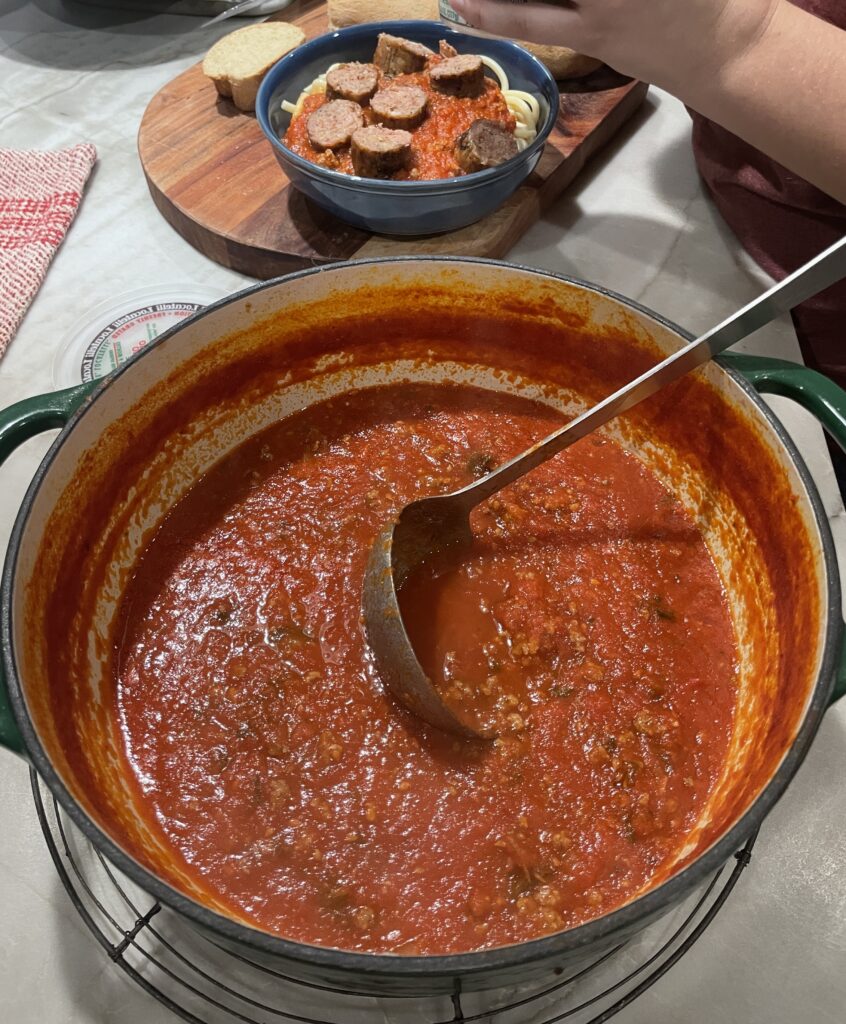 The Changes I Made
I cook from scratch and I decided to alter Bruno's recipe a little. It tastes just as amazing. I just wanted healthier ingredients in our sauce. Bruno's sauce was prepared for canning and I'll share how I did mine on another post. My adapted recipe is just for an individual meal.
The #1 thing I replaced was the Crisco oil. I'm not even sure if they still make that stuff but I know it's not good for us. I used Olive Oil in my version of this recipe.
The #2 item I changed was the sugar. I will either use Coconut Sugar or grate a carrot really fine for some natural sweetness. I haven't used "white" sugar in over 12 years.
One thing that I added is roasted garlic. Bruno's sauce just has regular garlic sautéed with the onion and green pepper but Roasted Garlic really takes your authentic Italian Sunday sauce to another level.
How To Make Italian Sunday Sauce
Wash all your tomatoes. Next, take a knife and cut an "x" (gently) on the top of each one.
Place your tomatoes in a pot of boiling water.
Cook for 1 minute. Remove them to a bowl filled with ice water. This is called blanching.
Peel the tomatoes. The skins should just fall right off.
Once the peels have been removed, place the tomatoes in a blender and pulse until smooth.
Meanwhile, cook the onions and peppers. Add the tomato juice.
Stir it all together. Add salt, pepper and all the other seasonings. Add the roasted garlic (if using it) and your favorite cooked meat at this step. Cook on medium for a few minutes and then simmer on low for an hour.
Gradually start adding the tomato paste. Depending on how thick you like your sauce, add a little at a time.
Add any (optional) hot peppers at this point.
---
Join Our Simple Living Community
---
Pin For Later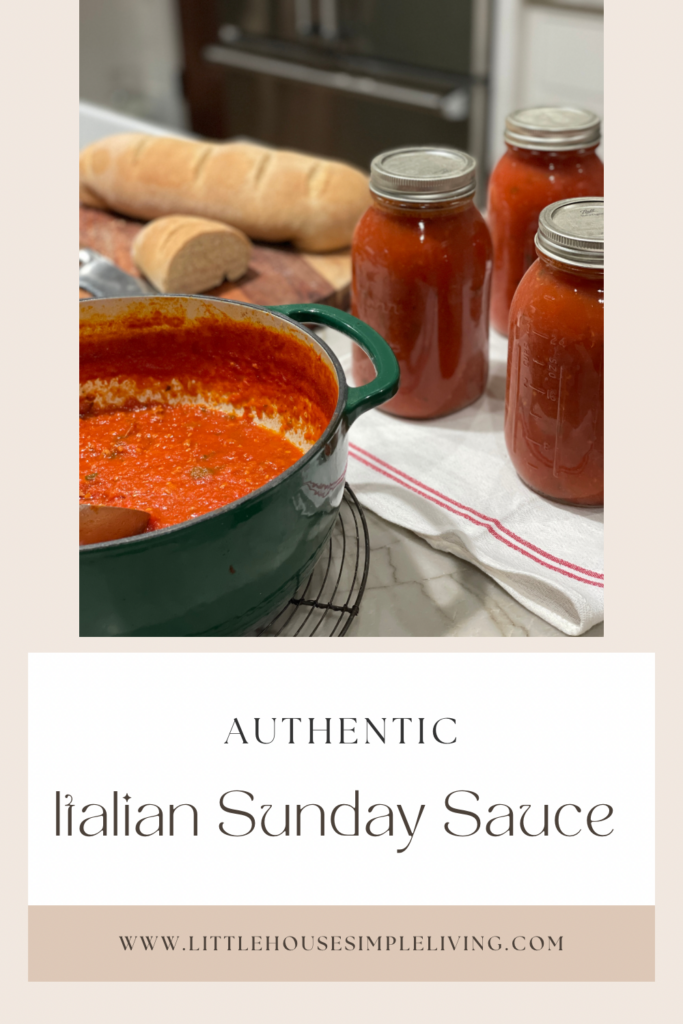 What Goes With Italian Sunday Sauce
The sauce is basically a marinara and you're just adding meat and/or vegetables to it. You could thicken it a little more and turn it into a pizza sauce, use it in meatloaf, make stuffed shells, serve it with seafood over linguini. The ideas are endless.
I love how simple and versatile this sauce recipe is. If you like a little heat, add spicy peppers at the end of when it's done cooking.
Tools You May Need
Real Salt (Use code: lhsimpleliving for 15% off your order)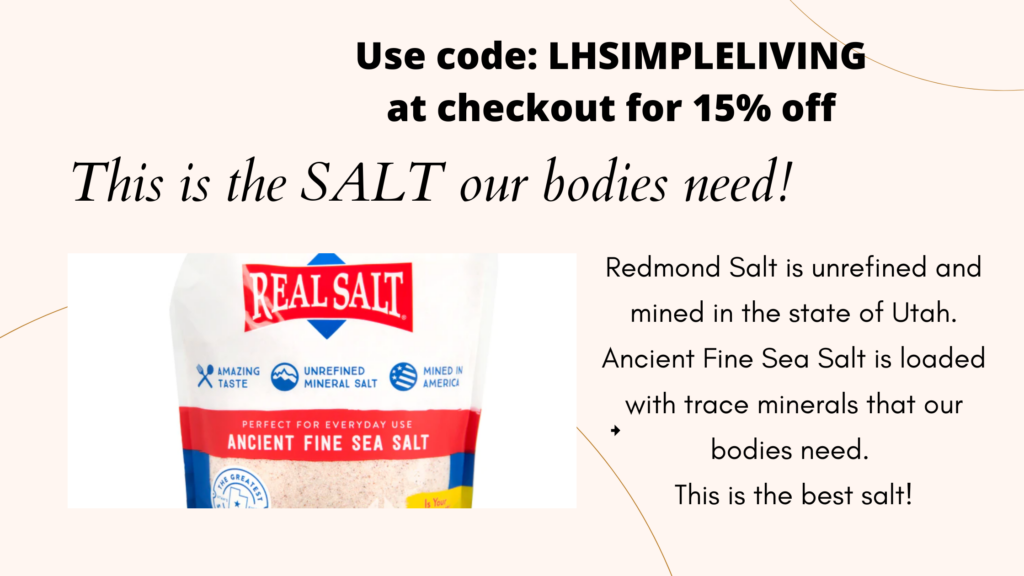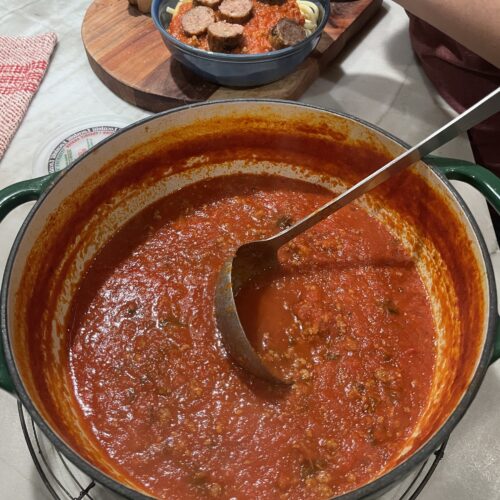 Authentic Italian Sunday Sauce
This sauce recipe is an adapted version I created from a family Italian member. The original recipe dates back to the 70'-80's. I'm using fresh ingredients and always from scratch.
Ingredients
20-30

Roma or Cooking Tomatoes

1

Small Vidalia or Sweet Onion

(diced)

1

Green Pepper

(diced)

1

Bulb of Garlic

(roasted)

1/4

Cup

Grated Carrot

1

Tbsp

Fresh or Dried Basil

1

Tbsp

Fresh or Dried Oregano

1

12 oz.

Tomato Paste

1

Tbsp

Olive Oil

Salt & Pepper

(to taste)

1

Jalapeño Pepper

(optional)
Instructions
Add the olive oil to your large pot and turn on medium heat.

Cook the onion, pepper and garlic until done. If using roasted garlic, add that in at a later step.

Take a knife and place an "X" on the top of each tomato by gently slicing the skin.

In another pot, add your tomatoes to a pot of boiling water and blanch (cook) them for 1 minute.

Take the tomatoes out of the boiling water and now place them in an ice water bowl for a few minutes. Remove the skin from each tomato.

Place the tomatoes in a blender and pulse until smooth.

Add the tomatoes and all the seasonings to the onion mixture. Next, add the roasted garlic (if using it) along with your favorite cooked meat in this step. Cook on medium heat for a few minutes and then reduce the heat to simmer for at least an hour, stirring occasionally.

Gradually add the tomato paste and stir. Adjust the amount of paste according to how thick you want your sauce to be.

If you are adding the jalapeños, do this at the very end.
Notes
Instead of a grated carrot you can also use coconut sugar or any kind of sweetener you like. 
Add the tomato paste slowly to see how thick you want your sauce to be. 
You can make a big batch of this sauce just by doubling or tripling it.
Depending on your liking, use less or more of the spices. If you love garlic like I do, use the whole bulb!