Our blueberry farms usually open on April 1st and go through the end of May here in the South. My favorite thing to do is pick several buckets and freeze them to use throughout the year. I love making homemade blueberry muffins, cobbler and they are perfect for in a smoothie.
Where To Buy Blueberries
Sure, you can go to the grocery store and buy blueberries, but have you ever had fresh-picked blueberries from a local farm? There's a difference in the taste. If you are near Central Florida, then you are probably familiar with all of our blueberry farms around here. Most of the farms have a variety of plants – some being tart and some being sweet. I like picking a mixture because the two varieties meld together when you are making something homemade. You can go HERE to find local blueberry farms. It's a great time to get outdoors and spend time with your family and friends.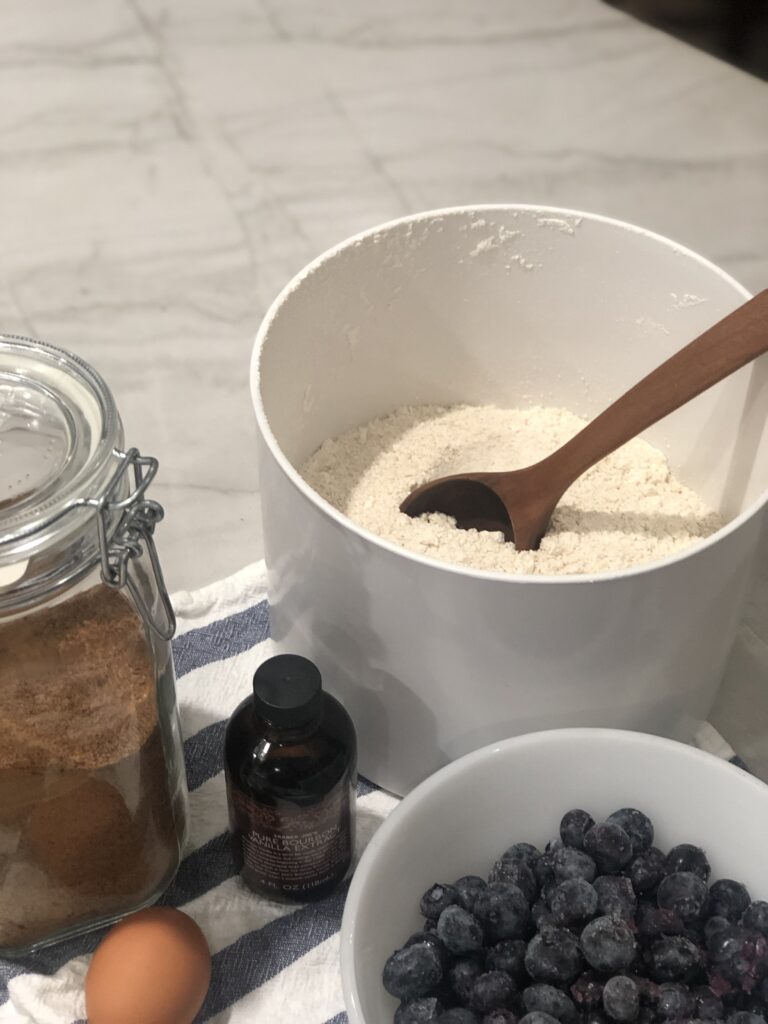 They Make a Great Snack
Blueberry muffins are great for breakfast. I usually fix some pork sausage, eggs and the muffins to make it a hearty nutritious meal. The smell of them baking just fills the kitchen with so much goodness. They are left in a bag on my kitchen island and everyone in the house knows that you can just grab one anytime of the day ha ha. Sometimes I even take a bag with us on road trips.
Some Useful Tips
Add 1/2 of the blueberries to the bowl and mash them up a little bit. If you are using frozen blueberries, pat them with a paper towel before you place them in the bowl. Fold in the second half of the blueberries.
I use Coconut Sugar as I ditched the "white stuff" about 12 years ago. You can use any sweetener of your choice. This is just what I use.
I am using freshly milled flour and I encourage you to try it. It is so much easier to digest and loaded with vitamins and minerals. Find out more about grinding your own flour HERE and you can see where I order my grains from HERE. If not, I recommend using a good quality organic unbleached all-purpose flour like this one HERE. If you'd like to try another flour that is much easier to digest, I recommend this one HERE.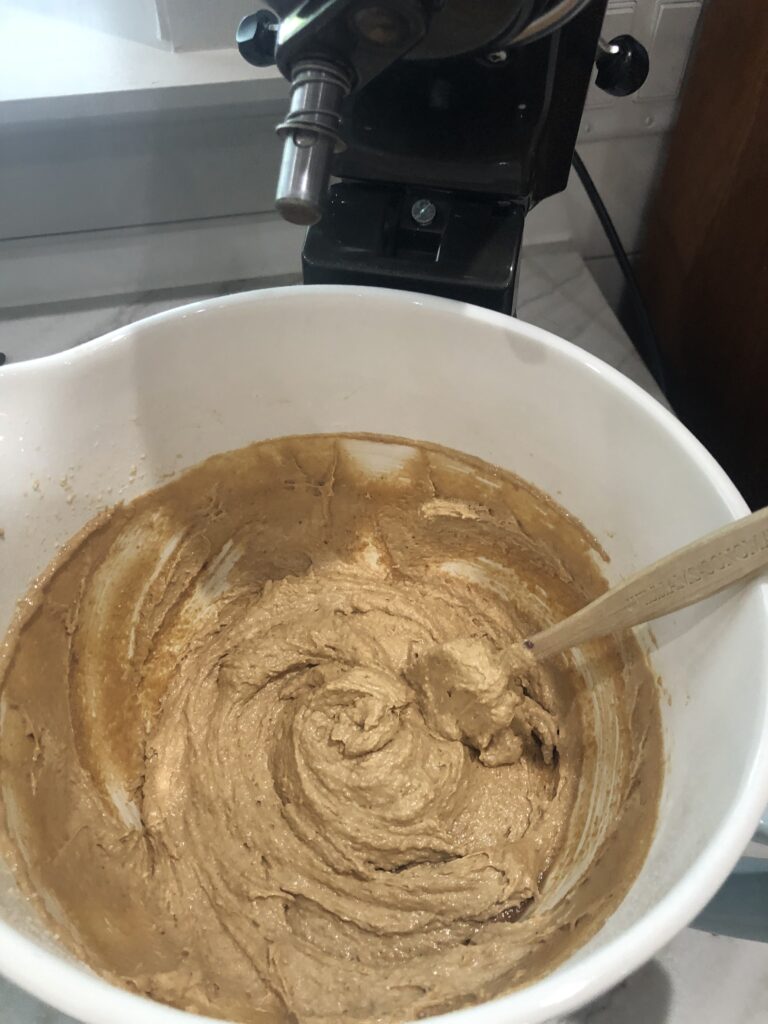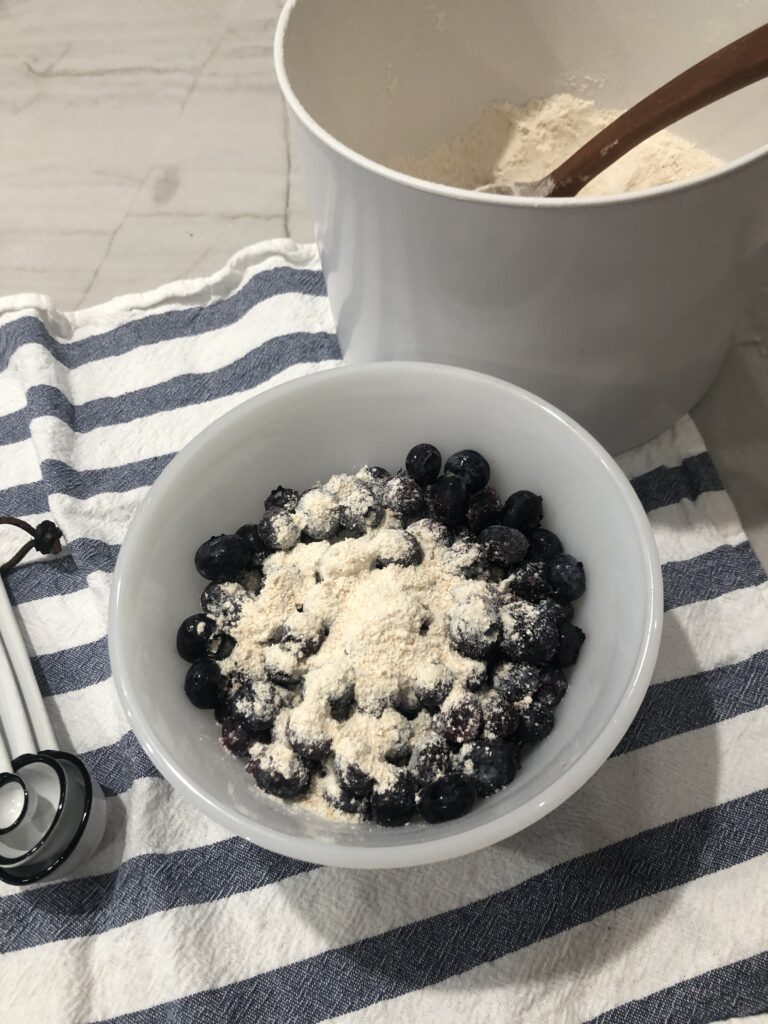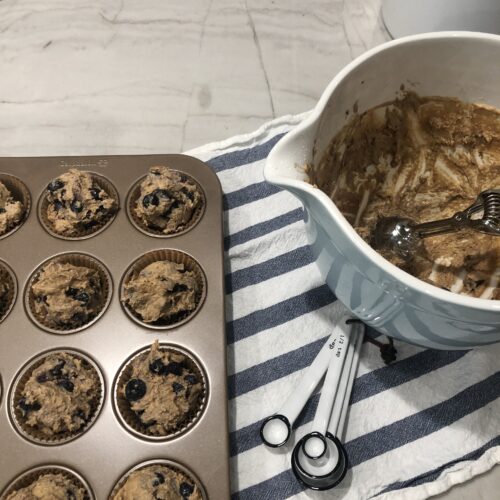 Homemade Blueberry Muffins
These are the best homade blueberry muffins. They are so moist and fluffy and loaded with good things.
Ingredients
2

Cups

Fresh Milled Flour

( I used Soft White)

1

Tsp

Pink Himalayan Salt

2

Tsp

Aluminum Free Baking Powder

2

Tsp

Real Madagascar Vanilla

2

Eggs

1

Cup

Coconut Sugar

1

Stick

Unsalted Butter

(softened)

1/2

Cup

Whole Milk

3

Cups

Blueberries
Instructions
Preheat your oven to 375 and line your muffin pans.

In a large bowl or if you are using your mixer, beat the butter until it's all nice and smooth.

Add in the sugar and blend together.

Next, add eggs, one at a time. Add the vanilla, baking powder and salt.

Gradually add the flour and the milk at the same time. Go slow if you are using a mixer.

Mix on medium speed until it's all creamy.

Finally, coat the blueberries with a tablespoon or so of the flour. Next, fold them into the batter with a spatula.

Fill the muffin liners and bake for 15-20 minutes. I have a convection oven and mine took 20 minutes to bake.
Supplies I Used
(click on each item name)
Madagascar Vanilla Extract or make your own with Vanilla Beans