What do you think about when you see sunflowers? They are bright, cheery, and just bring joy to the garden, right? I love looking out my window and seeing these beauties growing! Sunflowers say "Summer" and you can even harvest the seeds for a nutritious snack. I'm going to give you my growing tips and how to save their seeds. So, let's dive right in on how to grow sunflowers.
When to Plant Sunflowers
The first thing you want to do prior to starting any gardening is to go check with your local county agriculture department which can be found either by doing a search online or by going to your county's website. You can ask all kinds of questions that pertain to gardening in your area. They will give you your zone and even test your soil. I live in Zone 9, so I'm very blessed to be able to grow pretty much year-round. July and August are usually minimal due to the heat, but I always start my seeds in late August and will have harvests in October.
We can grow sunflowers here in the Spring and Fall, so check with your zone to see what works for your area. If you are in my zone or in the Southeast, I plant my sunflowers between February-April for the Spring and then again in August for the Fall.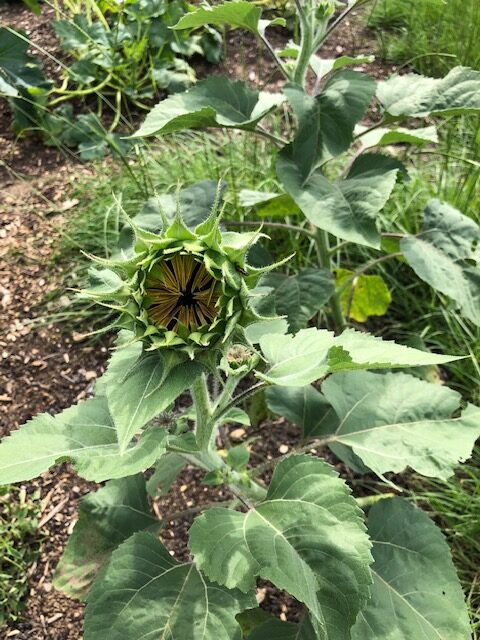 How to Grow Sunflowers
Make sure you have a nice rich soil free of any weeds.
Pull back about an inch of soil or use your finger to poke a hole. Make a hole every 6 inches and place one seed in each hole.
Cover the soil over the seeds and water.
Water daily (until germination begins) and you should start to see seedlings sprouting in about 6-10 days.
The best time to plant Sunflowers is between February – April, if you're wanting flowers by early Summer . If you live in Northern states, please wait until after your last frost. I use the Farmer's Almanac or Grier's Almanac to determine when to plant mine.
Next, sprinkle an organic fertilizer over the top of the soil. I love using Dr. Earth fertilizers. You can find them at most big box garden stores and online HERE. They are Non-GMO Project verified and you will not need to fertilize again during their growing season.
Your Sunflowers will be in full bloom in around 60-70 days from when you planted them.
Spread some wood chips at the base of the sunflower so they can retain moisture. Make sure you water them weekly. Before you know it, you will be growing beautiful sunflowers!
HERE IS ONE OF THE PLACES WHERE I BUY MY SEEDS. I USE ORGANIC NON-GMO HEIRLOOM SEEDS. THEY GIVE ME GREAT YIELDS NOT JUST WITH SUNFLOWERS BUT WITH ALL OF MY FLOWERS AND VEGETABLES. DON'T FORGET TO ENTER THE COUPON CODE AT CHECKOUT. CLICK HERE.
Join Our Simple Living Community
Harvesting Sunflowers
When you start to see the sunflowers open fully, then they are ready to cut. Using pruning shears, cut the stem to however long you want them. Five to six inches is usually a good amount.
Make a bouquet and put them in a mason jar filled with water.
They will be pretty for about a week.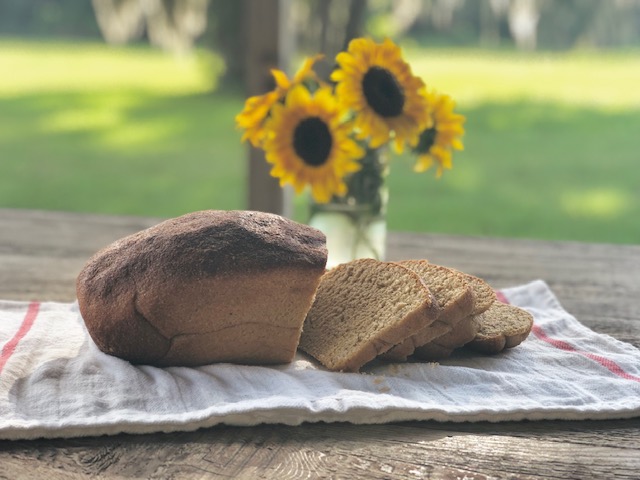 Harvesting Seeds
Once you start seeing the petals fall off or the sunflowers start drooping, it's probably time to cut the heads off. You can hang them to dry in a dark cool place for about a week.
Next, put a towel or parchment paper down on a flat surface.
Shake the heads gently and the seeds should just fall out.
Store them in a jar for a year in the refrigerator so you can plant more next season.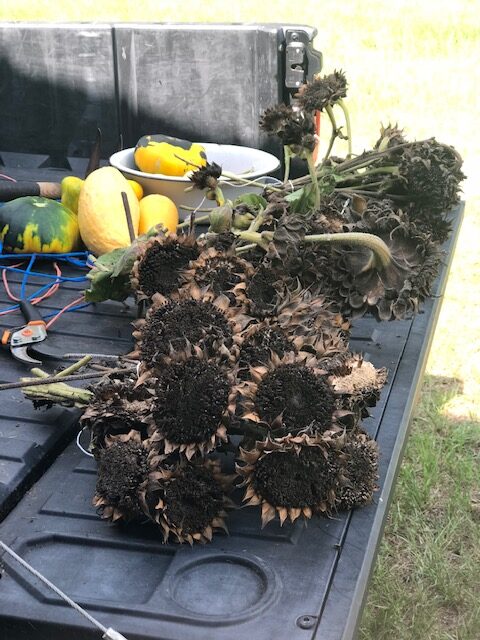 Sunflower Varieties
I like planting the Mammoth (5-6 feet tall ones) Sunflowers that I put along my back fence. These will need support as they are so tall or they will flop over. Just use some bamboo, rebar, a stick, or whatever you can find laying around that you think will support your big 'ole sunflowers.
I also really enjoy planting Firecracker Sunflowers. These are about 4-5 inches in diameter and about 2-3 feet tall. They have a beautiful showing of yellow and orange and resemble a "ring of fire". These are my favorite ones that look so pretty in a mason jar! They get planted in the garden in different areas. They are great for the bees, which will pollinate all of our veggies growing.
There are several more other varieties. Just explore which ones you want to plant in your yard. The only real requirement is they need a lot of sunshine! So, make sure you plant them in a sunny open area.
Save time and get organized in your garden with my GARDEN PLANNER! You can find it HERE.