Growing up, my mom bought the sloppy joe mix in a can and as I became older and wiser, I decided that I wasn't feeding that to my family. I have a saying around here with our family….."If it ain't messy, it ain't good". Now, I do know my grammar and using the word aint is just slang talk here in the South. This holds true to my Homemade Sloppy Joe's. I know you are going to love them!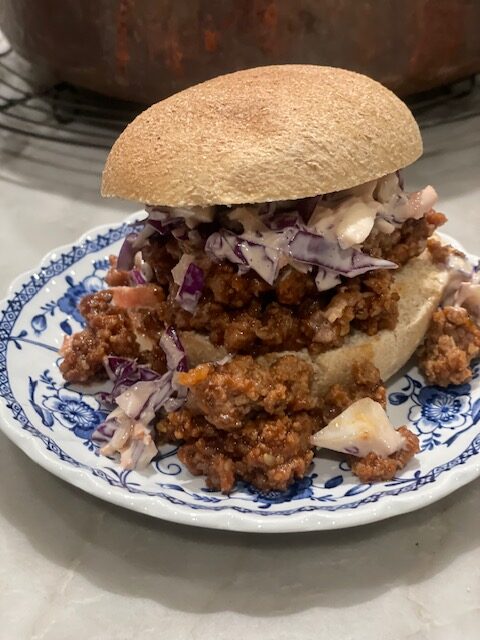 How To Make Homemade Sloppy Joe's
These are so easy to make. I really don't understand why a can had to be created for this.
Brown your ground beef, fresh garlic, and onion/green pepper (both optional).
Combine in a bowl the ketchup, sugar, chili powder, salt, pepper, water and Worcestershire sauce. Stir together.
Pour the ketchup mixture over the cooked ground beef and give it a good stir.
At this step, add some tomato paste, if needed.
Simmer on low for 20 minutes.
Pile high on a Hamburger Bun and then top it with Creamy Cole Slaw. Enjoy!
Pin For Later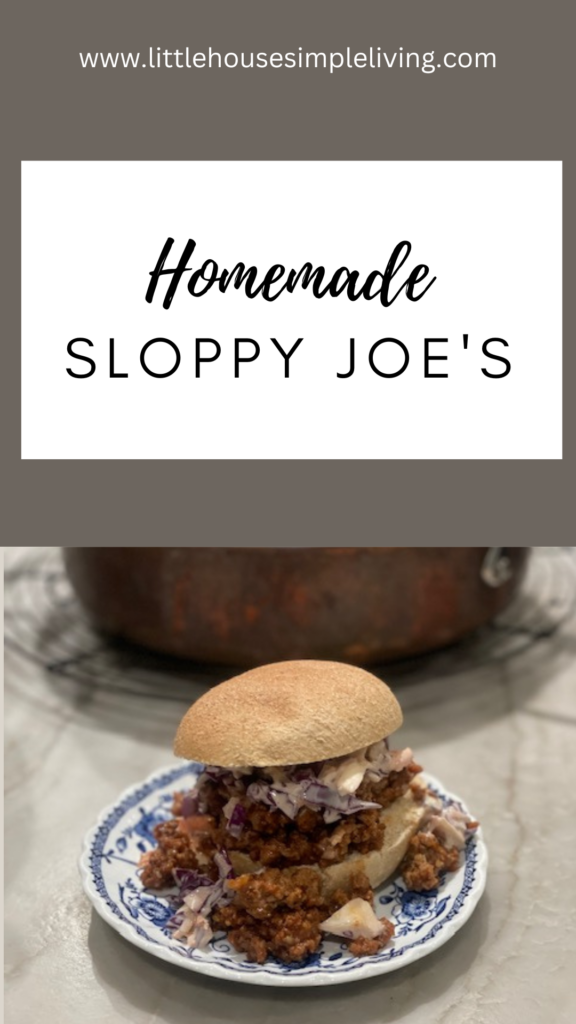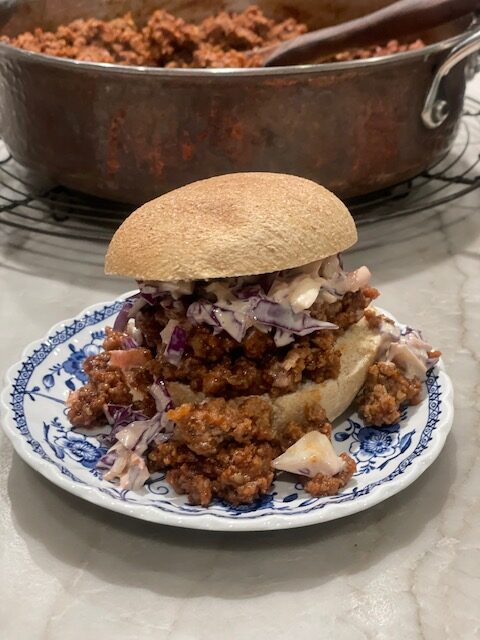 Homemade Sloppy Joe's
These have become a family favorite around here. I ditched the canned stuff many years ago and started making my own homemade sloppy joe's. You will need to double the batch so you can have leftovers!
Ingredients
2

lbs.

Cooked Ground Beef

1

Onion, chopped

(optional)

1

Green Pepper, chopped

(optional)

4

Minced Garlic Cloves

1

cup

Water

1

cup

Ketchup

1

tbsp.

Yellow Mustard

1

tsp.

Worcestershire Sauce

1

tbsp.

Chili Powder

(heaping)

2

tbsp.

Coconut Sugar

Salt and Pepper

(to taste)

1-2

tbsp.

Tomato Paste

(as needed)
Instructions
Brown the ground beef in a skillet along with the garlic. If using the onion/pepper, add these as well. Cook until done.

Meanwhile, combine the ketchup, mustard, Worcestershire sauce, sugar, chili powder, salt, pepper and water. Whisk it all together.

Pour the ketchup mixture into the browned beef and stir it all together.

Add the tomato paste and stir.

Serve on buns and top with cole slaw. Enjoy!
Notes
Onions and peppers add extra flavor to sloppy joe's. These are totally optional.
I use coconut sugar but feel free to use the sweetener of your choice.
Add more of the water or the tomato paste. You want the mixture to be thick, but not too thick. You also don't want it to be too runny.
If you like a little heat, add some cayenne pepper or Tabasco sauce. 
How To Serve These
I love serving these up on my HOMEMADE HAMBURGER BUNS. If I've had the buns in the freezer, I just take them out in the morning and then toast them before I serve these sloppy joe's on a plate. Also, here in the South, we love our cole slaw. If you live up North and love cole slaw, then you are going to love topping your homemade sloppy joe with my Creamy Cole Slaw. Game changer! It's kind of like having a pulled pork sandwich with cole slaw on top of the pork. So good!
---
Join Our Simple Living Community
---
Tools You May Need
Real "Pink" Salt – Enter code: lhsimpleliving for 15% off your order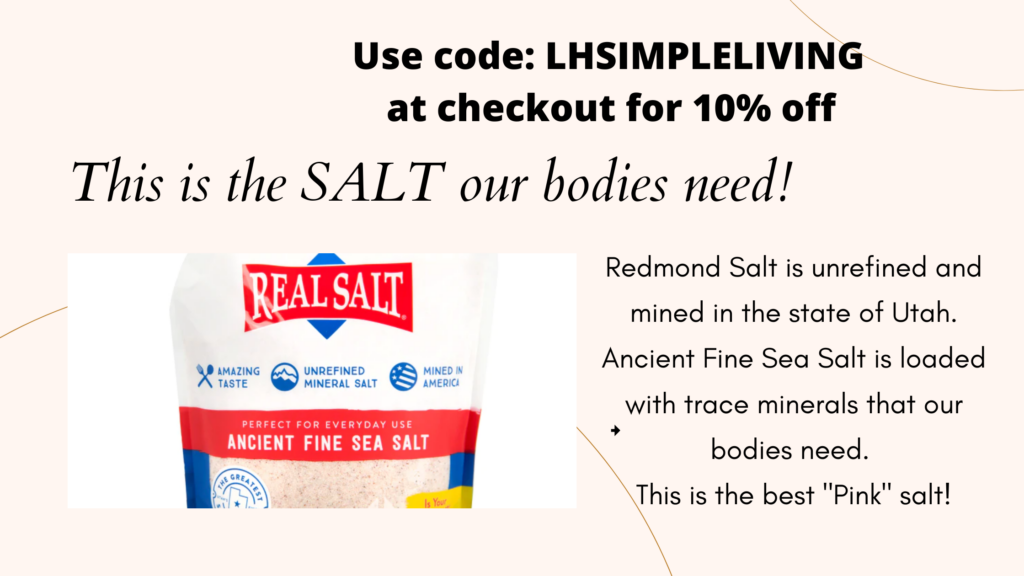 I hope you and your family enjoy this simple meal. It's a classic meal that most of us grew up on in the 70's-90's. I love the real wholesome ingredients these homemade sloppy joe's give us. As always, tag me over on Instagram (@lhsimpleliving). I love seeing your creations! ~ Wendy