Now that I have this whole Sourdough thing down, I'm starting to branch out with some other recipes. I was making a few extra loaves last week and decided to turn one of them into Sourdough French Toast. Add some butter and maple syrup, and this is a breakfast I can eat quite often.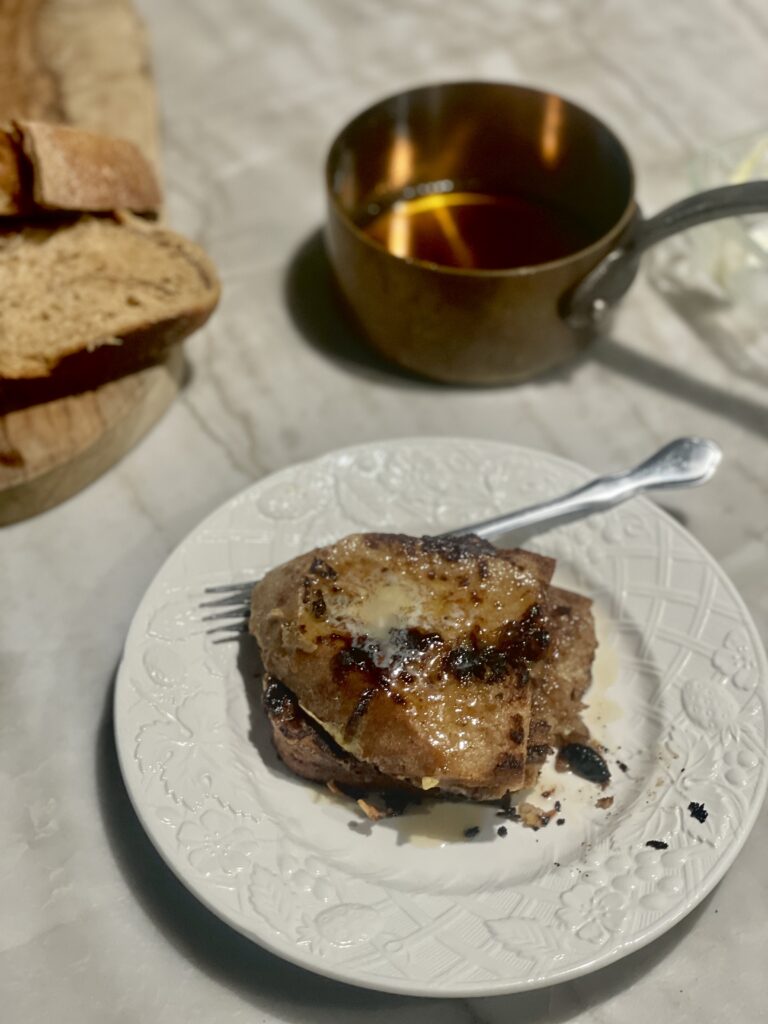 How To Make Sourdough French Toast
First, you need to make No-Knead Sourdough Bread. You can use the bread as is or I like to add a few things in my French toast. See below for some good variations.
If you are adding cinnamon into your loaf, you'll want to add it in the beginning when you are mixing the dough together.
After you've done your stretch and folds and you are ready to shape your loaf, you will then add your raisins and nuts. Just sprinkle however much of both you would like in the loaf and then start shaping.
Place the dough in the banneton basket, cover with the towel and set in the refrigerator overnight for 10-15 hours.
Pull the loaf out of the fridge onto parchment paper. Score and place in a preheated 450 degree oven. You will have preheated your baking vessel for at least an hour.
Bake for 25 minutes with the lid on. Your loaf should have expanded while baking so now you will bake with the lid off for 20 minutes.
Your loaf will be golden brown, if you are using fresh-milled hard white flour. The cinnamon will darken your loaf as well.
Allow to cool on the counter for at least an hour before slicing.
When you are ready to make the French toast, cut your loaf in half. You can cut it again if you like smaller pieces like I have shown here.
Combine the eggs, milk, cinnamon and vanilla in a deep dish. Whisk together.
Take a few pieces of the bread and drench them in the egg batter. Flip them over or make sure they are fully submerged.
Turn your cooktop on medium heat, add the butter. Once it's melted, you can now start cooking the French toast.
Place a few pieces of the battered toast in the skillet. Cook on each side evenly until the batter is cooked and the outside is a little crispy.
Once done, pile your French toast on a plate, add butter in between slices. Pour warm maple syrup over the top. Serve with farm fresh eggs, bacon or sausage and some fruit. Enjoy!
Variations of Sourdough French Toast
You can add cranberries and walnuts to your bread. I personally love to add cinnamon, raisins and pecans when making the sourdough loaf.
---
Join Our Simple Living Community
---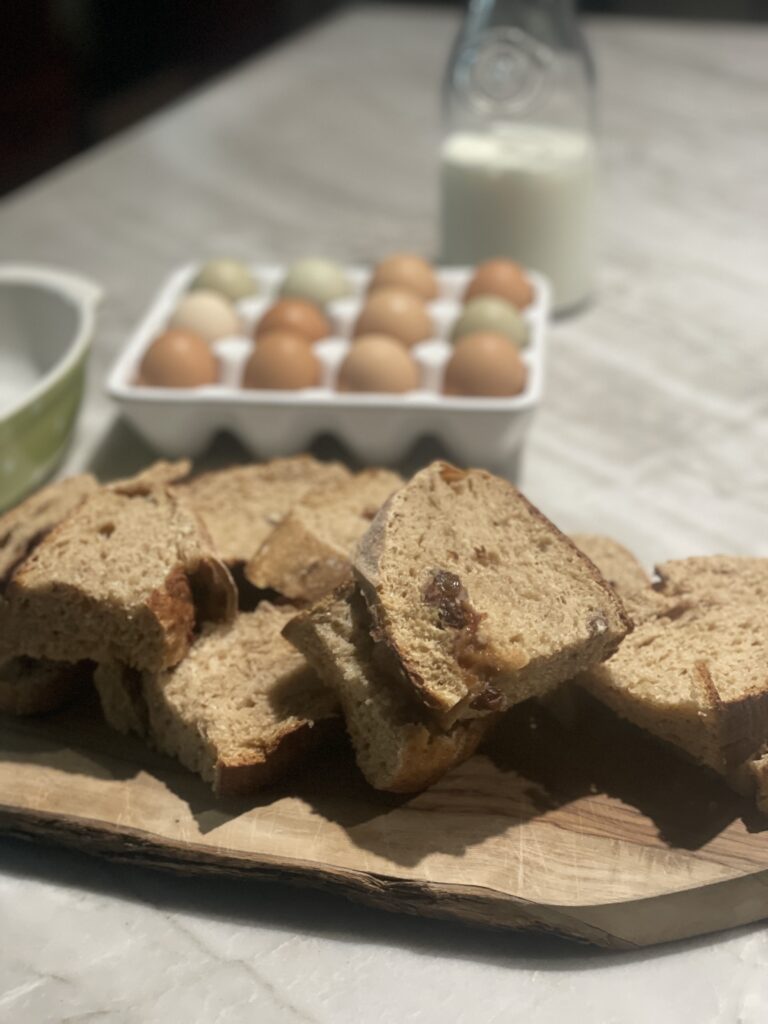 Pin For Later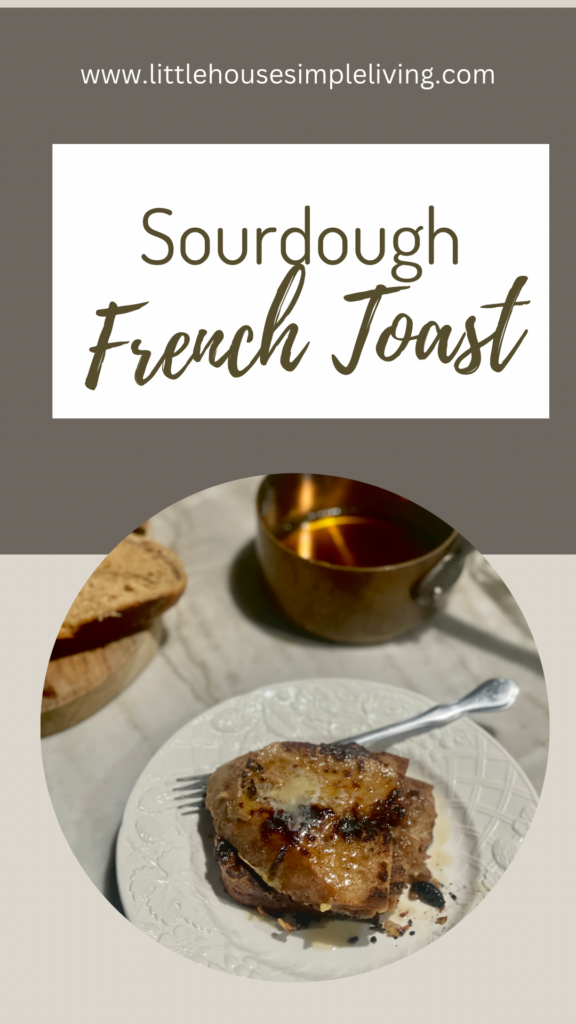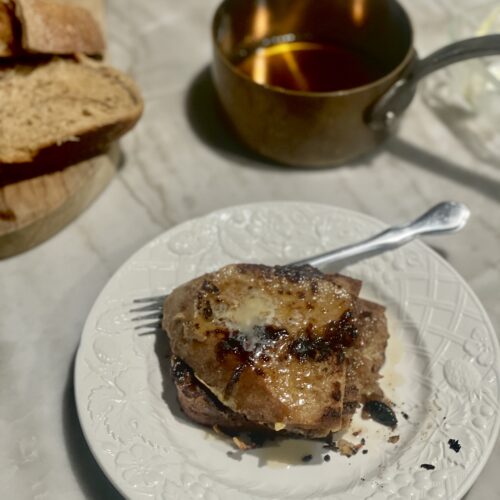 Sourdough French Toast
This Sourdough French Toast recipe is perfect really anytime of the year. I love adding cinnamon, raisins and pecans to my loaf.
Ingredients
1

Loaf of Sourdough Bread

2

Eggs

2

Cups

Milk

1

Tbsp

Cinnamon

2

Tsp

Vanilla Extract

2

Tbsp

Butter
Instructions
Take your Sourdough loaf of bread and slice it in half.

Meanwhile, combine the milk, eggs, cinnamon and vanilla in a deep dish. Whisk together.

Place a few pieces of the bread in the egg mixture, coating each side thoroughly.

Heat the butter in your skillet on medium high, until melted.

Place your pieces of toast in the skillet and cook on each side until the egg mixture is cooked. Your French toast may appear a little crispy when it's done.

Serve on a plate, add butter between each slice and top with warm syrup.
Notes
You can use any kind of sourdough bread you like. My favorite is cinnamon, raisin and pecan. Cranberry walnut would be good too.