If you've been around here for a while, you know I'm all about the simple things in life. I especially love simple Christmas decor, like these dried orange slices. There's just something about the nostalgia feel of them and need I not say how amazing my kitchen smells.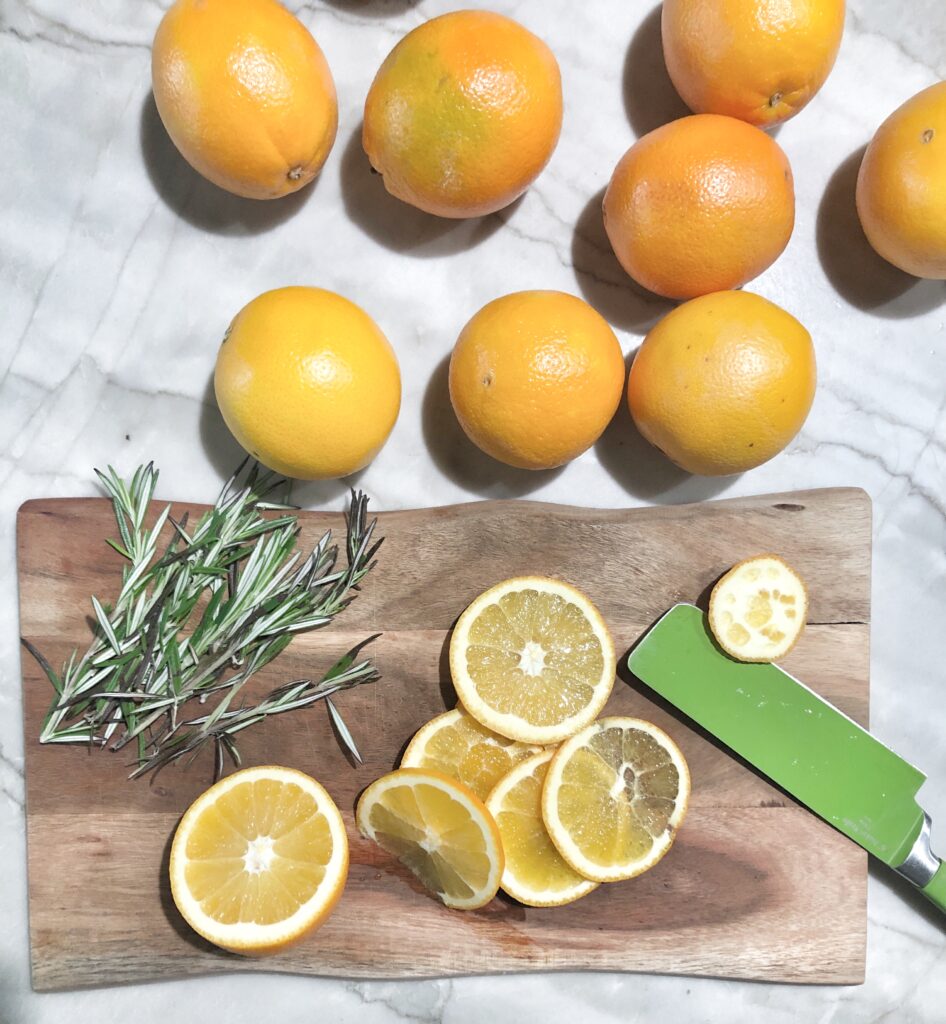 Orange Varieties to Use
Any type of orange is fine to use. Therefore, I mix them up with small Florida oranges and just regular navel ones from the store. I love using blood, tangelos, and mandarin oranges for extra colors. I like the different sizes too. In addition, Grapefruit would be pretty as well with the pink flesh color.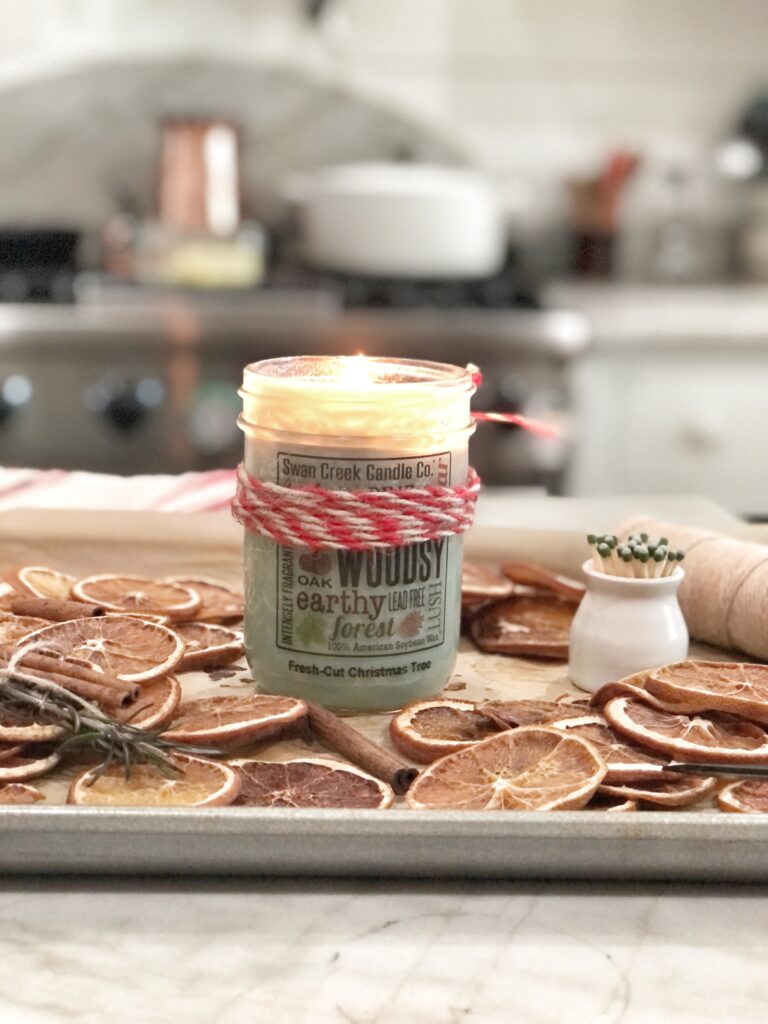 How to Use Dried Orange Slices
There are several ways to use your dried orange slices:
Setting them on top of fresh or faux greenery
Attach them to a wreath
Mix them with potpourri
String them with kitchen twine and hang them on cabinets, mantles, shelves, etc.
Christmas Orange Traditions
I grew up in West Virginia for a short time before heading south (Army brat) and I remember as a kid my grandparents always receiving a box of oranges for Christmas. Nuts were always in the box too but I never knew why we had oranges. I knew they came from Florida and had no clue that I would eventually end up down here when I was older haha.
Every year my grandparents would put an orange in the toe of all the grandkid's stockings. If you live in a snowy state then receiving an orange in December is considered a luxury. There are some thoughts that oranges were given back in the Great Depression due to not having a lot of money back then. Here is a great article I found from Country Living on the history of the Christmas Orange.
Dried Orange Slices
I love the nostalgia feel of times gone by every Christmas when I make these.
Ingredients
4-5

Oranges

Knife

Cutting Board

Cookie Sheet

Parchment Paper

Cooling Rack
Instructions
Cut each orange into thin slices.

Line your cookie sheet with parchment paper.

Lay your orange slices on the cookie sheet and blot with a paper towel. This will help remove any extra moisture.

Place your cookie sheet in the oven at 200 degrees for 3 hours. You'll know they are completely dry when they are a litltle dark and the flesh isn't glossy anymore.

Remove from the oven and allow to cool.
Notes
Set a timer and check the oranges throughout the cooking process. All ovens and altitudes are different so do what works best for you. 
Mine usually take three hours here in Florida to dry.
Lastly, you can also use a dehydrator. I don't own one so I just use my oven but dehydrators work great too.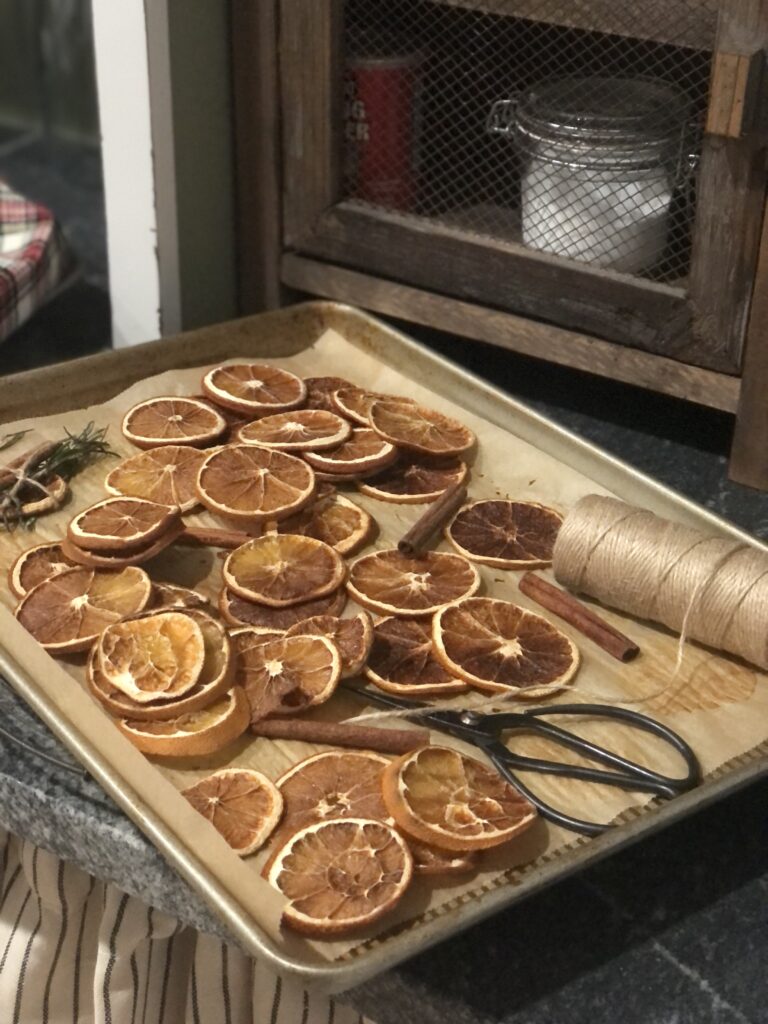 Supplies You May Need