This peppermint bark recipe is so delicious and it's not filled with any bad sugar or food coloring dyes. Yes, you heard me! It's really quick to make and will be a great gift for your neighbors, co-workers, mail carriers…..you name it!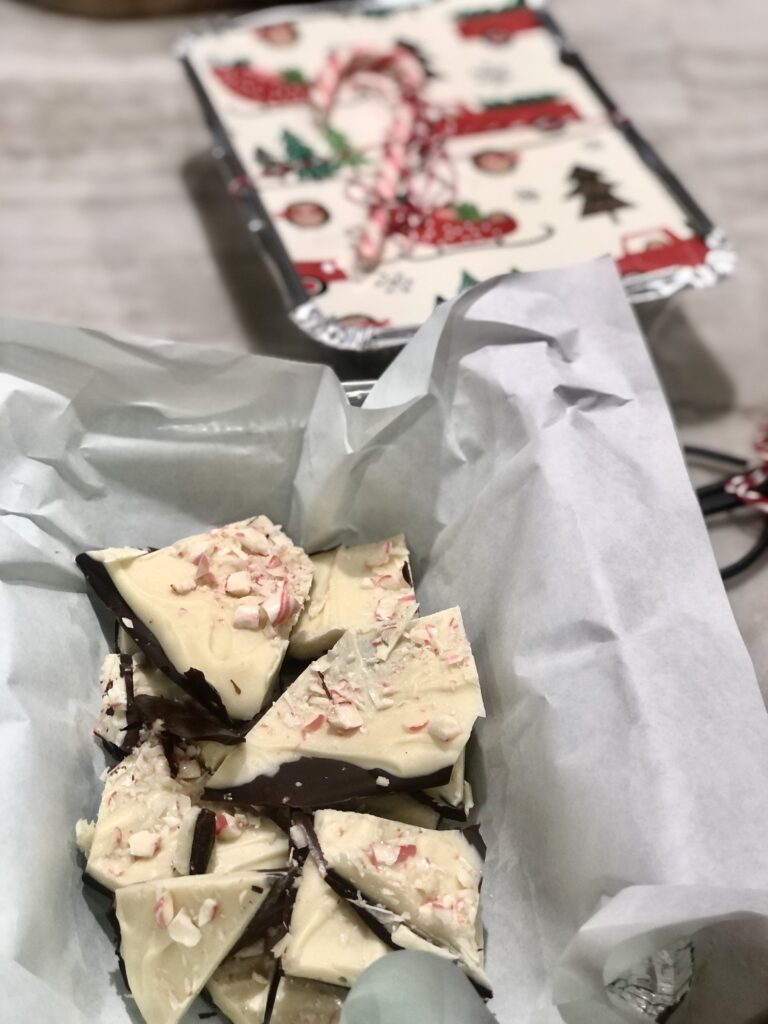 Although I love peppermint essential oil and use it regularly, I'm not a fan of overly powerful minty desserts. I know, I'm weird haha. Just 1-2 drops will give you all the peppermint you want! I love this recipe because you can control how much peppermint you want in your bark. It just has three ingredients and wait until you see what I am using to make this a yummy and healthier treat!
Peppermint Bark Ingredients
Lily's milk or dark chocolate chips
Lily's white chocolate chips
Candy Canes
Peppermint Essential Oil
I use Lily's chocolate for all of my baking. It is made with Stevia. I ditched the "white sugar" about 14 years ago and have never looked back! I also found Organic Candy Canes this year. YES! There is no red food coloring dye and only plant-based. These are the ones that I found. I actually love these a lot better because they taste like real peppermint.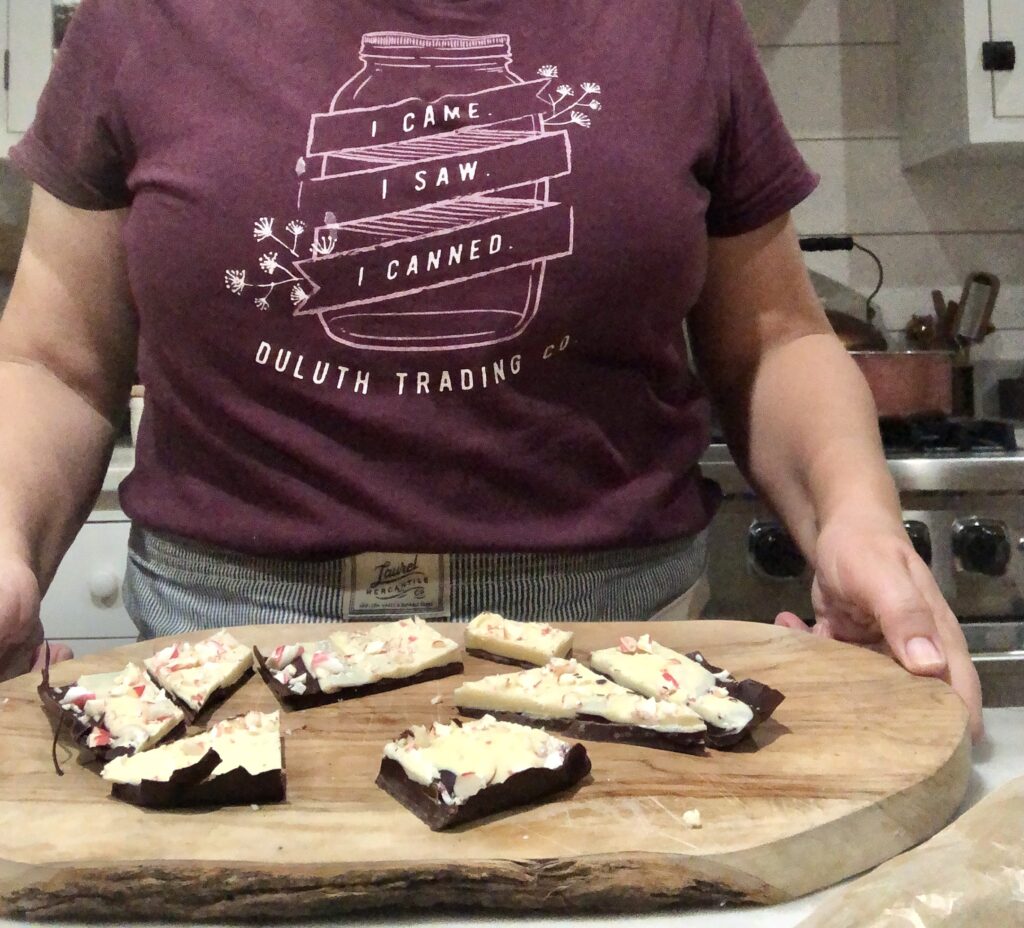 How to Make Peppermint Bark
You start by lining a cookie sheet with parchment paper. Try and tear enough off so it covers the sides. This will help in case the chocolate runs to the edge of the pan and will be easier for cleanup.
Melt your milk or dark chocolate. You can either melt the chocolate on the stove using a double boiler or just place a glass bowl in boiling water. You just stir the chocolate with a spatula until it's melted. The chocolate can also be microwaved. I usually go in 30second increments until the chocolate is thoroughly melted. Either way, you'll need to use it quickly before it hardens.
Next, spread the melted chocolate on the cookie sheet. Place in the refrigerator for 20-30 minutes.
Now, crush your candy canes. Place them in a plastic bag and then with the back of a spoon or rolling pin, crush them into small pieces. Discard any powdery part of the crushed candy canes.
Melt the white chocolate. If you want a little extra peppermint, now is the time to add the peppermint oil. Just add 1-2 drops to the pan and stir together with the melted chocolate.
Pull your chocolate pan out of the fridge. It should be set. Spread the white chocolate on top of the chocolate until it's evenly coated.
Sprinkle the crushed candy canes all over the white chocolate mixture. Place in the fridge for 20-30 minutes.
Now that the bark is all set, take a chef's knife or at least something bigger than a steak knife and start cutting the bark into triangles or squares.
That's it my friends. It's so easy and such a yummy and thoughtful gift for someone.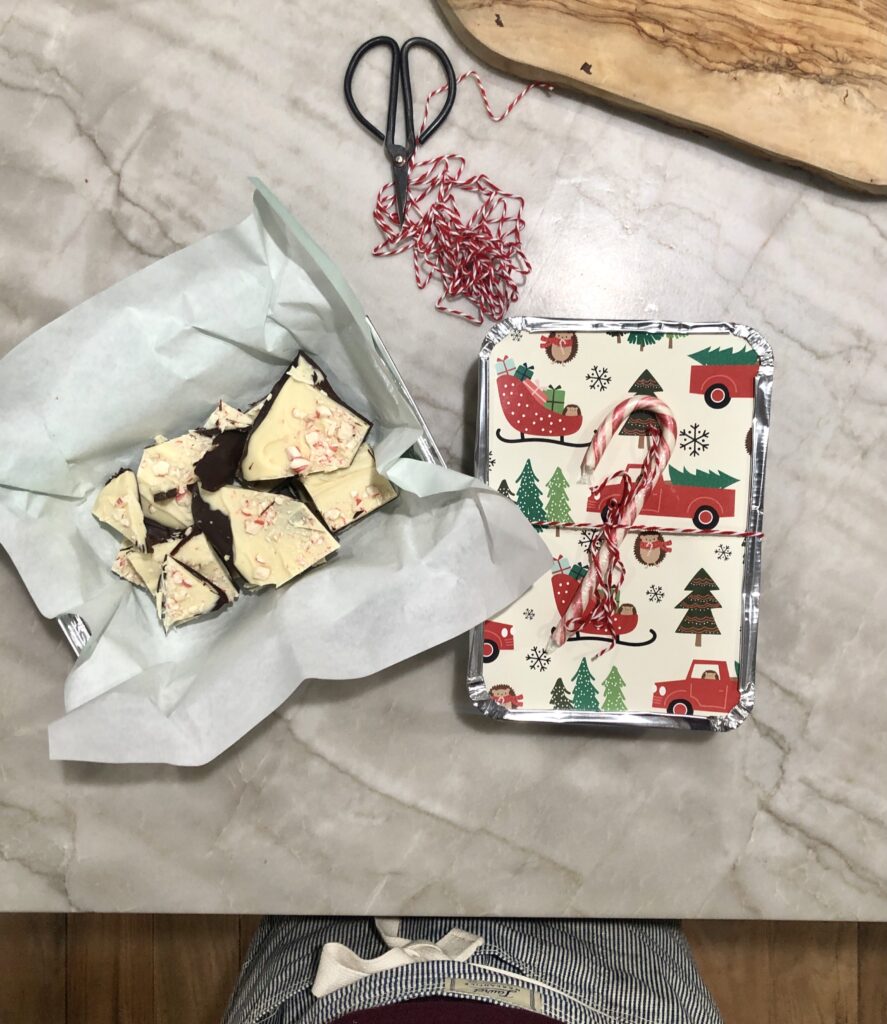 Storing Your Bark
Store your peppermint bark in a sealed container. It will last on the counter for 5-7 days. If you live in the southern states as I do, it will probably melt sitting on your counter. I place mine in the fridge and just pull pieces out as we want them. You can even store it in the freezer for no more than 30 days.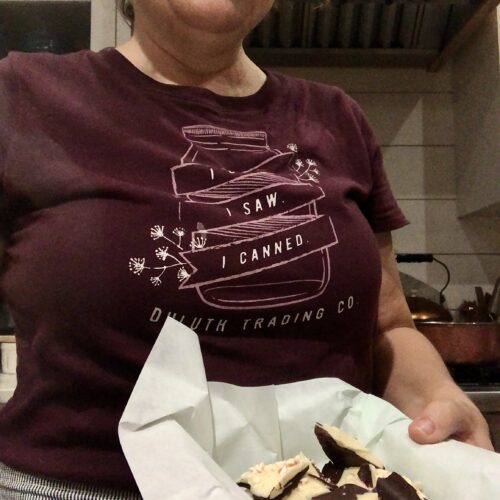 Easy Peppermint Bark
This peppermint bark recipe uses no sugar and has no red coloring dye. Simply delicious!
Ingredients
9

oz

Lily's milk or dark chocolate chips

9

oz

Lily's white chocolate chips

Peppermint Essential Oil

Candy Canes
Instructions
Line a cookie sheet with parchment paper.

Melt the chocolate in either a double boiler or microwave.

Once the chocolate is melted, work quickly so it doesn't harden and spread it on the lined cookie sheet. Refrigerate for 20-30 minutes or until the chocolate is firm.

Meanwhile, take 2 candy canes and place them in a plastic bag. Grab your rolling pin and crush them.

Now, melt the white chocolate. If you want more peppermint taste, then you can add 1-2 drops in the white melted chocolate mixture. Spread on top of the chocolate mixture. Sprinkle the crushed peppermint on top and refrigerate for 20-30 minutes or until the white chocolate is firm.

Now, it's ready to cut. Grab a large knife and cut into triangles or squares.
Supplies You May Need