I'm all about the apples right now and Apple butter is a must in our home. I grew up on it and started making it years ago for my own family. Slow cooker apple butter literally goes well with anything.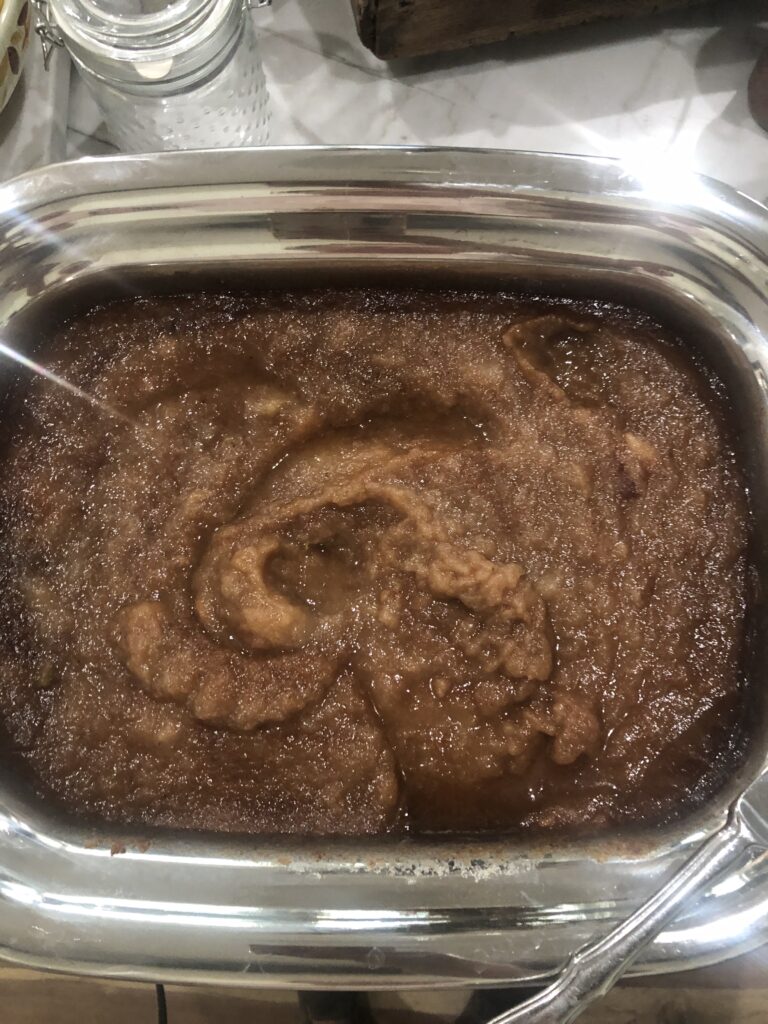 What Is Apple Butter?
Apple Butter is a concentrated form of applesauce, where it cooks slow and low and becomes thick. It becomes this delicious spreadable jam but really is like a cinnamon apple "butta'.
Apple Butter Uses
There are so many ways to use apple butter. I personally love it spread on homemade bread or biscuits for breakfast. It's great on top of pork chops, pancakes, waffles, oatmeal, or even on top of ice cream. Therefore, it's such a versatile spread. Seriously, who doesn't love apples?
How To Make Slow Cooker Apple Butter
In order to make apple butter, you have to start with applesauce. You can certainly buy store-bought but here is my homemade applesauce recipe. It's a game-changer when you make it from scratch. Then, all you need is a little bit of sugar (I'll touch more on this down in the recipe notes) and some spices. It's really that easy. You are going to slow cook your apple butter for a minimum of 8 hours in our crockpot. The key to knowing when your apple butter is apple butter is it will be really dark brown and thick.
The best time to make apple butter is of course during apple season, normally September – November. You can certainly buy apples throughout the year and make it whenever you want. That's the beauty of owning a slow cooker. Those things hold 6-8 quarts so you can pretty much enjoy it all year round!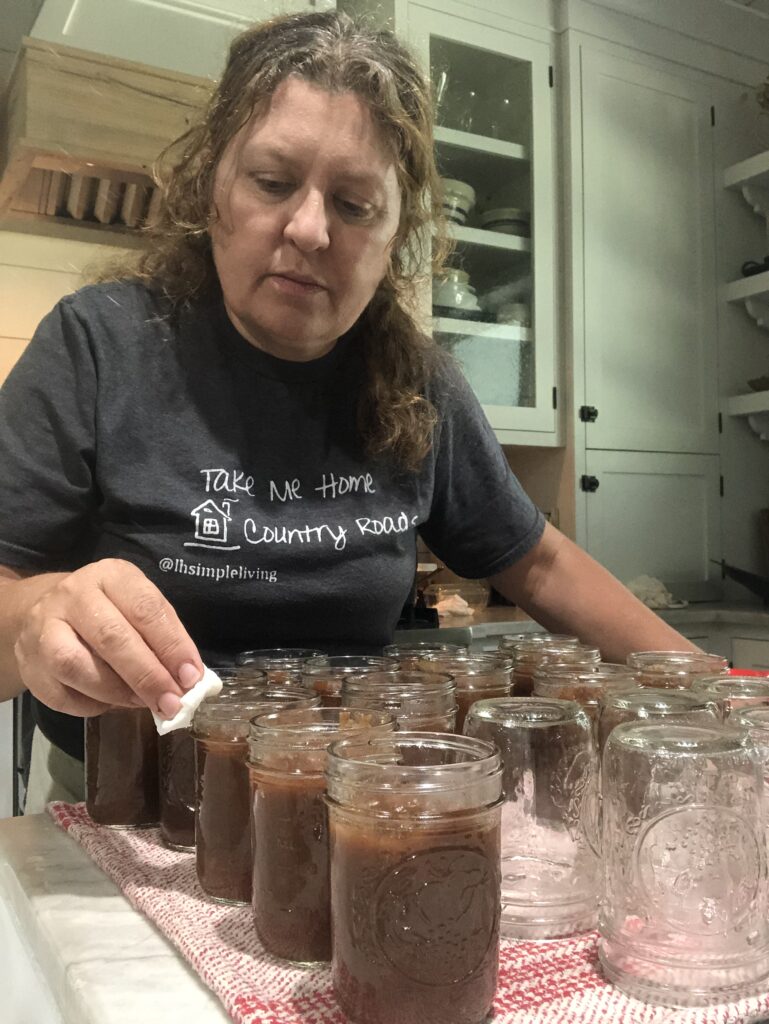 Slow Cooker Apple Butter
Apple Butter is the blend of delicious apples starting with applesauce with spices and just pure yumminess!
Equipment
Slow Cooker

Water Bath Canner

Mason Jars with lids and rings
Ingredients
4

cups

Unsweetened Applesauce

1

tbsp

Ground Cinnmanon

1/2

tsp

Ground Cloves

1/2

tsp

Ground Nutmeg

1/4-1/2

cup

Coconut Sugar

(Optional) Add additional if you like it sweeter
Instructions
Your first step in making apple butter is you have to start with applesauce. You can use store-bought but there's nothing like homemade.

Add the applesauce to the crockpot. Stir in all of the spices and sugar.

Turn the crockpot setting to low. Set the timer for 8 hours. Making this while you're sleeping is perfect. You will wake up in the morning with your kitchen smelling like cinammon apples.

If the apple butter isn't thick in 8 hours, then try cooking it for another hour and just keep cooking it until it's all nice and thick.

Once your apple butter is finsihed, you can jar it up and set it in the fridge. It should last for 4-6 weeks.

If you are wanting to can it, follow the safety steps to canning apple butter according to the National Home and Canning Preservation.
Notes
COOKING AND CANNING TIPS:
National Center for Home Food Preservation (uga.edu)
Once you get all of your ingredients mixed together, you will want to cover the lid loosely on the crockpot. Place a butter knife on top of the crockpot and then stick the lid on. You want the steam to escape; which will allow the apple butter to thicken as it cooks. 
Put towels down underneath the crockpot in case of splattering from the lid.
To make larger batches, just double or triple the recipe. 
A note about adding sugar…..I don't use the "white stuff", but feel free to if that's what you like. I really only add a little bit of coconut sugar. The apples make your apple butter so sweet, so you really don't need any more sweetness! 
Supplies You May Need
The Prairie Homestead Cookbook (Canning tips)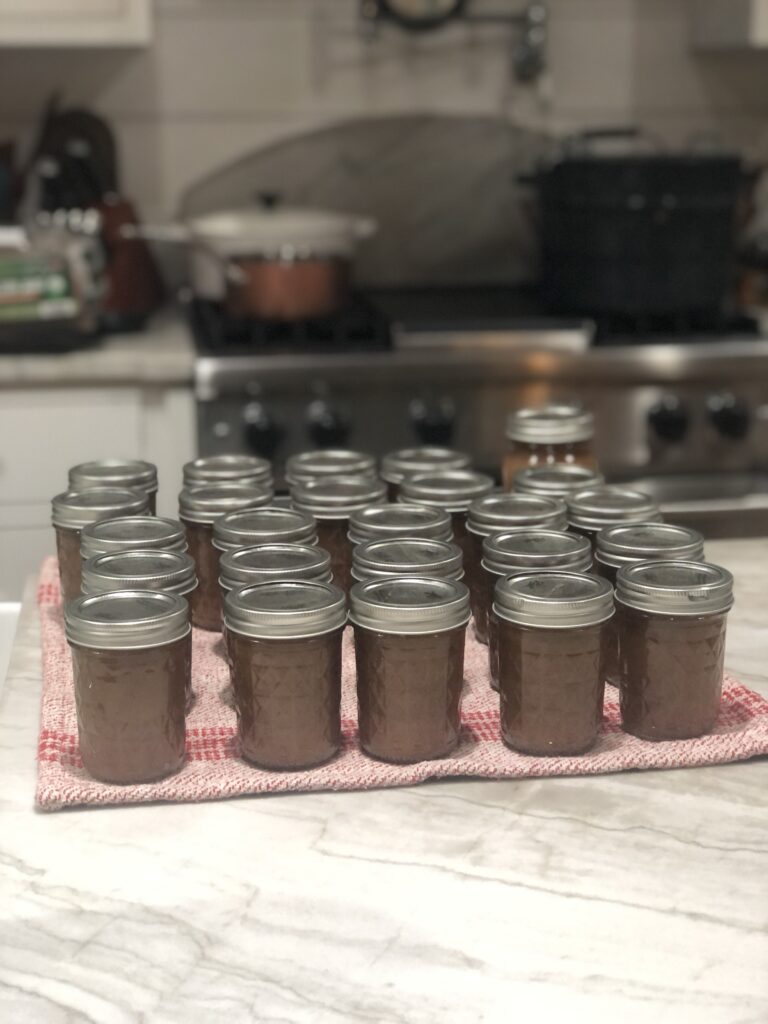 Other Apple Recipes