Starting in November, we all get excited about preparing our Thanksgiving meal. I for one love turkey any time of the year if it's moist and seasoned properly. We started smoking our turkey last year, or I can say my daughter did, and we've never looked back. Our bourbon brined smoked turkey is now requested at Thanksgiving and probably at any family gathering.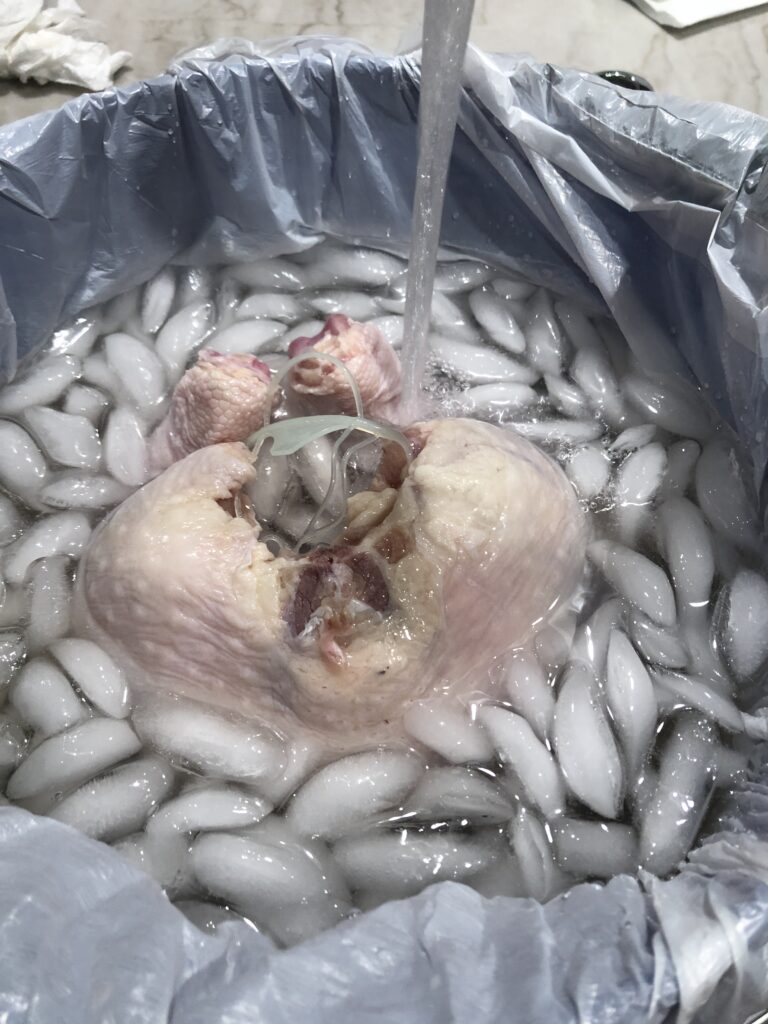 Ways to Cook a Turkey
There are a few ways to get that bird moist and yummy. Roasting in the oven is a great way if you have room. Most of the time, I need my oven for all the other dishes that I am making.
I've used a roaster like this one and if I need to make two turkeys, that's what I bring out. My favorite way now is to smoke the turkey. We bought our kids a smoker a few years ago for Christmas and my daughter has really started to master the grill. There are all kinds of smokers to choose from – gas, electric, wood, charcoal and we use an electric one.
Smoked Brined Turkey
Brining your turkey is a game-changer. Sure, you can rub on the seasoning and cook it, but the brine makes it so moist. What is a brine? It's pretty much a salt and liquid mixture that adds moisture to the meat. The key to brining is you have to let it sit in the solution for at least 12 hours but no more than 24. You can use raw apple juice or bourbon/whiskey. I personally love them both. The bourbon isn't strong and it does cook out but makes the bird so juicy. Using fresh herbs in the cavity is also important. The flavors get infused inside the turkey and all the flavors just meld together. A brined smoked turkey is my favorite!
Creating the Rub
The right blend of spices and herbs is needed when rubbing your turkey. They make all kinds of rubs. I love using this one here and I also really enjoy making my own rub. You can dry your own herbs if you have a garden or buy them in bulk as I do. I use a blend of rosemary, thyme, sage, garlic, sea salt, bay leaves and more.
I hope this helps you make the moistest and delicious turkey no matter what time of year you cook it!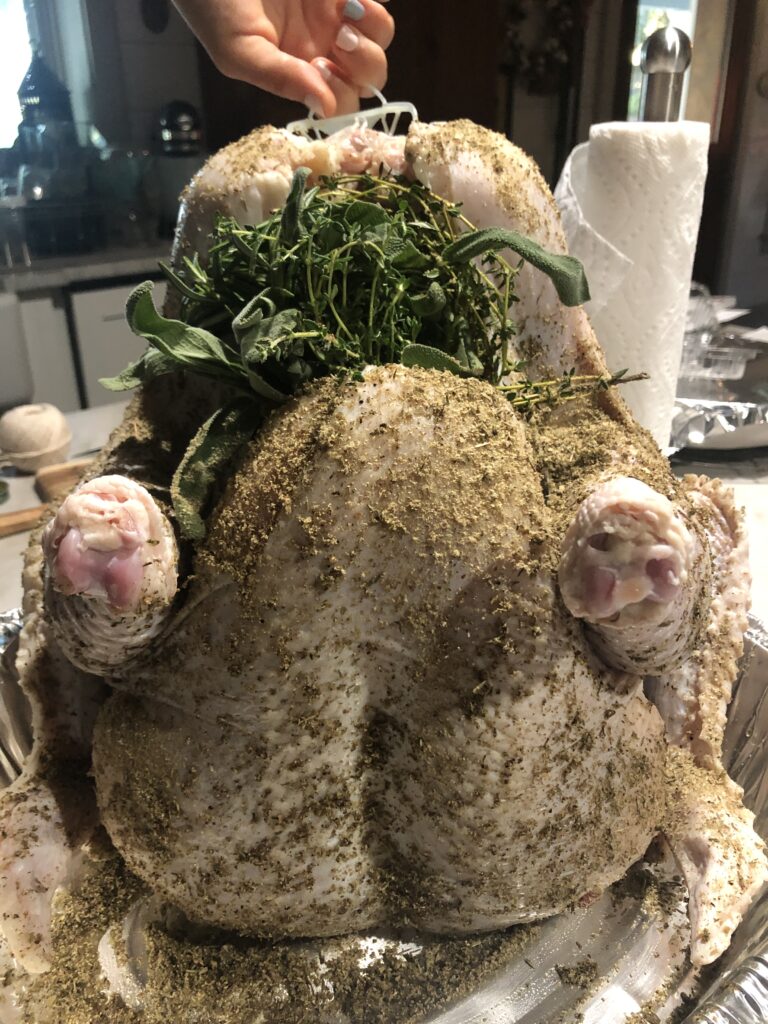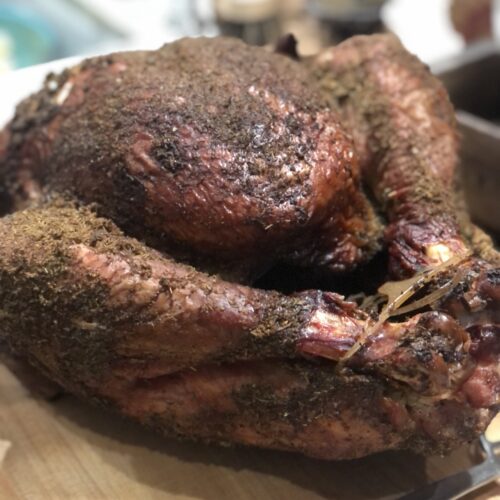 Bourbon Brined Smoked Turkey
The bourbon brine makes this turkey so moist and delicious. You'll want to make this anytime of the year!
Ingredients
14-16

pound

fresh or frozen turkey

1

stick

unsalted butter

Avocado or Olive Oil
Items for the Brine
12

cups

water

1

cup

salt

I use Pink Himalayan Salt

1/4

cup

local raw honey

1/4

cup

coconut or cane sugar

2

oranges, cut into slices

2

bay leaves

4

sprigs

fresh thyme

2

cups

Bourbon or Whiskey
Filling for the Cavity
2

oranges, cut into slices

6-8

peeled garlic cloves

Vidalia or sweet onion. quartered

a handful of fresh thyme

2

sprigs

fresh rosemary
For the Rub
1

tbsp

garlic powder

1

tbsp

onion powder

2

tbsp

sea salt

1

tsp

ground sage

1

tsp

ground rosemary

1

tsp

ground thyme

1

tsp

corriander

1

tsp

oregano

1

tsp

fennel

1

tbsp

black pepper

2

bay leaves

2tbsp

coconut or raw cane sugar
Instructions
If using a frozen turkey, defrost and remove the giblets and other paper parts.

Next, make your brine. Add the water, salt, sugar, honey and bourbon to a sauce pan. Turn on medium high and let the sugar and salt dissolve. Remove from the heat and let cool. Add all of the remaining ingredients and stir.

Place your turkey in a brining bag. Pour the brining mixture over the turkey and submerge it in the solution for at least 12 hours. I keep mine in a cooler and pack it with ice.

After the turkey is done brining, remove it from the bag and pat the turkey with clean dry paper towels.

At this point, get your smoker turned on.

Now, prepare your dry rub. Combine all of the ingredients in a bowl and stir or if you are using a pre-made rub, place 3-4 tbsp in a bowl.

Rub the turkey with butter, making sure you get underneath the wings and the breasts. Add a little bit of oil, if needed. Stuff the cavity with the ingredients above. Finally, rub the turkey with the rub mixture.

It's now ready for the smoker. Use the directions according to the brand of smoker that you have. My daughter has a Traeger smoker and it really makes your turkey so moist and yummy. This would also be delicious oven-roasted.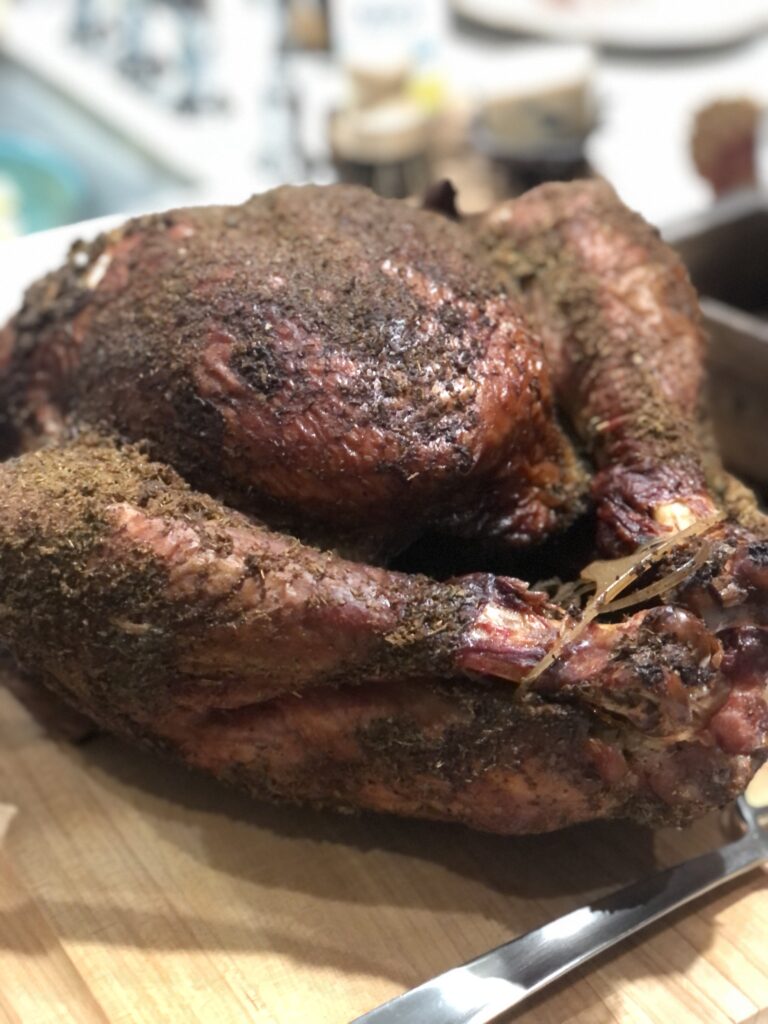 A little tip: The leftovers would go great with my Turkey Pot Pie recipe!
Supplies You May Need
Side Dishes To Go With Smoked Brined Turkey
Roasted Brussel Sprouts with Bacon