Do you ever wonder what to do with all of the turkey you have leftover from Thanksgiving or pretty much anytime you cook a turkey? Are these birds reserved for just holidays? It kinda feels that way. I cooked a Turkey breast on Easter along with a Ham and all the fixin's. We had half of the breast leftover so I thought, "Why not make a Turkey Pot Pie"?
Tips on Making Pot Pie
Pot Pie is kind of like an easy "all-in-one" comfort food that is perfect just to serve up in a bowl. We usually just eat it like that and maybe with a salad or slice of homemade bread on the side. It's one of those meals that I really don't have to think about if I have everything on hand. I keep most of the staples all the time and just add whatever meat and veggies that are in the fridge.
To start with, you have to have a really good crust. They really are not difficult to make. I make several at a time and keep a few in the freezer. Really makes meal times quick when I have those "what are we having for dinner nights". See below for my simple pie crust.
When you think of pot pie, you think of carrots, onions, peas and maybe potatoes, right? Use what you have in the fridge. Get creative.
To make your pot pie taste really yummy, make homemade chicken broth. You won't be disappointed, I promise. Recipe coming soon.
Pot pie is traditionally made with chicken but change it up a bit and use leftover roasted turkey like I'm doing in this recipe or even use cut up slices of roast beef or brisket. Yummy!
Items/Utensils Needed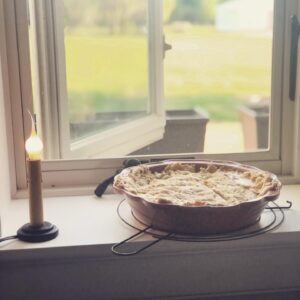 Leftover Turkey Pot Pie
Use leftover roasted turkey to make a delicious pot pie
Ingredients
1

Homemade Pie Crust

See notes below

2.5

cup

Leftover Roasted Turkey

1/4

cup

Onion

2

Large Carrots

1/2

cup

Frozen Peas or Green Beans

1/4

cup

Einkorn or All-purpose Flour

2

tbsp

(Real) Unsalted Butter

1

cup

Chicken Broth

1

cup

Half & Half

1

tsp

Pink Himalayan Salt

1

tsp

Black Pepper

Fresh Thyme or Turkey Seasoning
Instructions
Make crust or use a store bought one. I only put the crust on top but you can certainly have one on the bottom, add filling and then top it with another crust.

To make the filling: Add flour and butter to a pan. Once butter is melted, use a whisk to mix the two together. Do this kind of quickly. You are creating a roux. This mixture will allow your sauce to be thick and creamy.

Next, add chicken broth and half & half to pan.

Cut up all of your veggies (except the peas)and add those to the pan.

Add cut up leftover turkey (or chicken/beef)

Mix all of this together on the stove on medium heat. Allow carrots to cook until they are soften. Add seasonings (if needed) and the peas. Stir together.

Pour the filling into a pie pan or a 10 inch iron skillet.

Place rolled out crust on top of the filling. You can make it pretty or rustic (like I do lol). Place pie pan on a cookie sheet to avoid spills in your oven.

Bake at 350 for 25 minutes or until crust is golden. Let cool for 5-10 minutes. Serve with a salad or a hot slice of homemade bread. Enjoy!
Notes
To make a HOMEMADE PIE CRUST, you just need a few simple ingredients.
1 1/2 cups of Einkorn Flour (Einkorn flour is so much easier to digest and makes a really yummy crust.
1 tsp of Pink Himalayan Salt
1/ cup of cold water
1 stick of super cold butter
Stir flour, salt and water together. Add butter (chopped into tiny cubes) and while using a pastry blender, fold in the butter to the flour mixture. Form into a ball, saran wrap it and store in the fridge for at least an hour. Crusts can stay in the freezer for up to two weeks. When ready, sprinkle flour on a flat surface. Take a rolling pin and roll the crust into the shape of your pie pan.
This post contains affiliate links, which means I make a small commission at no extra cost to you. See my full disclosure here.
TIP: To get a really yummy crust, make sure your butter is cold and cut up into bite-size pieces or you can use a cheese grater.
I'd love to hear your variations of pot pie. Have a great weekend!
Wendy