One of my fondest memories growing up was watching my grandma make her homemade mashed potatoes. She'd always let us have a finger-lick when she was done whipping them up. Well, I've carried on her tradition and love making her Sour Cream Mashed Potatoes and I hope you will too!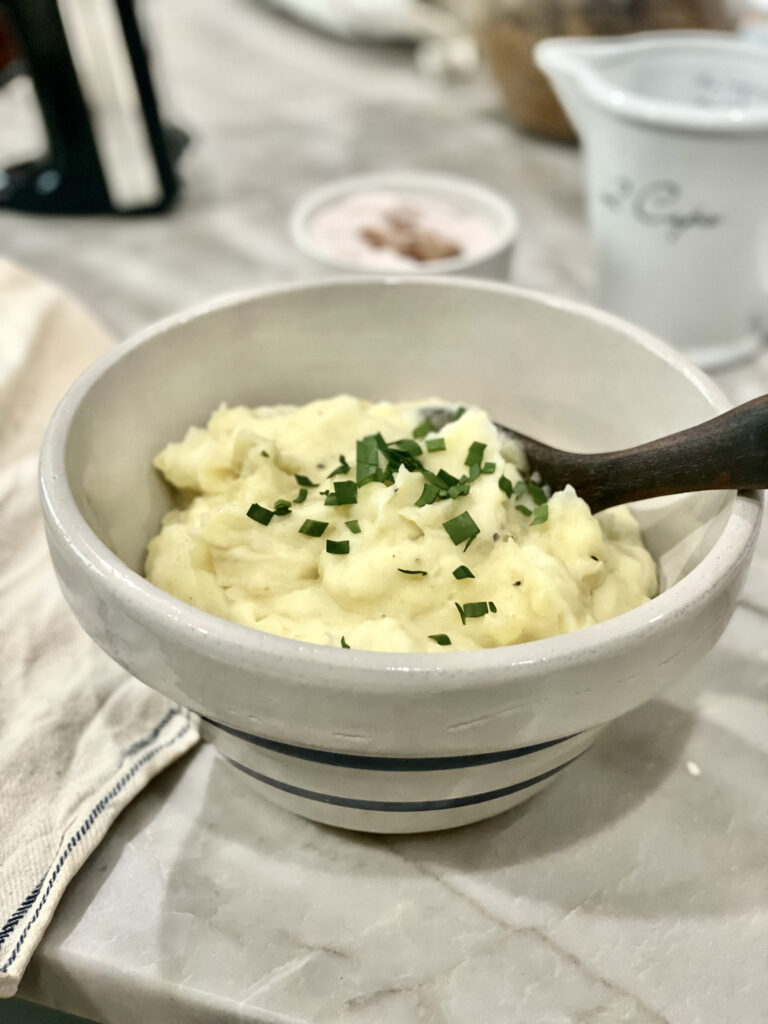 How To Make Sour Cream Mashed Potatoes
I've often had people that have my mashed potatoes ask me what I put in them. It's kind of a secret. Well, I guess not anymore haha. These are quite simple to make.
First, wash and cut up your potatoes. My favorite potato to use in mashed potatoes is the Yukon Gold Potatoes. They make the creamiest mashed potatoes. Feel free to use any other variety. Peeling is optional.
Bring a pot of water to a boil, place the potatoes in the pot and cook until fork tender.
Drain the potatoes and put them back in the pot or a mixing bowl.
Add a generous helping of black pepper and real salt. If you're like me, now is the time to add the garlic. Start slow with the milk.
Using your handheld mixer, beat all the ingredients together. Add more milk, if needed, until you get a creamy texture but not runny.
You can add a few pats of butter and mix some more if you like.
Once the potatoes are all nice and creamy, add in the sour cream. Mix again with your mixer.
Dollop a few pats of butter and some parsley or chives on top.
Serve immediately. Your family will love these!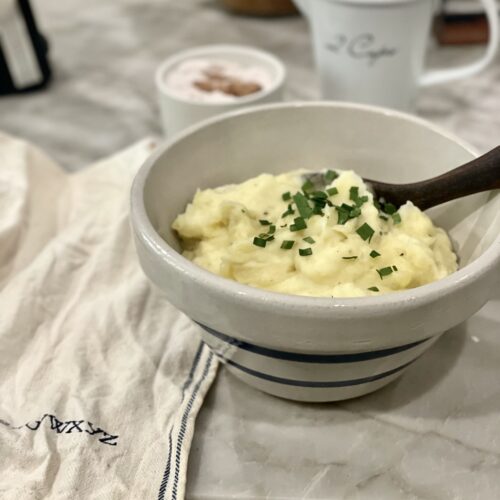 Sour Cream Mashed Potatoes
These Sour Cream Mashed Potatoes remind me of my grandma making them when I was little. The sour cream makes these so moist and creamy. I hope you'll enjoy them as much as I do!
Ingredients
5lb.

Bag of Yukon Gold Potatoes

1/2

Cup

Milk

(I use raw)

2-4

Tbsp.

Real Butter

1/4

Cup

Sour Cream

(I use regular)

Salt & Pepper

(to taste)
Instructions
Take your potatoes and peel them. This is optional, if you like the peels on.

Cut the potatoes into small cubes and place in a stockpot of boiling water. Keep cooking them on the high setting. When they are fork tender, remove them from the stove and drain them.

Once drained, add them back to the same pot or in a mixing bowl.

Sprinkle a generous helping of salt and pepper. I feel like salt and pepper is a "taste preference" thing, so add how much you like.

Add the milk. Start with 1/2 cup. Add more if the potatoes are soaking it up. You want your mashed potatoes creamy, not dry. Using your handheld mixer, blend all that together.

Next, add the sour cream. I usually just add 1/4-1/2 cup but play around with it and taste to see what you like. Use the handheld mixer or you can use a wooden spoon to fold it in.

At this point, you can add 2 tbsp of butter (optional)

Once the potatoes are blended and fluffy, top them with a few pats of butter and some fresh chopped chives or parsley.
Notes
*You can use any potato but honestly, Yukon Gold make the most creamiest mashed potatoes.
*Feel free to use the stand-up mixer in place of the handheld. It will not make a difference.
*Add 1-2 cloves of garlic for extra goodness!
Tools You May Need
Real Salt (enter code: lhsimpleliving for 15% discount)
Pin For Later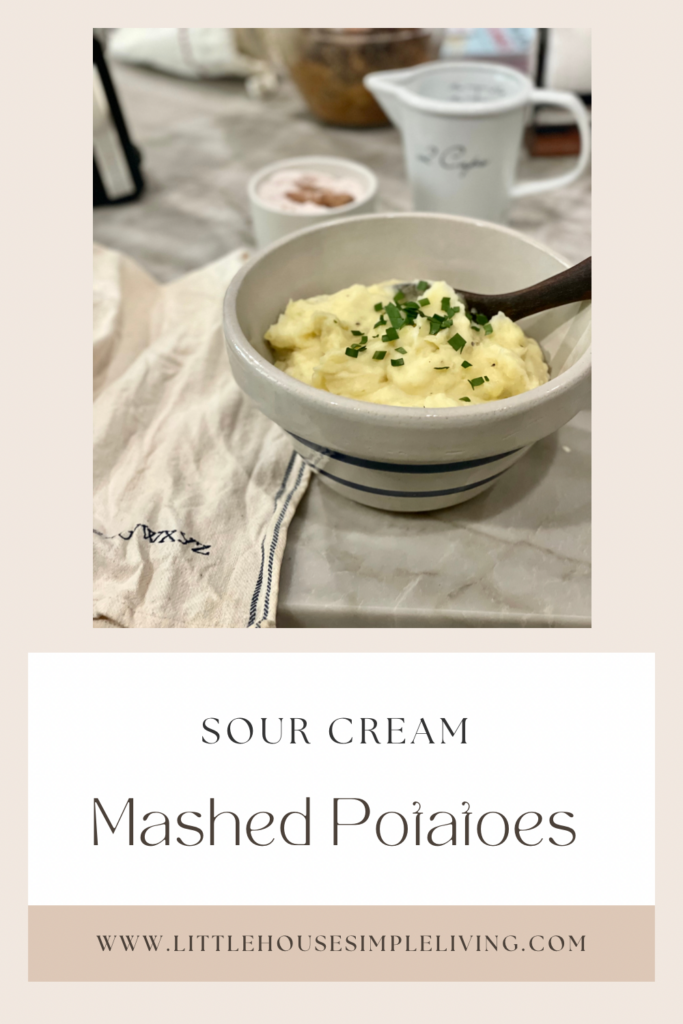 Join Our Simple Living Community