If you put vanilla or chocolate in front of me, I'm diving right into the chocolate haha. Every time there's a family gathering, I'm requested to bring my Chocolate Cupcakes. These are made with wholesome ingredients and no one will ever know. I've been making these for years now and I can't even believe I'm sharing my secret recipe. Well, I like to share with others, so here we go. I hope these will become a favorite in your home too.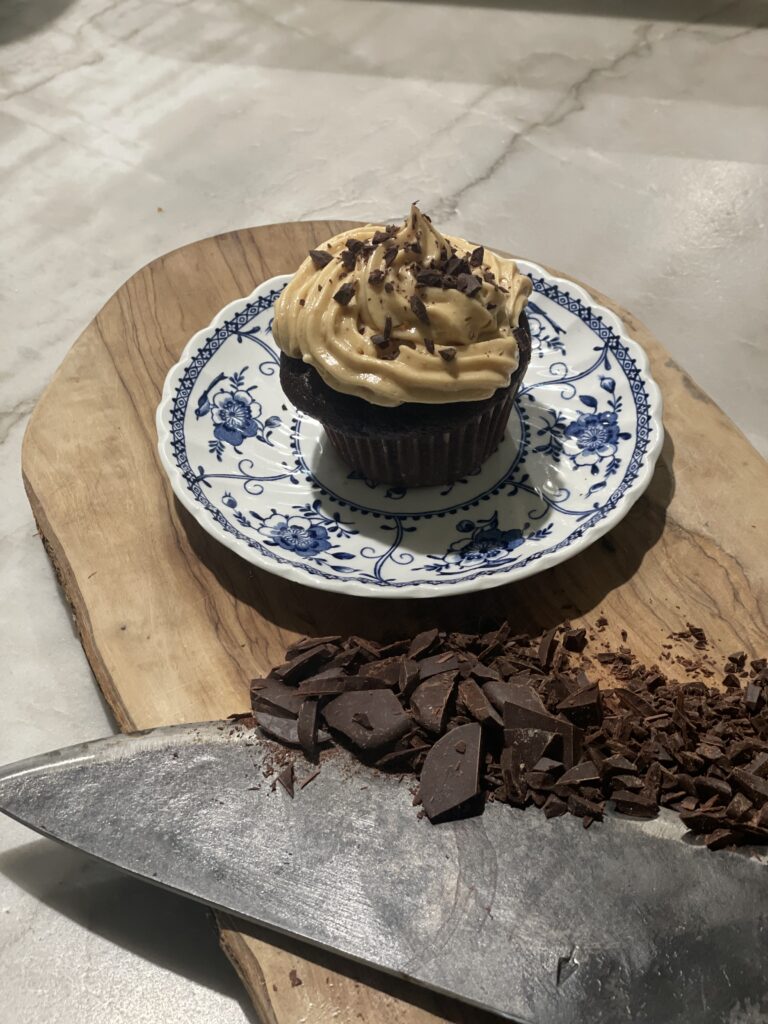 The History of Chocolate
North America's first cookbook, printed in 1742 in Williamsburg by William Parks, publisher of the Virginia Gazette, contained but one chocolate recipe: "chocolate almonds." The list of ingredients included no almonds; the word merely reflected the shape of the chocolate, which was mixed with sugar, orange flower water, and a binder. Today we might call it a chocolate drop.
Jim Gay's research turned up other Virginia chocolate recipes in manuscript form, sometimes written by an unknown housewife. Gay is Colonial Williamsburg's Historic Foodways journeyman cook and an authority on the history and manufacture of chocolate. One of these mixes sugar, chocolate, and almonds, then directs the cook to use cochineal to color them red, saffron for yellow, "Stone blew" for blue, and "the Juice of Spinage" for green. Gay calls this "the eighteenth-century ancestor of M&Ms."
Chocolate did not really become a food until the middle of the nineteenth century. The pivotal date was 1828, when a Dutchman, Casparus Van Houten, invented a machine for manufacturing powdered low-fat cocoa. Chocolate beverages became easier and cheaper to make, leading to what some have called the democratization of chocolate.
In 1847, an English chocolate maker that had been in business almost a hundred years, J. S. Fry and Sons, developed the first molded chocolate bar. A Swiss, Henri Nestlé, figured out in 1867 how to make powdered milk by evaporation, and another Swiss, Daniel Peter, came up with the idea of blending Nestlé's powdered milk with chocolate in 1879. The milk chocolate candy bar was on its way.
Well, wasn't all that pretty interesting? Back in the day, I could eat a Reese cup like it was nothing. I haven't had one of those in 10+ years now haha.
Resource: www.colonialwilliamsburg.org
How To Make Chocolate Cupcakes
I have a secret ingredient that makes these cupcakes so moist. They are super easy to make and you will never want to pick up a box of that mix from the store every again.
Pour the hot water into a measuring cup and add the baking chocolate or cocoa wafers. Stir until melted.
Combine the flour, sugar, cocoa, baking soda/powder & the salt.
Add the buttermilk, oil, eggs & vanilla. Beat together with your mixer. I like the #2 or #4 setting, using the paddle with spatula attachment.
Add the melted chocolate water mixture and mix for a few minutes, until blended.
Pour into cupcake liners. Bake at 350 degrees for 25-27 minutes.
Peanut Butter Butter Cream Frosting
Ok, this frosting is what takes these cupcakes up a notch. They are way better than a Reese's cup too lol. I promise, you are going to love these!
Combine all the ingredients and beat together with your mixer. I like using my stand-up mixer for both the cupcakes and the frosting but a handheld will do just fine.
Now, frost your cupcakes. You can use a piping bag if you like and make a pretty design or just take a knife and spread the frosting on top of the cupcakes.
---
Join Our Simple Living Community
---
How To Store Chocolate Cupcakes
You can easily freeze these cupcakes unfrosted for 1-2 months in a freezer safe container. When I'm making cupcakes to take somewhere, I use a cupcake carrier. The cupcakes stay fresh in there for 2-3 days. I keep the container in my fridge when I have leftovers.
Make These Into a Cake
This recipe will make (2) 8-inch round cake pans and make a two-tiered cake. I love the naked scraped cakes these days and I top mine with a few strawberries.
Pin For Later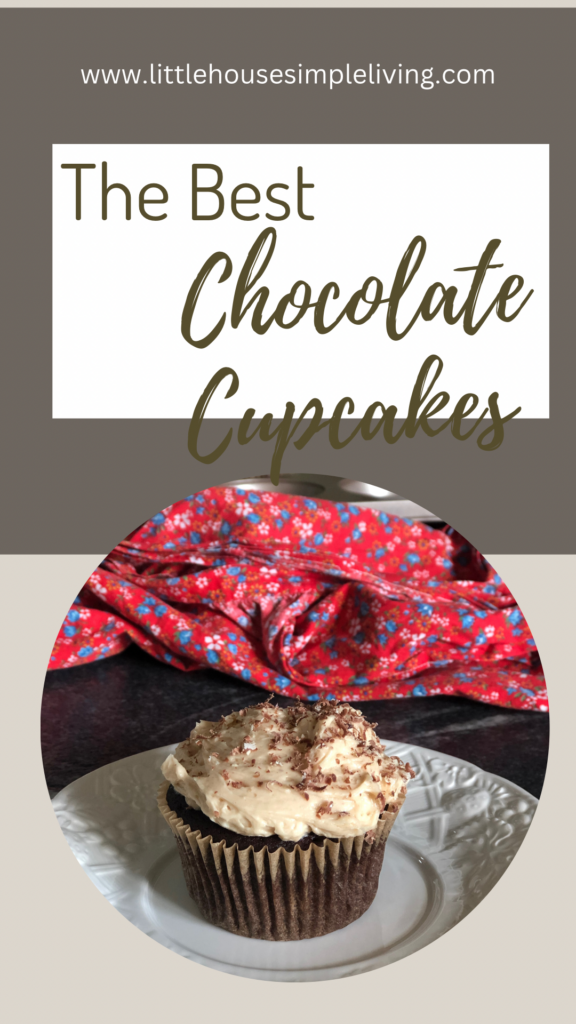 Tools You May Need
Measuring Cups
Real Salt – enter code lhsimpleliving for 15% off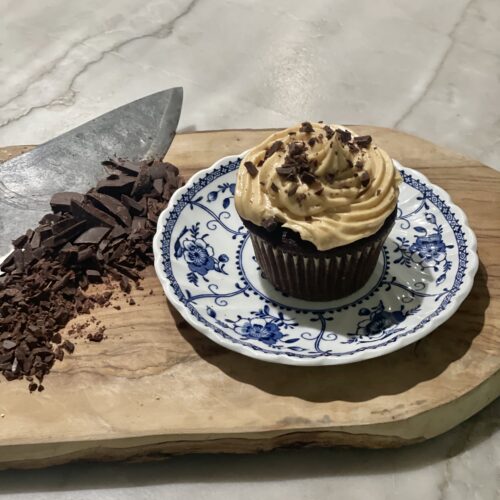 The Best Chocolate Cupcakes
These homemade chocolate cupcakes are super moist, fluffy and oh so good. They are topped with a peanut butter butter cream frosting that really takes these up a notch. Your family and friends will love them!
Ingredients
Cupcakes
1

Cup

Hot Water

1

Oz

Baking Chocolate or Cocoa Wafers

2 1/4

Cups

Flour

2 1/2

Cups

Coconut Sugar

1

Cup

Unsweetened or Dutch Cocoa Powder

2

Tsp

Baking Soda

1

Tsp

Baking Powder

1

Tsp

Real Salt

1 1/2

Cups

Buttermilk

3/4

Cups

Coconut Oil

3

Eggs

1

Tsp

Vanilla
Peanut Butter Butter Cream Frosting
1 1/14

Cup

Real Butter

1

Cup

Peanut Butter

1/4

Cup

Heavy Cream

(organic)

4

Cups

Powdered Sugar

(organic)

1

Tsp

Vanilla
Instructions
Cupcakes
Pour 1 cup of hot water into a measuring cup. Add the baking chocolate and stir until dissolved.

Combine the flour, sugar, cocoa, baking soda/powder & salt.

Add buttermilk, oil, eggs & vanilla. Beat together with mixer.

Add melted chocolate water and mix until blended. Your batter will be somewhat runny.

Place the cupcake liners in the pan. Fill each one with the cupcake batter, just to the top.

Bake at 350 degrees for 23-27 minutes.

Allow to cool completely and then frost the cupcakes.
Frosting
Combine all the ingredients in a bowl and beat together, using the whisk attachment on your mixer.

Using a piping bag, frost the cupcakes. You can also just use a knife and spread the frosting on the cupcakes.

Garnish with grated baking chocolate.
Notes
1. You can use any sweetener you like, but the coconut sugar gives it a healthier option.
2. The coconut oil is a healthy fat. Your cupcakes will not taste like coconut.            
3. I use freshly-milled flour but feel free to use all-purpose.  
4. I use as much organic and whole foods as I can.  Every change I make into eating real ingredients is so much better than consuming the processed foods. Use what you can, but try and swap out at least the oil and sugar for a healthier option.