They say the kitchen is the heart of the home, but I say the pantry is just as important. Every meal that you prepare comes from the pantry (or the fridge). When we were building our new home, I knew I wanted complete function in our homestead pantry. I role-played and wrote down everything I could possibly need to store in my pantry and designed it from there. Whether you live on a farm or in the suburbs, you'll want a nice functional pantry.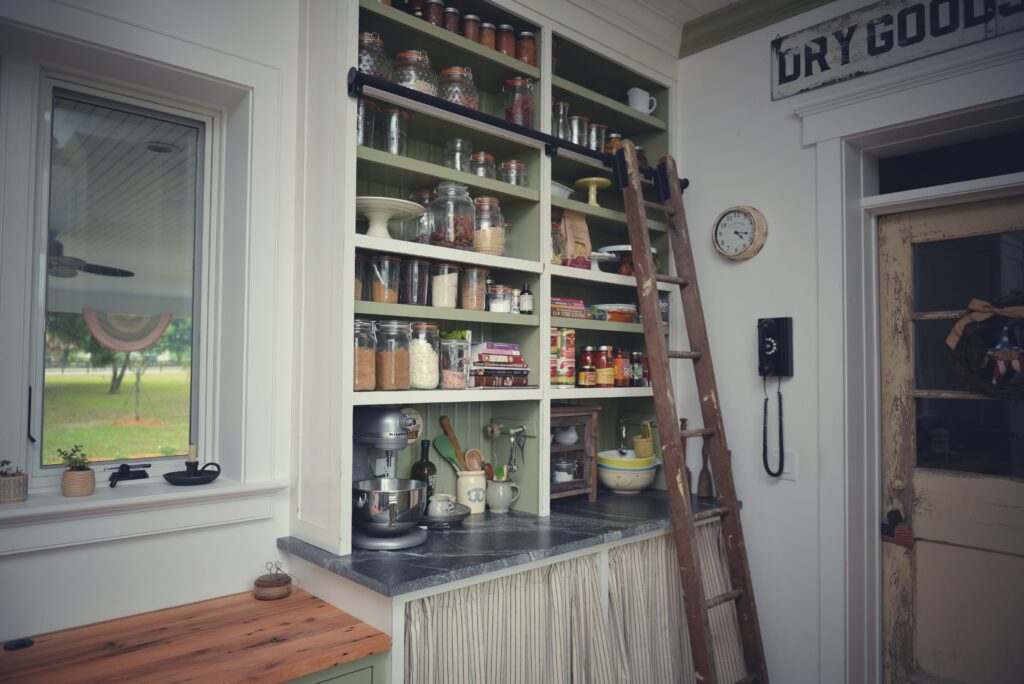 Our Homestead Pantry
I wanted our homestead pantry to be a functional working room and that's exactly what it is. I'm in and out of here all day long. It's where I store all of the goods and things that I've canned. All of my grain buckets go in here and this is where I do all of my bread baking. It's been a long time in the making and I'm so excited that we finally finished our homestead pantry last year. Check out our NEW "OLD" FARMHOUSE HERE.
Homestead Pantry Design
First, I started by making a list of everything I thought I would want to store in our homestead pantry. Next, I drew the design. I knew the style I wanted. Thanks, Pinterest. Therefore, I met with my carpenter and we worked out a plan. We actually combined our laundry/mudroom with our pantry. The room is approx. 12×16 so I knew we'd have plenty of room.
These were my must-haves:
Open shelves
Countertop
Bead-board
Baker's oven
Cabinets
Drawers for my grain buckets
Hidden storage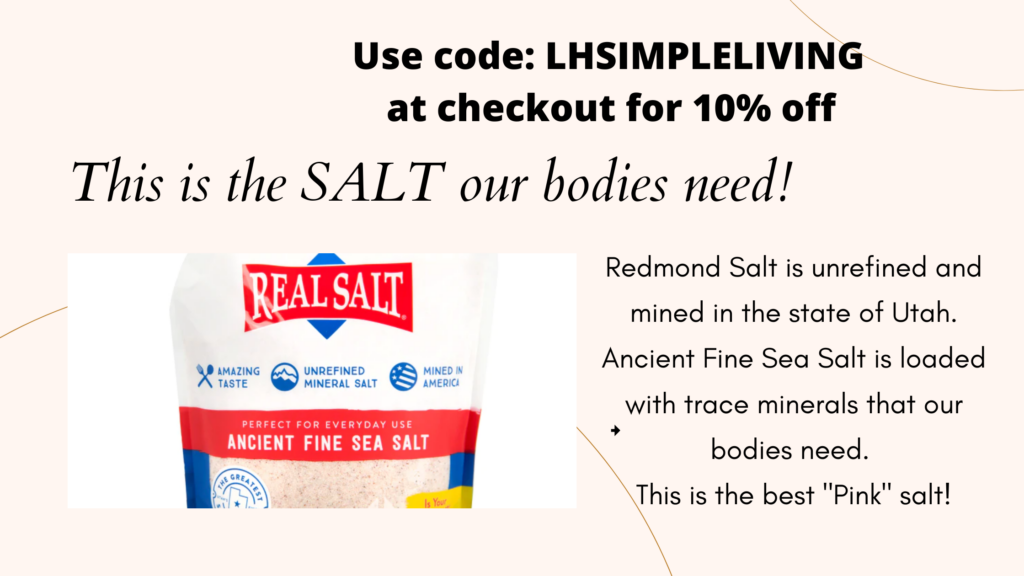 ---
Buy in Bulk
One thing I've been doing for years is buying my pantry goods in bulk. It was really hard to do everything in bulk when we were tiny living, so I just did the minimum until we moved into the house. I'm always saying, "Do what you can with what you have."
I buy from a few different places. I find buying in bulk helps me not run out of items. It also helps me be more prepared with my meal planning and I save money. You can buy in bulk at Sam's Club, Costco, and Trader Joe's for the basics. Then, I buy my grains, herbs/spices, and other goods from Azure Standard, or on Amazon. Buying in bulk is perfect for the homestead pantry. See my Amazon Shop HERE. It's where I bought a lot of things for our new home and I have them broken down into different categories.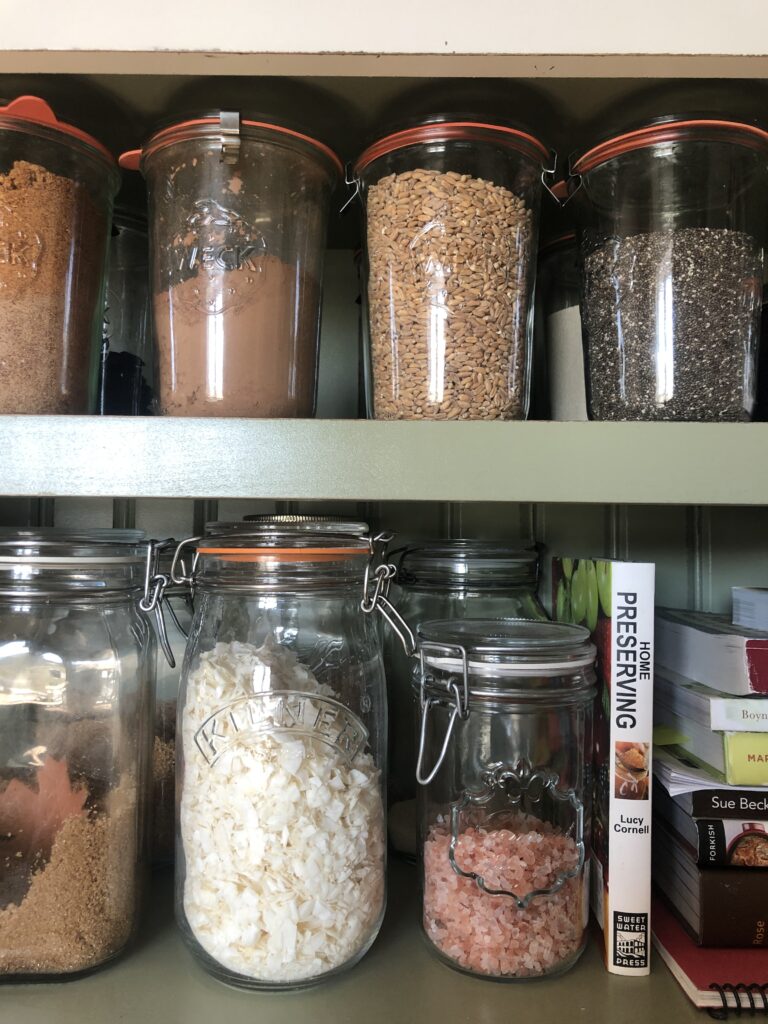 ---
How To Buy In Bulk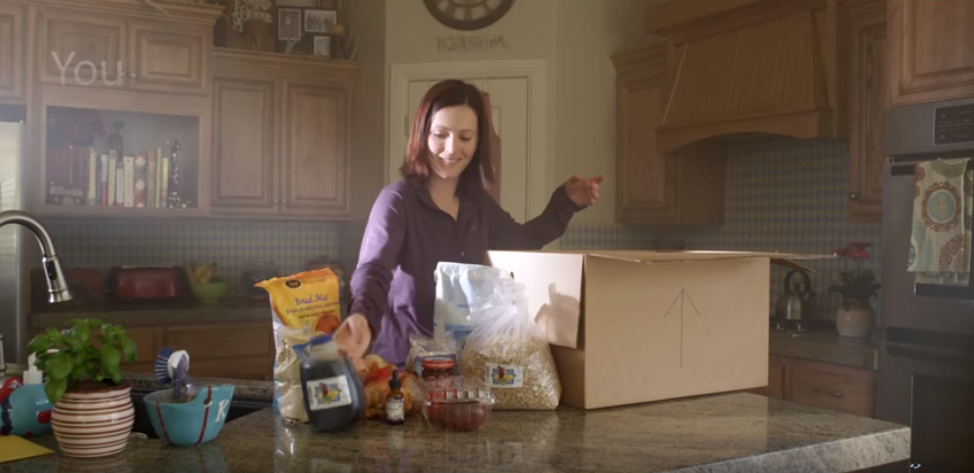 If you are looking for a way to start buying in bulk, I have just the place. Azure Standard is a (family-owned) huge bulk buying store filled with all kinds of Organic, Non-GMO, and healthy foods. You can buy grains, flour, dairy, meats, vegetables and so much more. The cool thing is this……you order online and then you go to a scheduled location in a town near you and pick up your order. It's kind of like a co-op. Everyone in your drop location pulls together to save money on shipping. They ship all over the US to drop locations. How cool is that? There are NO fees to join. You can even just have your order delivered straight to your door if you prefer that instead. Start saving now and buy in bulk.
Read all about Azure Standard HERE.
I'm picking up my order this afternoon so be sure and head to stories on my Instagram page later today as I'll be revealing everything I purchased. I'll save it all to a highlight on my profile over there. If you are local, email me at [email protected] or DM me on Instagram and I'll share with you where my pick-up drop location is.
Use Clear Glass Jars
I love using clear glass jars to hold all of my pantry goods. They are not only pretty to look at but so functional. It is so pretty to be able to look inside each jar at all of my pantry goods. In addition, it's so easy when I'm doing inventory in the pantry.
While we were building our home, I bought a few jars here and there until I had enough to fill my pantry shelves. The jars do not have to be "matchy-matchy". I personally love the look of mismatched jars all lined up all looking pretty on my pantry shelves. You can find clear glass jars at Homegoods, Marshalls, TJMaxx, Goodwill, and thrift stores.
Cabinet Storage
We went floor to ceiling with our cabinets to maximize the space. One thing I wanted when I was designing our pantry was I knew I needed storage and lots of it.
FUN FACT: In 27 years of marriage, I've never had a pantry. I did have a tiny little closet/cabinet in the very first home we built but it really didn't hold much.
The cabinets are used to store my bigger appliances like my crockpot, extra jars, canning supplies, paper products, etc. They are 26 inches deep which really gives me a ton of storage.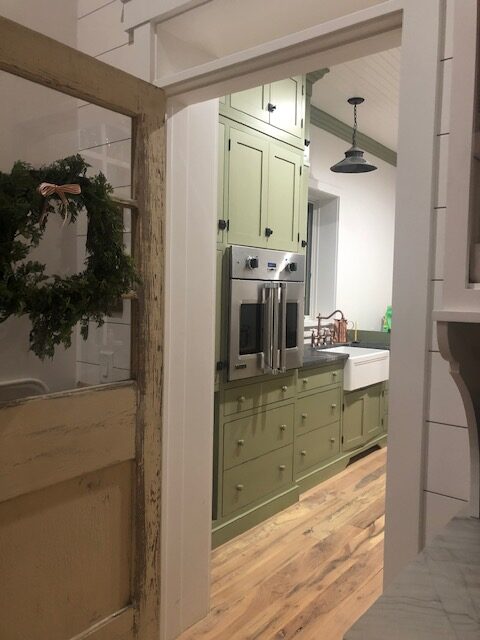 Hidden Storage
I don't buy a lot of "boxed" goods, however, because I buy things in bulk, I knew I needed a place to store all of them. I was so tired of seeing all of my 5-gallon buckets in my laundry room at the old house.
My homestead pantry needed to look like an "old general store" so what better thing to add than FARMHOUSE CURTAINS on the bottom. There are two shelves on both sides and they hold a ton. Like I said, buying in bulk means you have to have a place to store it and I wanted to make my pantry functional and pretty.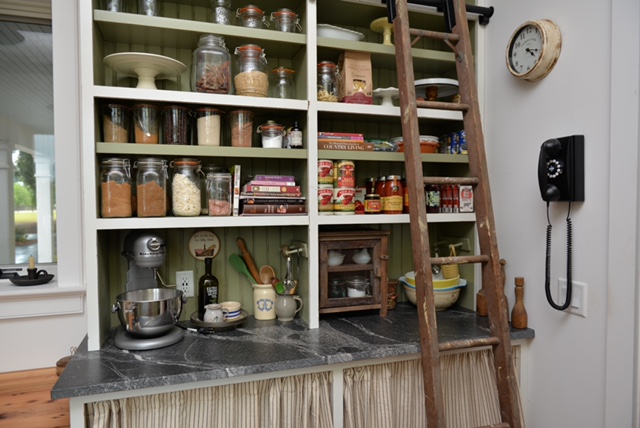 Built-in Grain Bin
I've been grinding my own wheat for years and I always buy my grains in 5-gallon buckets. I'm a co-op leader for Bread Beckers in my town and if you are just starting your homestead journey, it's another great place to start. You can learn more about them HERE.
I wanted to use a real old grain bin but it was really hard to incorporate one into the design of our pantry. Since I have open shelving on the opposite side, I created these faux-front multiple drawers on this side to balance it out. Plus, it works really well with the baker's oven.
Here's all I store in these drawers:
Hard White Wheat
Soft White Wheat
Rolled Oats
Einkhorn
Corn
Grain Mill
I absolutely love how this turned out and it's super functional. If you are building or planning on doing a renovation then I highly recommend a functional plan for all of your farmhouse pantry goods.
Join Thousands of Others Just Like Me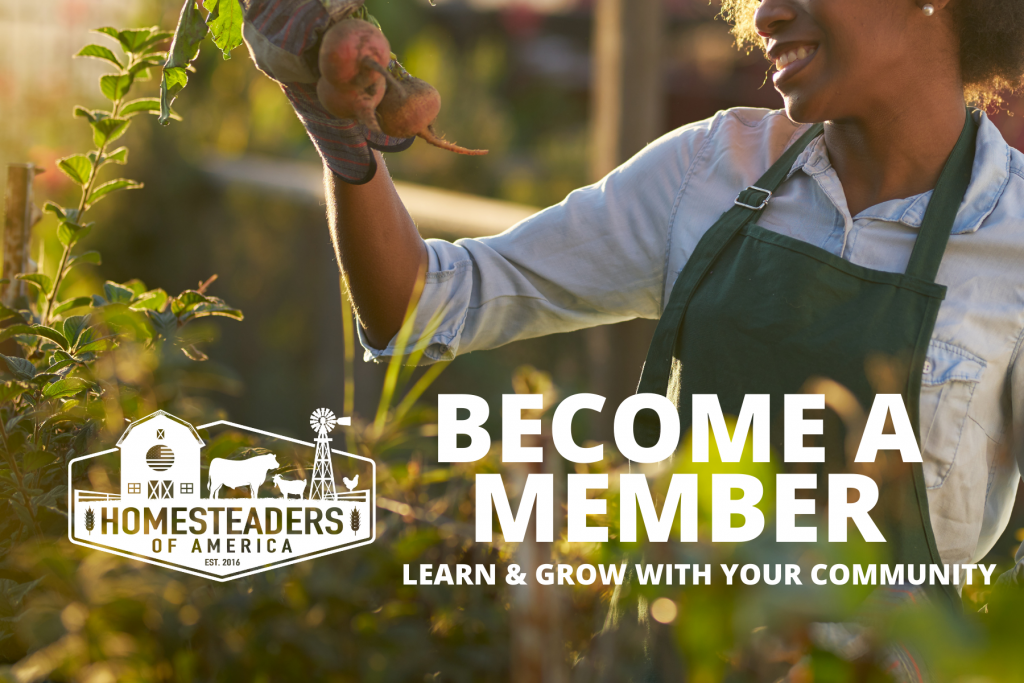 Farmhouse Pantry Supplies
***I'm adding my Homestead Pantry Goods list below so you can see what I always have on hand in my pantry.
PRINT my Homestead Pantry Goods list for FREE so you can use it in your kitchen too!
I'd love to know what you store in your homestead pantry. Leave a comment below or tag me in your photos – @lhsimpleliving.
PIN FOR LATER