Dehydrated Apples are one of my favorite things to make during the Fall. I'm excited share with you my simple instructions on how to have this delicious snack last all year long.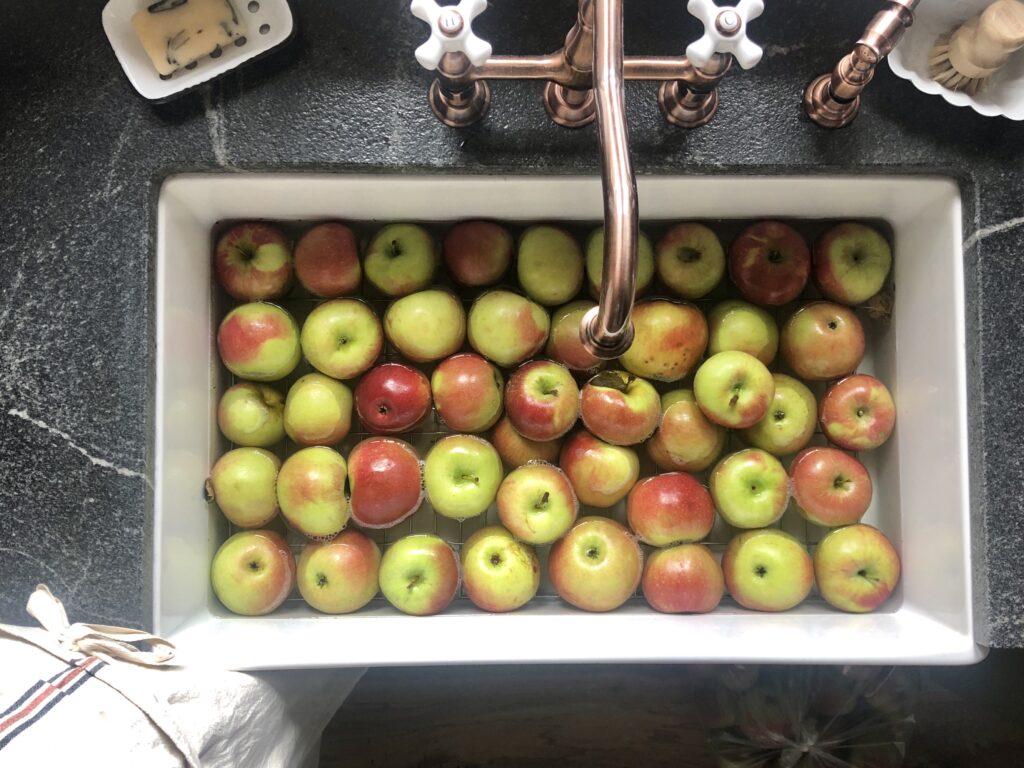 Fall is one of my favorite seasons! It's the leaves, the fires, pumpkins, cooler weather and the apple pickin' for me! What is your favorite part of Fall? I love having a new season after our super hot Summer. August can be brutal here in the South so having some cooler temperatures is so refreshing.
---
Join Our Simple Living Community
---
Options to Make Dehydrated Apples
Dehydrated Apples are super easy to make. There's a few ways you can make them. In just a few hours, you can have these delicious apples as a snack that will last all year long. If you and your family love them, you might need to make more the following year haha.
One of the easiest ways to make dehydrated apples is to use a dehydrator. These machines are so easy to use. Basically, you just set them and forget about it. That is, you must set the timer so you make sure they don't dehydrate too long haha. Bake at 135 degrees for 4-6 hours. This is the shortest way to make them.
The option is to slow cook them in the oven. Cooking the apples at a very slow temp in your oven, will do just the same job as a dehydrator. Just place your sliced apples on a parchment lined cookie sheet. Bake at 140 degrees for 8-10 hours. You want the apples to be pliable when they are ready.
How to Make Dehydrated Apples
First, wash all your apples and allow to dry.
Take an apple corer and remove the core of each apple. Peeling the apples will be optional.
Slice each apple into very thin circles. While doing this, soak them in a lemon juice water solution. This will allow them to keep their fresh color.
Pull them out of the water and lay flat. Pat them dry.
At this point, layer them on a cookie sheet or the dehydrator trays. I like to place parchment paper down on the tray prior to dehydrating them. Keeps things easier at clean up time. Sprinkle them with cinnamon, if you like. I like to have a mixture of both plain and cinnamon flavor.
Place your trays either in the oven or the dehydrator. Refer to the instructions that came with your dehydrator for times and temperatures.
Store in tightly sealed jars.
What Do Dehydrated Apples Taste Like
Dehydrated apples taste just like you're biting into a fresh apple. I still have ones I made from last year and they taste just as they did the day I made them. I keep my peels on but you can easily peel your apples beforehand.

Benefits of Dehydrating Apples
There's many benefits of dehydrating apples. Besides health, dehydrating apples can save money and provide with long time storage.

Stay fresh longer than a regular apple. As long as you keep your dehydrated apples in sealed container or mason jar, your apple chips will stay fresh for at least a year. Dehydrating removes the moisture, which inhibits bacteria from growing.

Dehydrating apples retain all of their vitamins, minerals and nutrients. Better than canning or other ways of preservation. That's a huge one for me.

They are super portable. You can take these dehydrated apples anywhere you go!
Pin For Later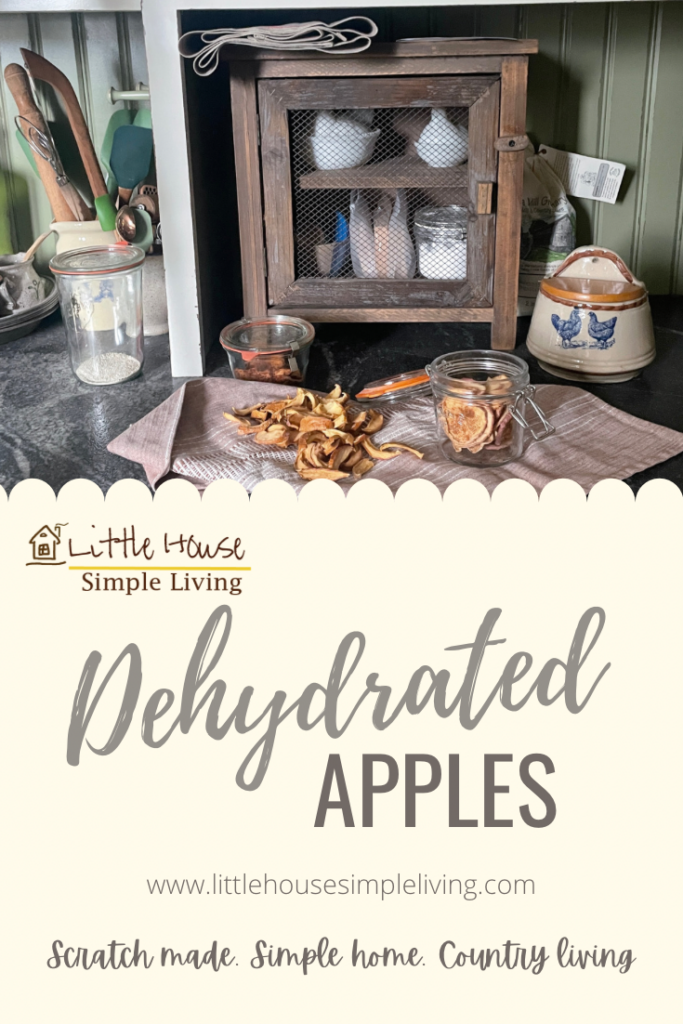 What Type of Apples To Use
Using a tart and sweet apple combined is the best for these dehydrated apples. I personally love September Wonder, Honey Crisp or Gala apples.
Tools You May Need
Apple Corer
Apple Peeler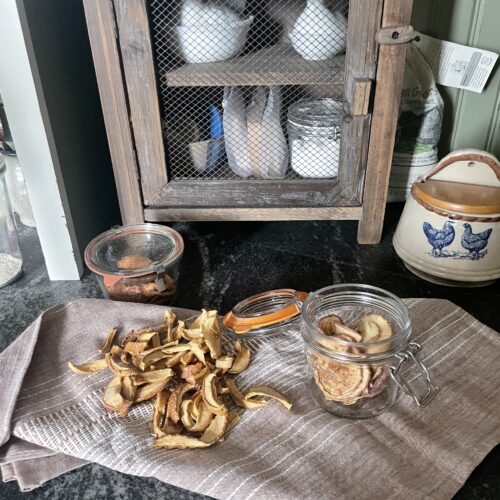 Dehydrated Apples
Enjoy these delicious apple slices all year long! Savor the taste of that freshly picked apple by dehydrating them.
Ingredients
30

Fresh Picked Apples

( I used September Wonder)

1/2

Cup

Lemon Juice

Large Bowl of Water
Instructions
Wash and dry your apples.

Remove the core from each apple. Peeling is optional. Place in the lemon water bowl..

Slice each apple into very thin circles. Allow the apples to sit in the lemon water as you keep grabbing apples.

Lay the sliced apples on a parchment lined cookie sheet or dehydrator tray. Pat each slice with a paper towel.

Sprinkle with cinnamon, optional.
Oven-Dried Apples
Place your cookie sheets in a 140 degree oven. Allow to dry for 8-10 hours. If needed, crack your oven at the handle just loosely to allow for steam and moisture to escape.

They should be pliable when ready.
Dehydrator Apples
Place the trays in your dehydrator. Set the temperature at 135 degrees for 4-6 hours.

They should be pliable when ready.
Notes
1. Cinnamon is optional. I like doing a batch of plain and cinnamon.
2. Make sure you store your dehydrated apples in a sealed tight container.
I hope you enjoy this recipe and as always, tag me over on Instagram (@lhsimpleliving). I love seeing what you make and all things Simple Living. Have a great Fall Season!