There's nothing like taking a bite of your favorite pie or dessert with homemade whipped cream on top. I've been making this for years and ditched the stuff in the stores. Besides, you'll never want to go back to that stuff once you see what is in my recipe. Three simple ingredients and I'm pretty sure there might be some ingredients in the store cans and tubs that you might not be able to pronounce.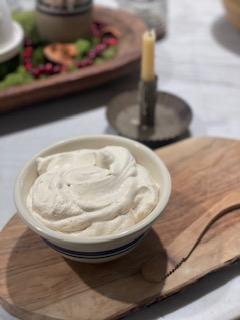 Ingredients in Homemade Whipped Cream
As I mentioned above, there are three simple ingredients in this recipe.
Heavy Cream
I buy raw milk from a local farmer and remove the cream from the top to make my whipped cream. Heavy whipping cream from Organic Valley is also a great choice. I love their mission and their values.
Coconut Sugar
I love using coconut sugar as I don't use white sugar and this gives it a healthier option. Plus, coconut sugar is low glycemic. It will also give it a nice creamy color.
Vanilla Extract
I make my own vanilla extract and this is my secret ingredient. My vanilla is made with bourbon so basically I'm making Bourbon Infused Whipped Cream. I don't even drink bourbon, but I love the taste of this vanilla in my baked goods.
Homemade Whipped Cream
You will never go back to the store bought whipped creams once you taste the yummyness of homemade whipped cream.
Ingredients
1

pint

heavy whipping cream

2

tbsp

coconut sugar

1

tsp

vanilla extract
Instructions
Make sure your heavy cream and mixing bowl is cold.

Pour the heavy cream into the bowl. Add the sugar and vanilla.

Using your wire whisk, start your mixer out on slow. Gradually increase the speed. You might not think it's working, but I promise you, beautiful peeks will start forming. It takes about 5-8 minutes.

Use immediately or store in an air-tight container.
Notes
You can also use a hand-held mixer. It might take a little longer and you'll probably need to switch your hands every so often while you're holding the mixer but the taste of this homemade whipped cream will be all worth it, I promise!
If you are wanting to use the whipped cream in a piping bag, add Organic confectioners sugar in place of the coconut sugar. It will make it a little thicker consistency to decorate with.
Tools You May Need
Measuring Cups/Spoons
Pin For Later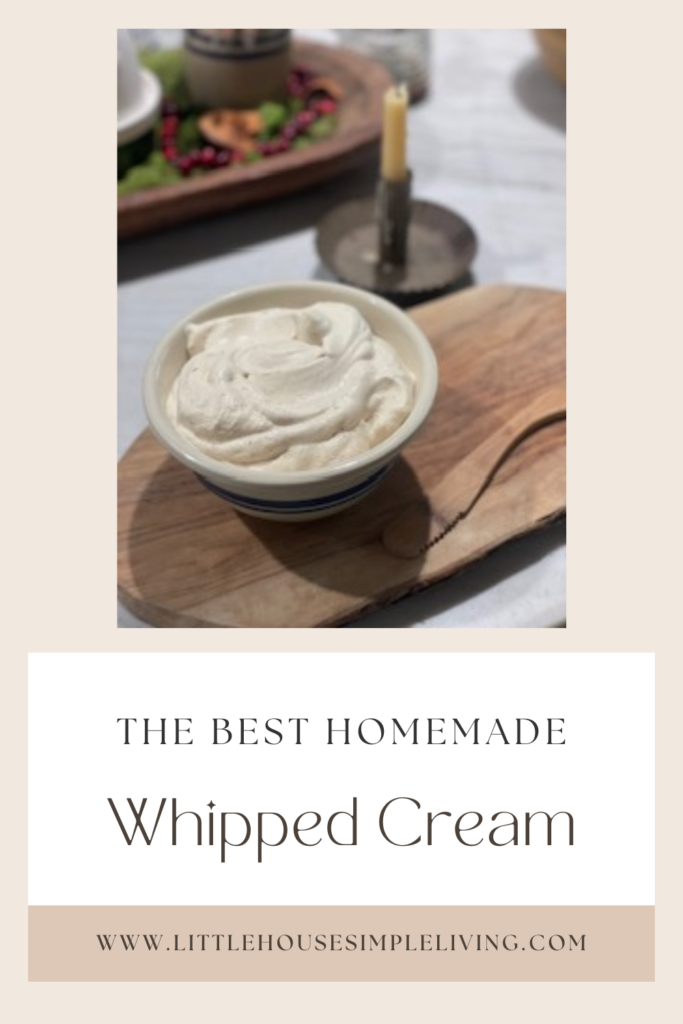 Join Our Simple Living Community