I'm sure you have been hit one way or another with price increases lately. It's insane. I actually started feeling it last year. Little by little, food, gas, hay, and other products kept increasing. I've been buying food in bulk for years and it's really saved not only my pocket but my sanity too haha. I'm here to help you so you can learn How To Buy Food In Bulk and Save Money too.
Why I Buy In Bulk
Buying in bulk is more than just saving money. It's about not constantly relying on the grocery store. Have you ever had to run out to the store because you ran out of an item? Yeah, me too. I'm quite tired of it. I started buying in bulk about 14 years ago. It just gives me a sense of security knowing that I always have food on hand.
At our previous home, we lived 30 minutes from the grocery store. Buying in bulk really came in handy because I would go to town maybe once a week. It was an all-day event. I'd put the kids in the car and we would hit all the places that I needed to go. I was quite exhausted when we got back home haha.
I also love seeing all the pretty jars lined up in my pantry. Those jars help me plan my meals accordingly. I also keep an inventory of what's in my pantry. That really keeps all of my bulk items organized. See my Homestead Pantry HERE.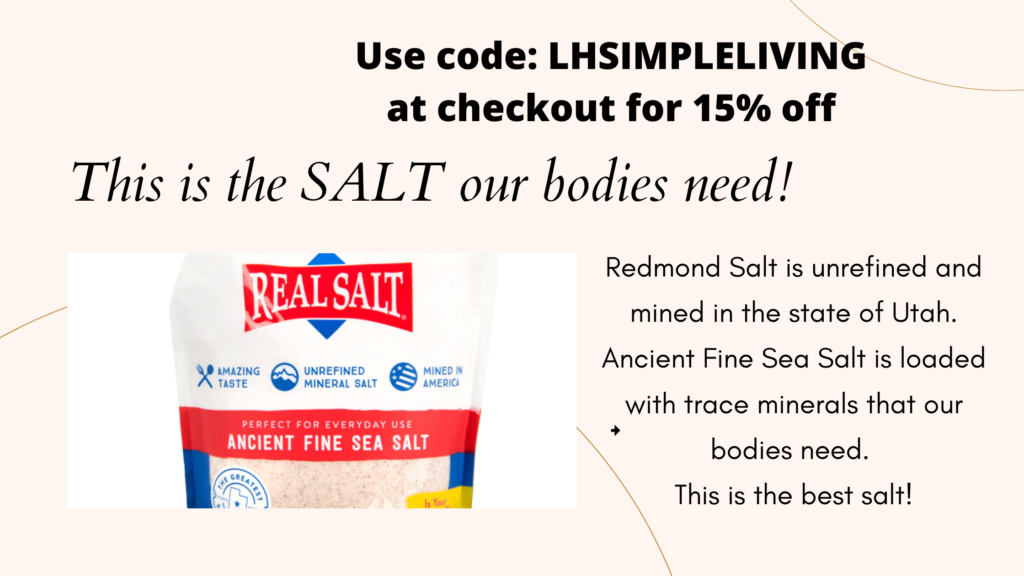 Bulk Food Essentials
There are a bunch of items that I call essential and are a must to have on hand at all times. Let's dive in.
Salt – I use salt in pretty much every meal I make. I'm talking about real salt with trace minerals. It's great for baking bread, fermenting, cooking, seasoning meats, and so on. I love

using this salt from Redmond's

. It's loaded with over 60+ trace minerals which is great for our bodies.
Rice – This is such a versatile staple to have on hand. I can usually come up with a quick meal with rice. You can buy in large quantities pretty inexpensive too.
Beans – I like to buy beans in bulk because they are cheap and are loaded with protein and fiber. These are also inexpensive when you buy them in larger amounts.
Spices – If you're going to cook at home, you'll need a good variety of spices. I probably only buy spices once a year. Spices can get pretty costly at the grocery store. I've seen them anywhere from $5-7 for a little jar.
Grains – This is probably the most used item I purchase. I buy 6-gallon buckets of hard white and soft white wheat and rolled oats. I also buy 7lb. pails of corn to make my own corn meal.
Other Bulk Items
I don't just buy food in bulk. If I'm doing this, I'm going all in and buying as many essentials as I can in bulk. Here's my list:
Toothpaste, Dental Floss, Mouthwash
Bath Soap
Dish Soap
Herbal Teas
Herbs and Supplements
Health & Wellness
Laundry/Cleaning
Livestock Feed
Where To Buy In Bulk
Costco/Sam's – Costco I hear has a lot of organic foods in bulk. We have one a few hours from me so I've contemplated on going maybe every other month and seeing about stocking up on some things. I have also shopped at Sam's Club in the past too. Their prices are usually pretty good.
Wholefoods – I think this place is also known as "Whole Paycheck" haha. Since Amazon took them over, I do believe the prices have come down and you get Prime Deals in the store. They have bulk bins of flour, pasta, grains, and nuts. I have purchased there before and did see a cost savings.
Bread Becker's – I am the co-op leader for my town. I get more than just grains here. They have all kinds of organically infused bottles of vinegar and olive oil, baking supplies, beans, salt, health & beauty, and more.
Frontier – Try to search for a Frontier co-op in your town. I am a member of one and I buy a lot of my spices from here. They have virtually everything and things like laundry, bath, kitchen, etc.
Azure Standard – This is probably the largest place I'm enjoying buying in bulk. They have everything from dairy, frozen, vegetables, meats, laundry, livestock feed, pantry goods, grains and so much more. It's like a grocery store but on wheels haha. I order once a month and then go to a central drop location and we all help unload the truck. It's pretty cool.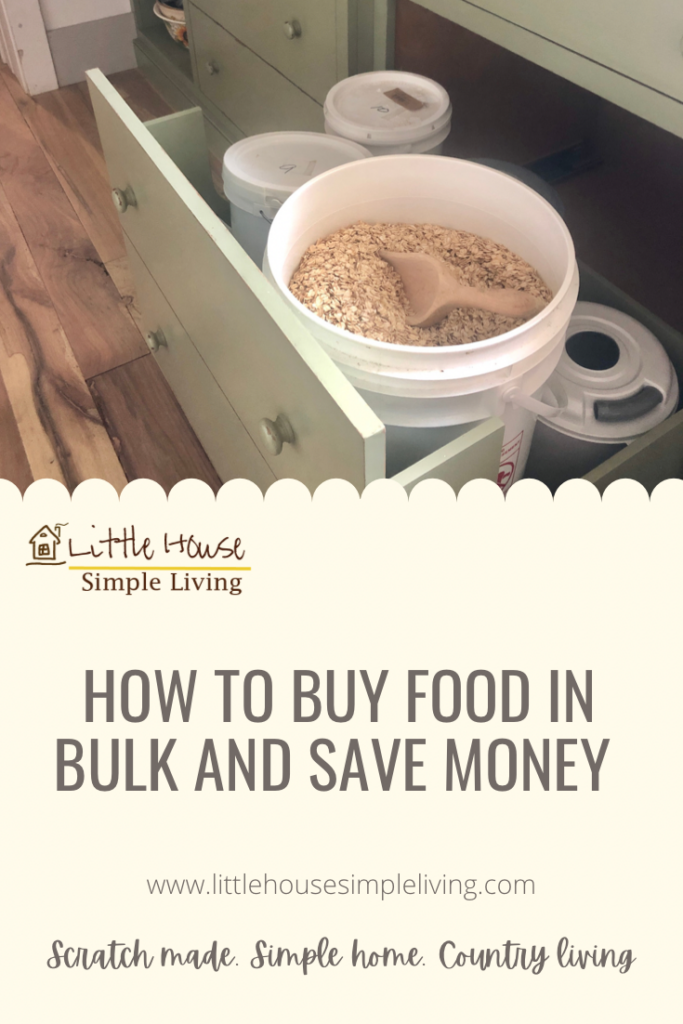 Sources for Buying in Bulk
REDMOND SALT – use code lhsimpleliving for 15% off
I'd love to hear if you have any other sources that you shop at. Drop them in the comments below. Let's help each other out and in our communities.