You've just spent $50 on seeds and they have arrived. So, you might be wondering how do you store them? Follow along as I show you how to Keep Your Seeds Organized.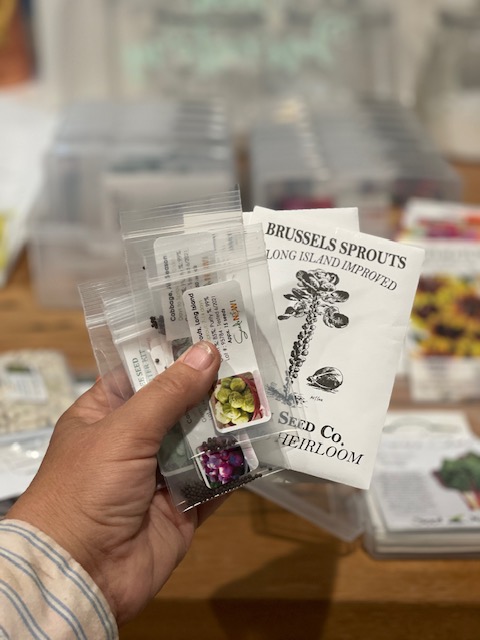 Seed Organization
If there's something that excites me, it's organizing all my seed packets. I'm really not a hoarder but I do have a lot of them haha. If you are just starting out, you may only have a few packets and that is totally fine. If you've been gardening for a while, then you probably have the stack that I do.
Separate your seeds into different categories. Here are some suggestions that I do. I have a Melons (Cantaloupe, Watermelon), Roots (Beets, Carrots, Turnips, etc.), Herbs (Parsley, Cilantro, Oregano, etc.) and Flowers (all the things). Create your categories on which ones you have.
Now, let's see how to keep them clutter-free.
Shoebox
This is a great way to store your seed packets. You can even take cardboard inserts and make little dividers to put in between each seed category.
Photo Storage Box
This is a genius one. Take one of those Clear Photo Storage Boxes, a Label Maker, grab your seed packets and you've got a great way to keep your seeds organized. This is the system that I am currently using. My daughter-in-law bought me this case for my birthday. She also made me the "Seed Inventory" stencil that's on the cover. I love it and it has really helped keep me organized. I have an "old school" label maker and I created labels for each of the categories. Confession: I might be adding another photo storage box to my collection soon haha.
Others
You can also use a recipe box, a coffee can or get creative with a container that you have had laying around. Re-purpose containers that you may not be using anymore. Mason jars work well too.
Join Our Simple Living Community
Common Questions
How long can you store seeds?
Seeds can be stored for a long time. If you are using them within a year, just keep them in your container, in a dark cool place. Otherwise, they store nicely in the freezer.
What container is best to store seeds?
Seeds can be stored in both class or plastic. Just make sure that all of the seeds are dry prior to storing them long-term.
Seed buying is like "chicken math". When you start getting really good at growing your own food, you'll be buying seeds left and right. Welcome to the club! I hope this was helpful. Feel free to email me at [email protected] or dm me on Instagram (@lhsimpleliving). Tag me over there as I love seeing what ya'll make!
Tools You May Need
Seeds Now (Enter code: SAVE10NOW for 10% off)
True Leaf Seeds
Pin For Later