When people ask me about my style, I often reply back with "It's Primitive Colonial Farmhouse". I'm not sure it's even a thing but I'm always doing my own thing anyways haha. I've always loved the primitive colonial era so that is what my home reflects. I'm an old soul living in the wrong era. Anything old-fashioned speaks to me.
I'm excited to dive into my Christmas Tree this year. It's not my normal real tree nor am I using my sentimental keepsake ornaments and it's ok. I'll go into detail below.
The Primitive Colonial Era
This era dates back to the 17th and 18th centuries, even the 16th century. Most of the original homes are the salt box, revival, georgian, colonial & cape cod styles. Homes were known for painted colored walls and trim the same color. They had crown molding, bead board and hewn beams.
Kitchens had usable crocks, wood spoons, forged iron utensils and lighting, open shelving, built-in cabinets, handmade baskets, to name a few.
Primitive Colonial Christmas
It was all about simplicity back then. They definitely didn't celebrate Christmas in America like we do now. It wasn't about all the glamour and the marketing for the gifts and the decorations. Christmas decorations were homemade back then.
One of my favorite features on my tree this year is using these battery operated candlesticks. Back then, they used real candlesticks. I'm definitely ok with using the battery ones in our modern world haha since I would hate to start a fire in my new home! These definitely are nostalgia to me.
Something I started several years ago was making dried oranges. I love how simple and sweet they are. I love the smell. I use them as ornaments and make several garlands to hang throughout my home. They are inexpensive to make too.
This year, I tied velvet ribbons on my tree. I actually looped the ribbon through my vintage ball ornaments I bought from TJMaxx and used that instead of the metal hangers. They look so much prettier!
I also always add pinecone picks to my tree. You can add real pine cones if you like but I found these realistic picks at Kirkland's and love placing them in pockets within the tree.
Watch (a snippet) How I Make My Dried Oranges
(FREE Printable Recipe)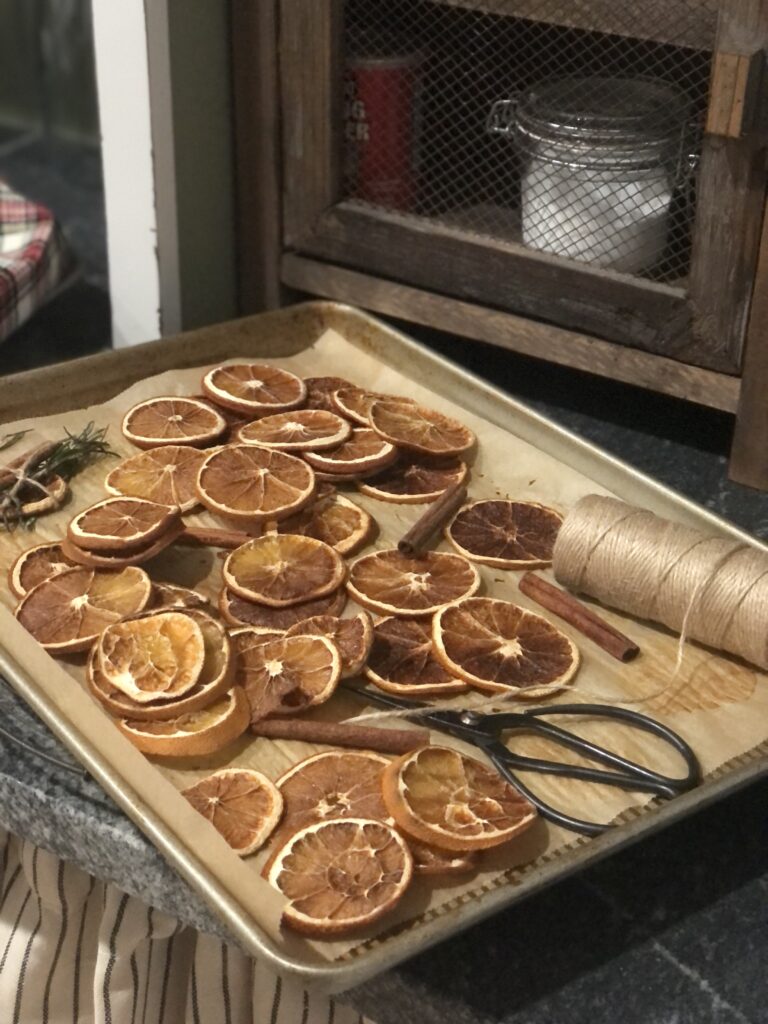 Type of Tree To Use
I'm usually a real tree girl. I grew up getting a frazier fir every year and I can still remember my grandpa helping us grandkids putting on the ornaments and tinsel. I always put the real tree in our living room. In fact, I designed a corner in our new home just for our tree haha.
This year, I am using a King Noble Fir Christmas Tree from King of Christmas. I think it's the perfect tree for the Primitive Colonial style. It's designed for the minimalist. I wanted this tree for my back enclosed sun porch. I had visions of it in the corner but it wasn't going to happen this year. We've been using that room as an office until we finish our new office we have been building. Well, the room is still filled with office stuff and junk and I've just accepted it. So, I decided to make this tree our family living room tree this year.
Yes, I'm skipping my keepsake ornaments and I'm ok with it. Heck, I went almost six years without even using my ornaments when we were building our home. Then, the year we moved in, I couldn't find our ornaments so I just had a bare real tree with twinkle lights lol. It's ok to break tradition sometimes. I know next year I will get so excited when I pull those ornaments out and get them hung on my real tree.
Tools You May Need
Christmas Tree

Battery Operated Candlesticks
Pin For Later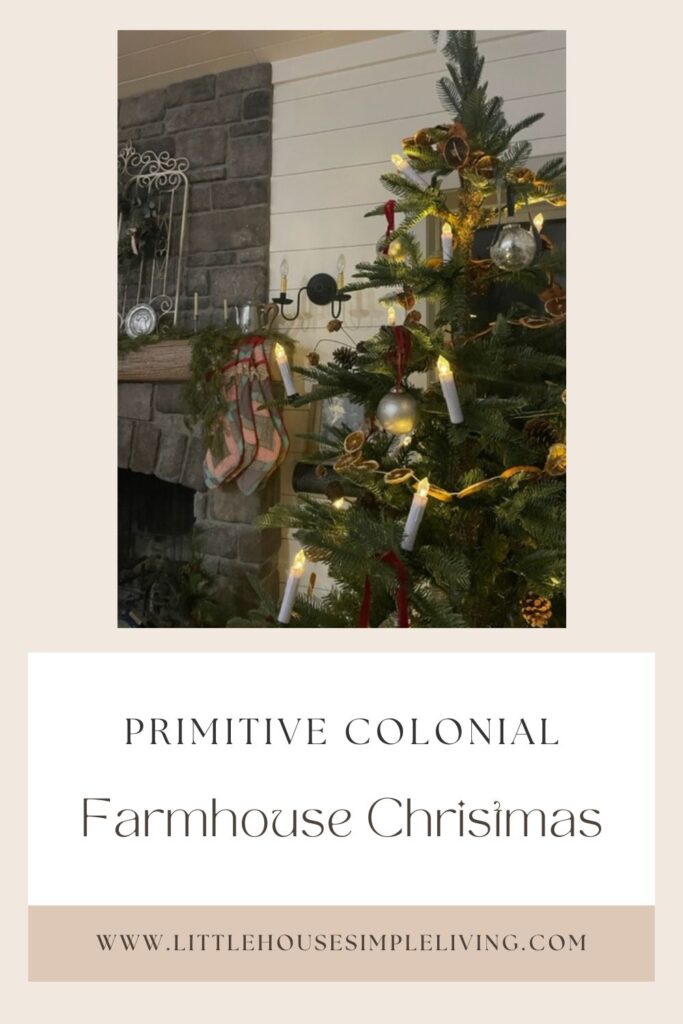 Join Our Simple Living community