I don't know about you, but I love a good egg salad. Now that I have chickens again, I find myself making this about once a week. You have to get creative with all of those eggs, right? Bill and I love it. I'm excited to share with you my Super Creamy Egg Salad recipe.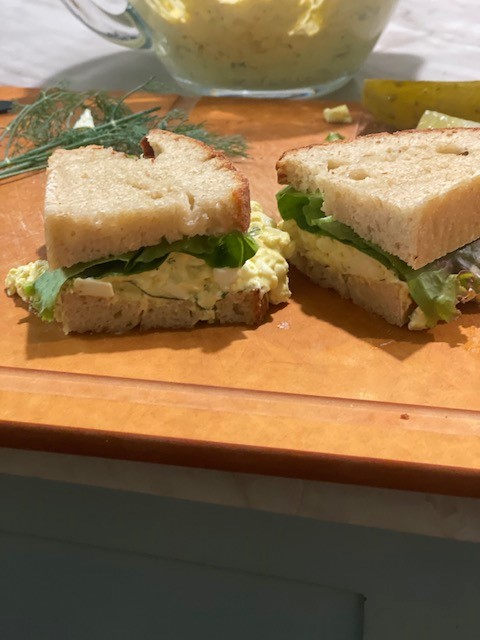 How To Make Egg Salad
First, boil your eggs. Rinse and peel.
Finely chop the eggs into small pieces. You can use a food processor or do it by hand.
Add the mayonnaise and mustard. Stir together with the eggs.
Next, add the dill relish or chopped fermented garlic dill pickles and a splash of pickle juice.
Add salt and pepper, stir until all combined.
Chop fresh dill and fold in with a spatula.
Pin For Later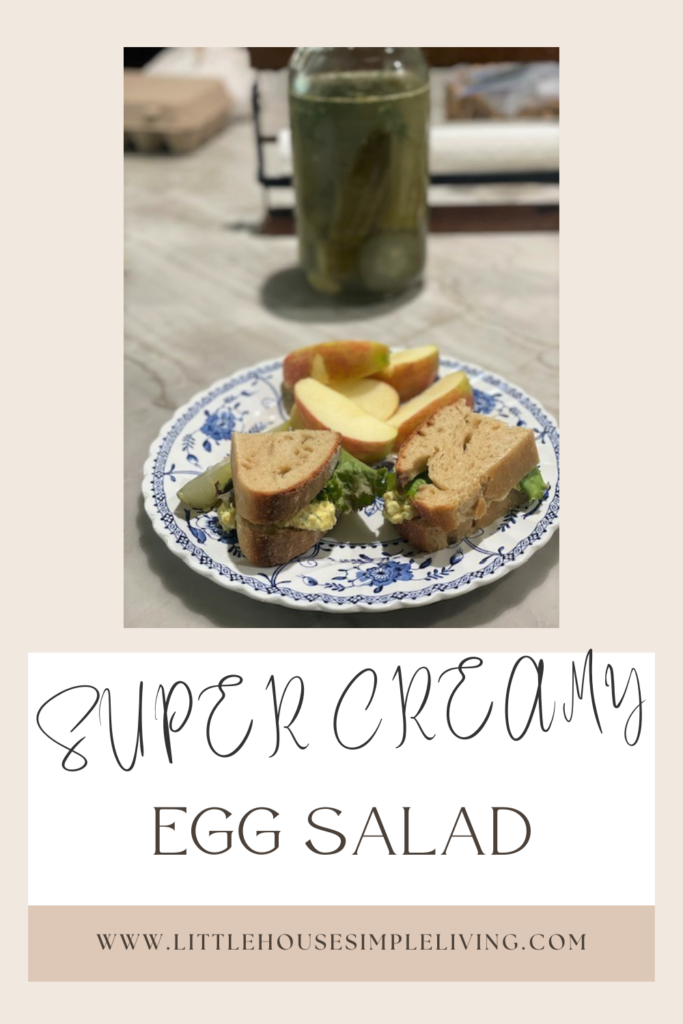 What Makes This Super Creamy
It's the mayonnaise I use. I've been buying one from Primal Kitchen that has avocado oil in it and it really does make it extra creamy and heart healthy.
Why Use Fermented Pickles
Fermenting vegetables starts with Lacto-fermentation. It basically converts the starches in the vegetables into lactic acid by the bacteria lactobacilli. This makes fermented foods rich in probiotics. They are excellent for your digestive system. I love adding these to my egg salad. Fermented Garlic Dill Pickles are the best!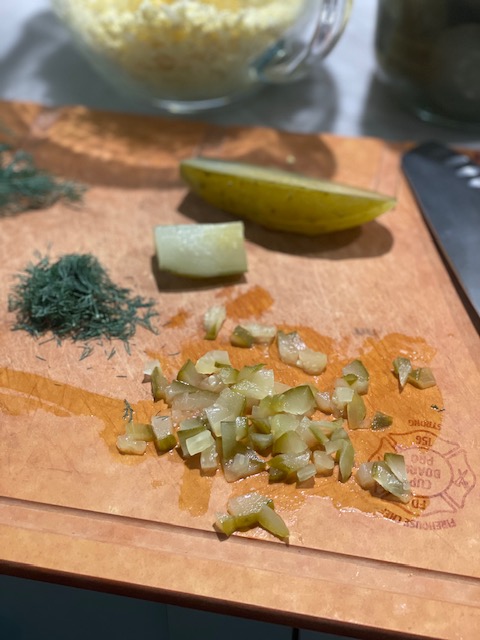 Join Our Simple Living Community
---
What Does Egg Salad Go With
Super Creamy Egg Salad is so versatile and can be eaten all kinds of ways. I love having it on a slice of my Simple Sourdough Bread, Basic Whole Wheat Bread, Crackers, and Carrots.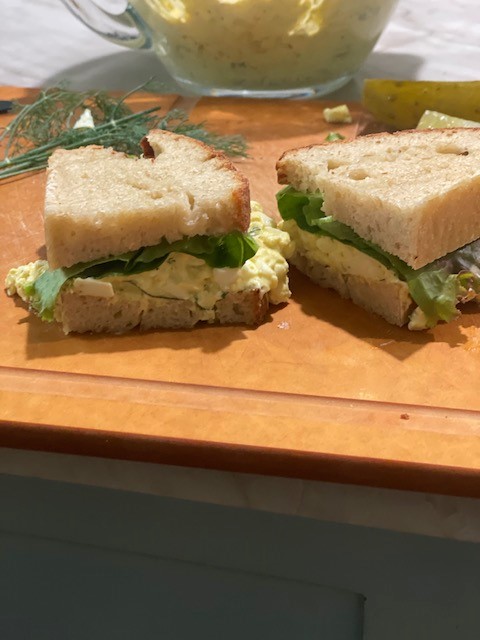 Super Creamy Egg Salad
This egg salad is super creamy. We eat it for breakfast, lunch or as a snack. It's perfect on sourdough or fresh-milled whole wheat bread. So yummy!
Ingredients
8

Farm Fresh Eggs

1/4

cup

Mayonnaise

(adjust to your liking)

1

tbsp

Yellow Mustard

(adjust to your liking)

1-2

tbsp

Dill relish or Fermented Pickles

Salt and Pepper, to taste
Instructions
Cook the eggs. I like to bring mine to a gentle boil, shut the heat off and let sit for 13 minutes.

Peel eggs, add to a bowl and chop them into bite-size pieces.

Add the mayonnaise and mustard, pickles and a splash of pickle juice. Stir together.

Next, add the salt and pepper. Combine it all together.

Lastly, chop the fresh dill and fold it in with a spatula.
Notes
Add fresh garlic, cayenne pepper or chili powder for a little extra zip.
You can chop the eggs up using a food processor or by hand.
Tools You May Need
Real Salt – (Enter Discount Code: lhsimpleliving for 15% off)
I hope you enjoy this recipe and as always, tag me over on Instagram (@lhsimpleliving). I love seeing all the things you're making!