Fall and Winter, I am all about fixing comfort food in bowls. I love my Classic Homemade Chili but every now and then, I like to change it up with White Chicken Chili. I started making this about 20 years ago so I figured maybe it was time I shared it with ya'll haha. It's creamy, nutritious and is just the perfect thing on a chilly night for supper.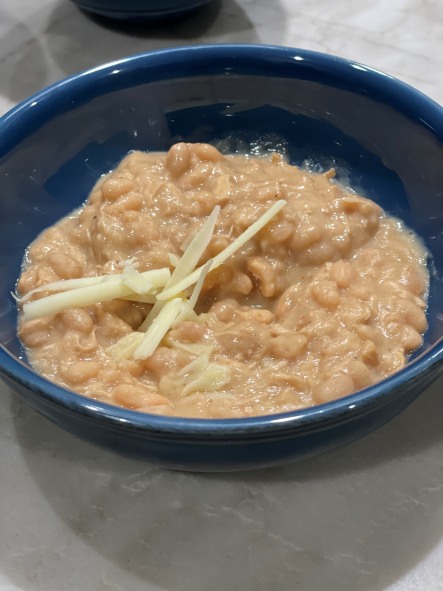 Using Dry or Canned Beans
My recipe, I use dried beans. I keep all kinds of beans on hand in my clear jars. I found out that it's cheaper than buying canned because I am buying them in bulk and I cook with a lot of beans throughout the year. Even a bag at the grocery store is only a few bucks and that bag can feed a lot.
Using canned beans is also an option. I do keep a couple cans of great northern, navy or black beans on hand for when I need something in a pinch. You know those nights when you have forgotten to plan supper haha. If I'm using canned beans, I definitely rinse them really good so the solution they've been sitting in is all rinsed off.
How To Make White Chicken Chili
Set your beans in a bowl. Cover the beans with water about an inch. Cover with a towel and let set overnight or 2-3 hours. The water will be absorbed in the beans and they will raise in the bowl. This is how you'll tell they are ready to start cooking. Filter any out that may look discolored.
You can cook this either on the stove or in a crockpot. Place the chicken broth, garlic and beans in whatever you are using and slow cook the beans for 5-6 hours on low heat.
Meanwhile, cook your chicken breasts whole. You will be shredding them once they are finished cooking.
Combine the seasonings and chicken into the beans. Give it a good stir. Cook on low for about 30 minutes.
If you are using jalapenos or chilis, add them to the step above.
Once the chili looks creamy, add the sour cream and stir.
Now, grate your cheese and add it to the pot.
Garnish individual servings with more sour cream, cheese, avocado, jalapenos.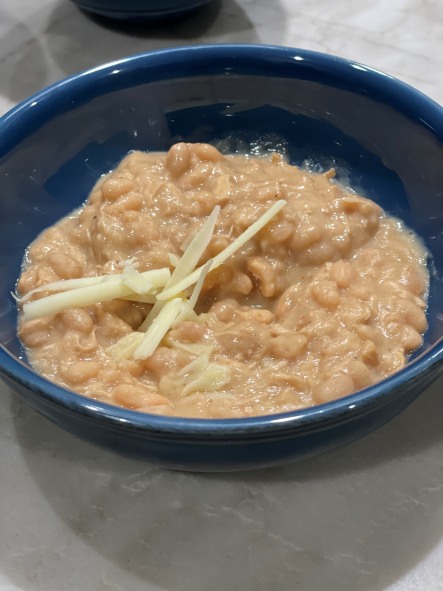 White Chicken Chili
This White Chicken Chili is so creamy and comforting. It's a perfect bowl of goodness on a chilly night!
Ingredients
2

cups

Dried Navy or Great Northern Beans

3-4

Cloves of Garlic

(minced)

1

tsp

Dried Oregano

1

tsp

Chili Powder

4-5

cups

Chicken Bone Broth

4

Large Chicken Breasts

1

cup

Grated Vermont Cheddar Cheese

1/2

cup

Sour Cream

Salt & Pepper

(to taste)

4

oz.

Green Chilies

(optional)

Diced Jalapenos

(optional)

Sliced Avocado

(optional)
Instructions
Set your dried beans in a bowl. Cover with water, up to an inch over the beans. Cover for 2-3 hours. Once they have absorbed all of the water, they are good to go. Pick out any discolored ones.

Grab your slow cooker or you can cook the beans on the stove. Just plan on about 5-6 hours of cooking time. Add the beans, garlic and broth. Bring to a boil and then let them simmer.

Meanwhile, cook the chicken. Once done, shred/pull the chicken and set aside.

Once the beans are done cooking, add the chicken and all the spices. Stir together.

Cook the chili on low heat for about 30 minutes, stirring occasionally.

Ten minutes before serving, add the sour cream and then the grated cheese. Stir until creamy.
Notes
Tips:
You can definitely use 4-6 cans of Navy or Great Northern beans in this chili. Your time will of course, be less for cooking the chili.
When using the stove to cook the beans, just keep an eye on the burner. You'll first bring the beans to a boil and then turn the heat down to low. Because of the length of time, you just want to make sure they don't burn. You might need to add more broth as the beans start to soak it up.
I cook my chicken in the Instant Pot. It makes the chicken so tender. 
Garnish with whatever you like. If you like it spicy, add some extra heat. You can't mess this White Chicken Chili up!
Tools You May Need
Redmond's Seasoning & Real Salt – enter code lhsimpleliving for 15% off your order *I use this Seasoning Salt in place of all the individual spices if I'm out of one of them or just want to change up the flavor.
Pin For Later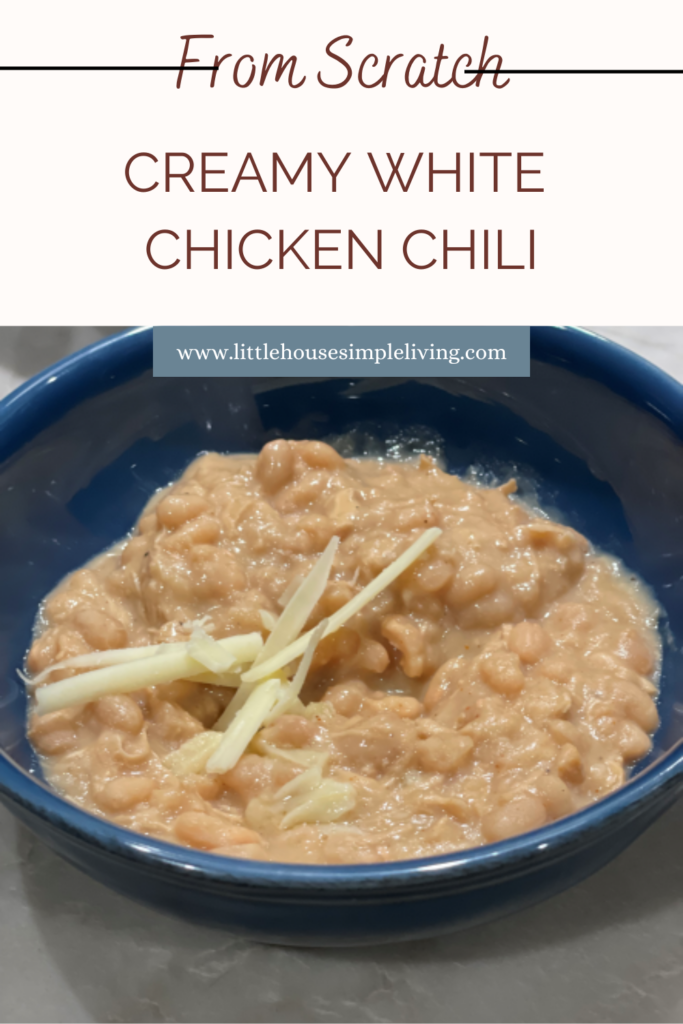 Join Our Simple Living Community