I started growing a delicata squash plant this Spring and I am addicted to it. It makes a wonderful side dish to complement any meal. The taste is amazing!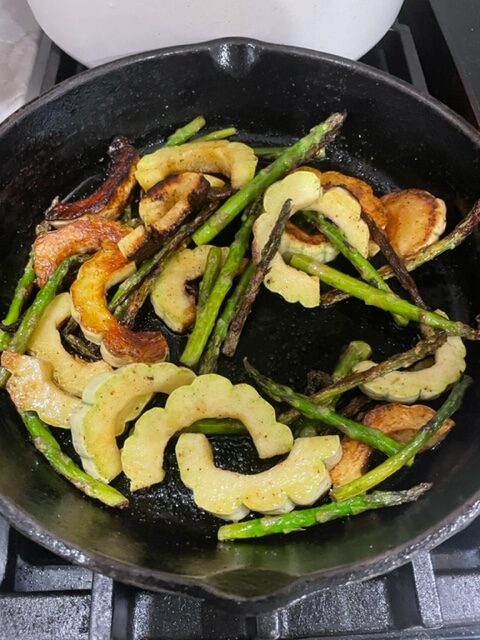 How To Grow Delicata Squash
I picked up a single starter plant from a local farm this Spring and you wouldn't believe how many squash are on the vine. It's loaded with all kinds of squash. They are so easy to grow. What I'm finding out is that it is also really easy to go up a trellis. It grows kind of like a zuchinni plant but spreads longer.
What Is Delicata Squash
It's a small oblong shaped yellow squash with green stripes. Being a winter squash, Delicata has a thick flesh almost resembling an acorn squash.
Join Our Simple Living Community
---
How to Cook Delicata Squash
This is one of the easiest squash to cook. It would go great with Creamy Parmesan Chicken with Bacon or Bourbon Brined Smokey Turkey.
Wash your delicata squash. With your knife, cut the squash longways.
Grab a spoon and start spooning out all the seeds and pith.
Cut the squash into half circles. Peeling the skin is optional.
Turn on your cooktop and add butter to an iron skillet.
Season with salt and pepper.
Place the squash in the skillet and let cook until soft and tender.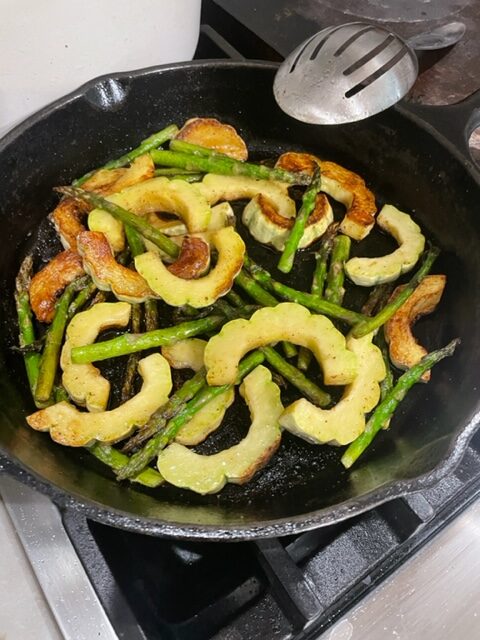 How To Cook Delicata Squash
Delicata squash is so yummy and tender. It resembles an acorn squash . It's perfect with pretty much any meal.
Ingredients
2

Delicata Squash

2-3

tbsp

Real Butter

Salt & Pepper
Instructions
Wash your delicata squash and turn your iron skillet on medium-low heat.

Add the butter and allow to melt.

Next, cut the squash in half using your knife longways.

Use a spoon to scoop out all the seeds.

Cut each half into half circles.

Layer the squash in a cast iron skillet.

Cook the squash and turning it often so it doesn't burn.

It should all be golden brown and fork tender when it's done.
Notes
Delicata squash goes great with any other side dish.
It can be put into salads, either hot or cold.
You can also cook delicata squash longways in boat style and then scoop the flesh into a soup.
Delicata squash can be roasted on a cookie sheet. Just use avocado oil and roast in the oven at 350 for 25 minutes. 
Pin For Later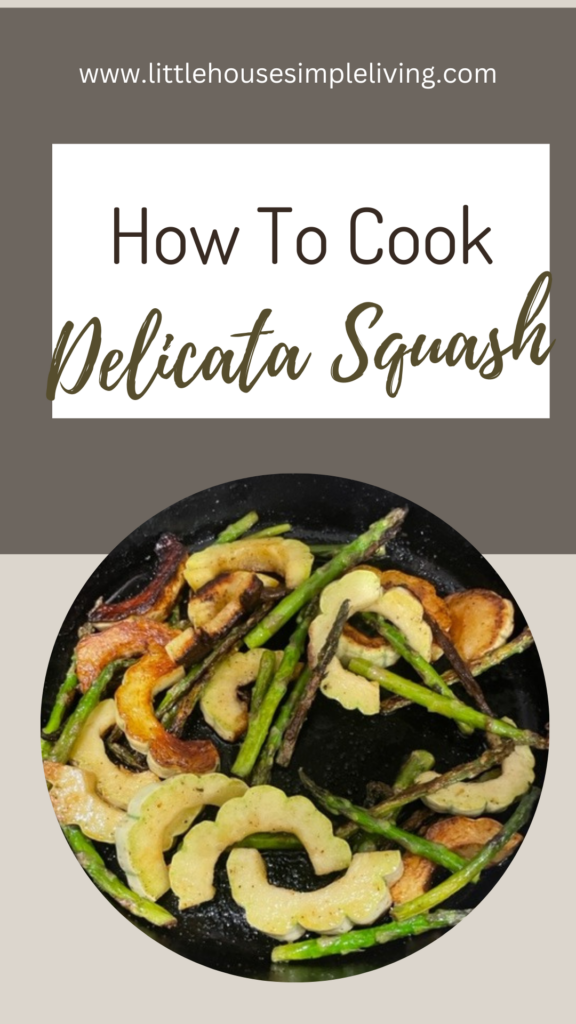 Tools You May Need
Real Salt – (enter code: lhsimpleliving for a 15% discount)
I hope you enjoy this recipe and as always, tag me over on Instagram (@lhsimpleliving). I love seeing all my recipes that you make.